Sub bass plugins play an essential role in the modern music creation process. After computers became a common thing, it also meant the digitalization of everything possible. Bass guitars, synthesizers, drums, etc. are now available on your computer. The best sub bass VST is in a way even better than a real, physical instrument, as it requires no physical space, is cheaper, and provides you with more possibilities. The variety of options, settings, and customization of sub-bass plugins far surpasses that of average physical instruments. In addition, professional sound designers usually pre-record and process a certain number of samples present in any instrument VST. Also, it is much easier to learn how to create music with these plugins than with real instruments, which is a great advantage.
Our pick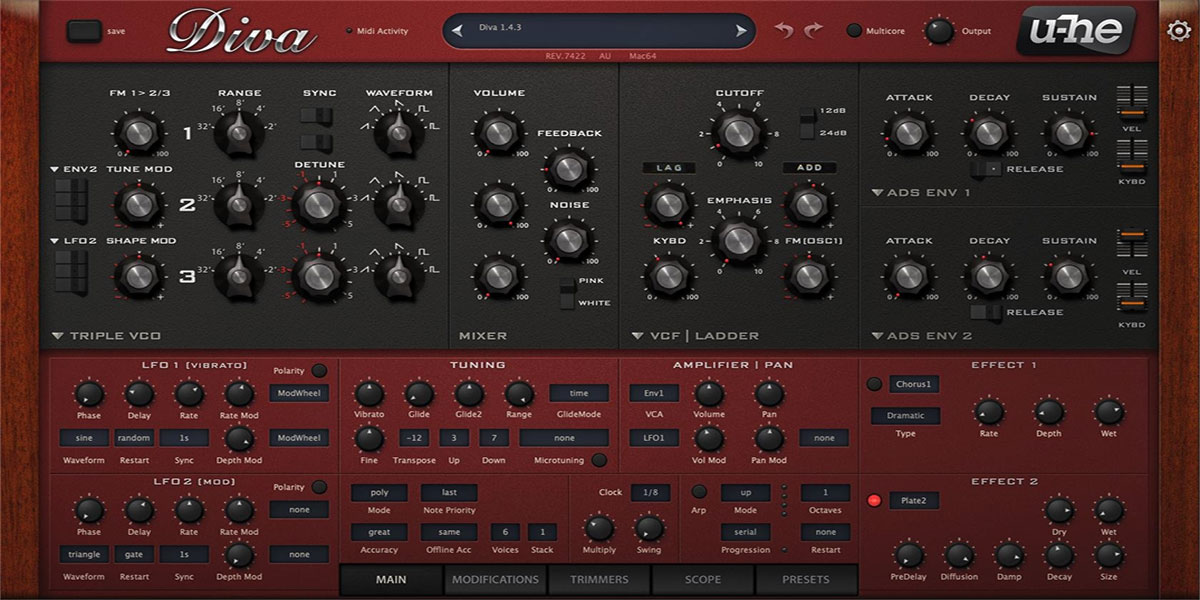 u-he Diva
Best sub bass VST
Diva captures the spirit of five decades of analogue synthesizers. Oscillators, filters, and envelopes from some of the greatest monophonic and polyphonic synths of yesteryear were meticulously modelled for unmatched analogue sound.
Best sub bass VST reviews
u-he Diva – best overall
We've had a huge choice of virtual analog synths over the last couple of years, yet connoisseurs of vintage synths still doubt that classics from the past can be put into a software form. But Diva seems to be the perfect plugin that can meet everybody's expectations as it is not a particular synthesizer; instead, it contains elements of various well-known instruments, all painstakingly analyzed and meticulously recreated with agonizing attention to detail. To be specific, Diva has all that you need to create any basic analog sound, and, in this u-he Diva review, I will do my best to show you the main features of this VST.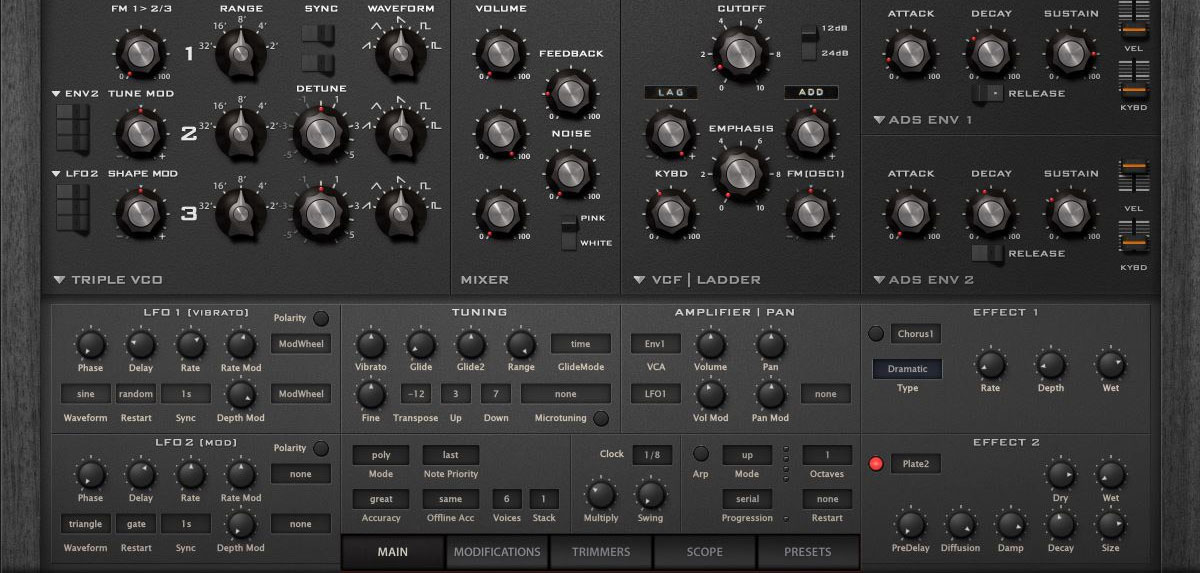 Main features
Diva (Dinosaur Impersonating Virtual Analogue) is a virtual synth that applies techniques from commercial circuit simulators. Since it is compatible almost with all DAWs, it is appropriate for Mac OS, Windows, and Linux. Available in 32-and 64-bit versions, u-he Diva VST comes with more than 1200 presets. With this tool, you will always have an opportunity to discover new sounds owing to the clever tag system that allows marking each patch with a color code.
Authentic sounds are created owing to the mix of filters, oscillators, and envelopes. The tool has a regular design with 5 oscillator modules which include Triple VCO, Dual VCO, DCO, Dual VCO Eco, and Digital. For instance, Triple VCO follows the structure of Minimoog's oscillator, and DCO is similar to Roland Alpha Juno, which provides rich waveforms.
At the same time, Diva has 5 filter modules based on classic synth hardware, which are VCF Ladder, VCF Cascade, VCF Multimode, VCF Bite, and VCF Uhbie. Having the advantage of zero-delay feedback filters, you can expect authentic resonance behavior.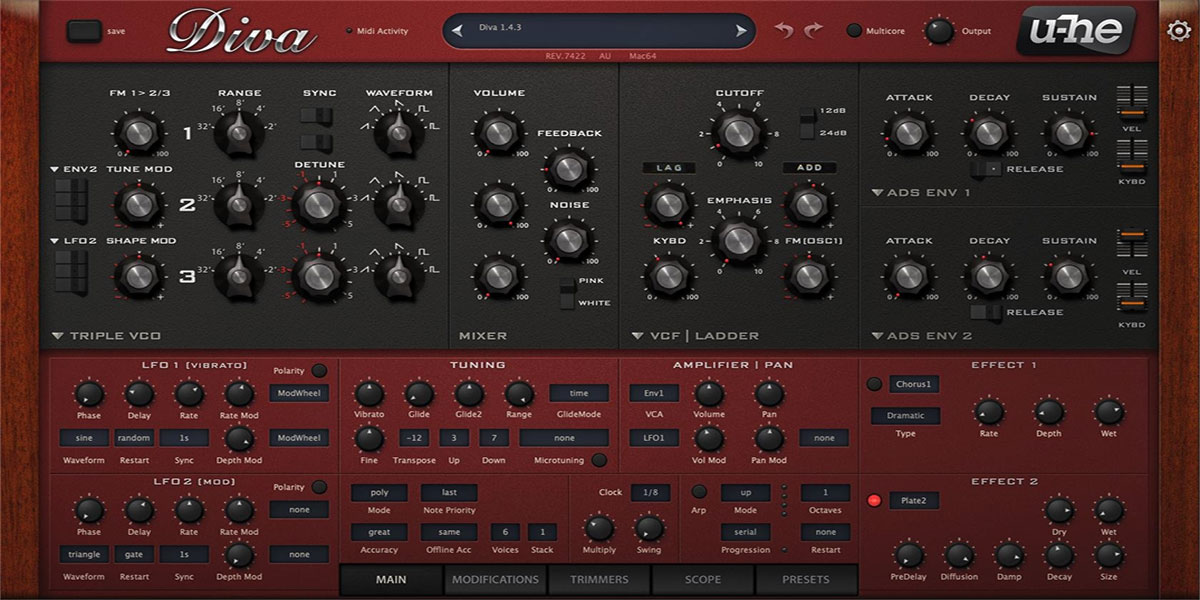 This VST includes 3 ADSR envelope models that are based on classic synthesizer hardware: Minimoog-style ADS, analog ADSR, and digital ADSR. The patch browser occupies the whole panel by itself and allows you to create, edit, and save your own patches.
It is an ideal plugin for electronic musicians and composers; its Trimmers section allows you to make your audio sound more analog. With this panel, you can detune voices and some "slop" to filter cutoff, envelope times, pulse widths, and glide times.
How does It sound?
If you ask me about the quality of the sound of this plugin, I will tell you that u-he Diva sounds like a deluxe instrument, and owing to its flexibility, it feels like real analog hardware sitting in front of you. Honestly, I have never heard such a natural, soft, and warm synth with this amount of dimensional depth, and I have to confess that the soundstage is huge.
Since you have the capability of changing the parameters for synthesis, you will always get an authentic, rich and dense sound in the end. Even if you are not in the mood for creating your own sounds, the terrific present library that includes various sounds will allow you to mold them to your own preferences in order to get very detailed audio that is so evocative of the original instruments.
Tech specifications
Platform: Mac, Windows, Linux.
Formats: AAX, AUv2, VST2, VST3.
System requirements - Mac: macOS 10.9 or higher, Intel or Apple silicon processor, 1 GB RAM more recommended, 50mb of disk space, 64 bit only.
System requirements - Windows: Microsoft Windows 7 or later, 1 GB RAM, 50 MB of disk space, 32/64 bit.
System requirements - Linux: glibc version 2.28 or newer, 1 GB RAM, 50 MB of disk space, 32/64 bit.
Summary
In general, u-he Diva synthesizer is a tool that will grab your attention right from the start and will let you create audio masterpieces with ease. I can assure you that this VST is functional and really easy to use, even for an amateur. You can add this VST to your sound library owing to its undoubtedly amazing sound and accessible interface. Keep in mind that the plugin is CPU-hungry, but still, it possesses a number of convenient operational features that give you a lot of space for experiments.
DopeSONIX Bass Engine 2 – also a great choice
This is a DopeSONIX Bass Engine 2 review where we will scrutinize a masterpiece software in the Hip Hop production industry. Its library now includes those missing vintage analog instruments and other retro stuff. Here you will find around 300 Hip Hop bass instruments, such as 808's, sub-bass, heavy Moogy subs, etc.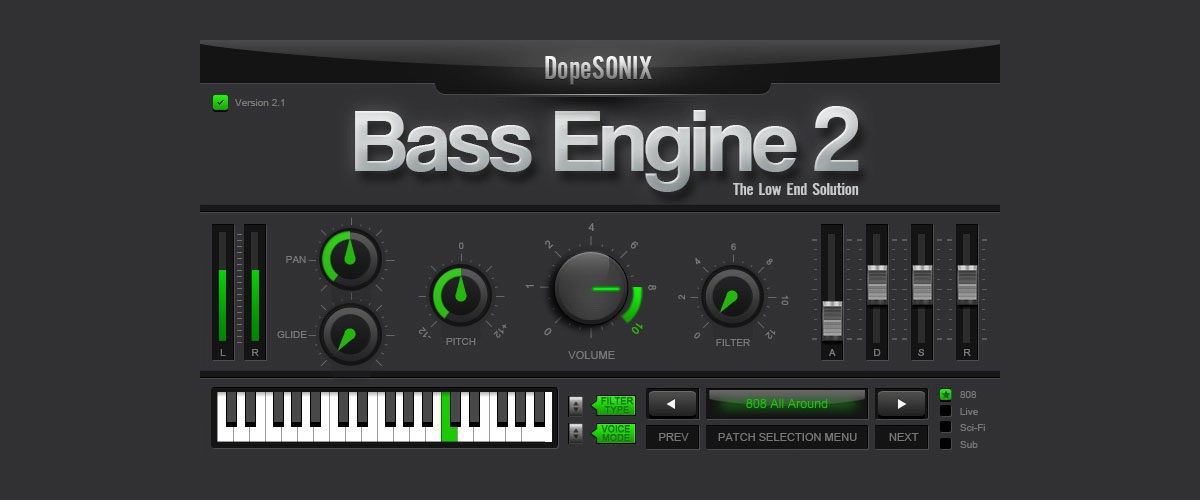 Main features
This plugin processes the sound with a Drawmer 1961 Dual Vacuum Tube Equalizer to add a warm vibe with a solid mid-punch to it. DopeSONIX Bass Engine 2 plugin has built-in volume, pan, pitch, and many other controls, by which you can adjust and optimize your tracks. Also, a wide variety of modes you can use, like Mono or Poly, Soft or Normal, that influence how your audio track sounds. Another feature is that it has extremely low requirements to run, so you can create music even with weak hardware.
Bass Engine 2 VST made one of its priority 808 Bass, so they sampled and processed around 150 presets devoted to it. You can use these samples, as well as special synth controls, to get those deep tones and sub-bass. In addition, this plugin has 75 presets of vintage analog sounds with a wide range from deep to punchy. Sub-bass is another important part of this instrument emulator, so you can use 25 presets of sub-bass as well as various mixes of it with other sounds. Electric bass and upright are also a part of this huge library of bass sounds, with 50 presets ready to make your audio track more epic.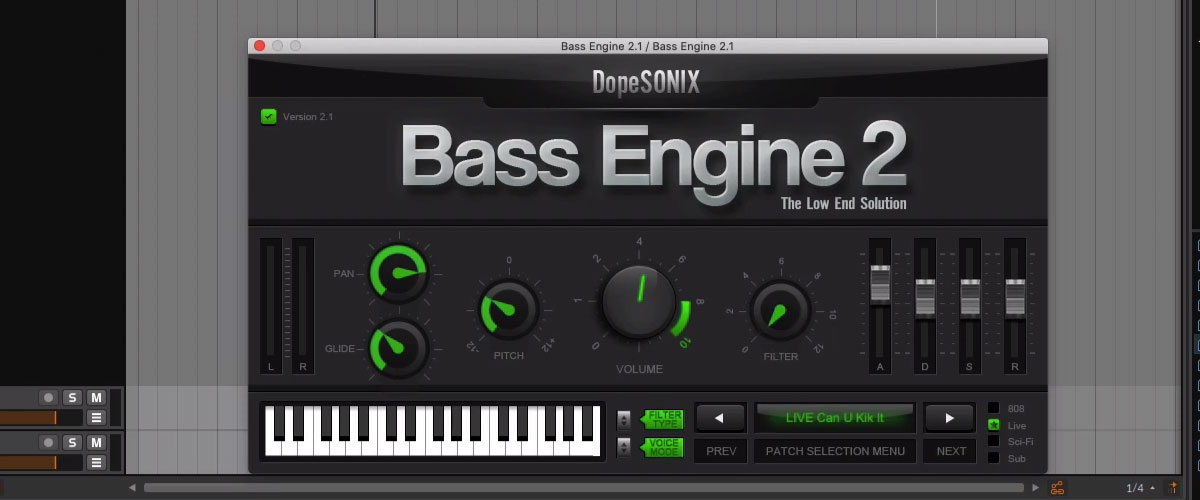 How does It sound?
Bass Engine 2 is a flexible instrument emulator that you can use to create music in a wide range of genres, like Hip Hop, EDM, Trap, Rock, etc. In my experience, the strongest sides of this plugin are classic jazz bass, deep dub vibes, and a wide library of live bass sounds. Various subs, abstract stabs, and epic textures all sound incredibly well, thanks to the sound designers that sampled and processed all these sounds. I could understand what a real fat sound is only after I had used this particular plugin.
Summary
It is a relatively cheap but amazing bass synth emulator with a huge choice of sounds, presets, etc. With it, you can work in a wide number of styles to get those deep bass lines. Even though it is not perfect, it still is an impressive result of professionals' work. If you are a fan of vintage analog synthesizers' sound, go ahead and try this piece of art.
Tech specifications
Platform: Mac, Windows.
Formats: AU, VST.
System requirements - Mac: macOS 10.4 or later, 2GB RAM, 210 MB disk space, 64 bit only.
System requirements - Windows: Microsoft Windows 7 or later, 1 GB RAM, 240 MB of disk space, 32/64 bit.
FAW SubLab – budget solution
Welcome to our FAW SubLab review of an intriguing 808 style synth emulator. If you use this bass instrument with an intuitive and eye-pleasing interface, you will produce audio tracks with impactful and punchy sub-bass lines in no time. In addition, by using this plugin, you are getting access to over 200 samples, three sound engines, unique collections of bass, and many more.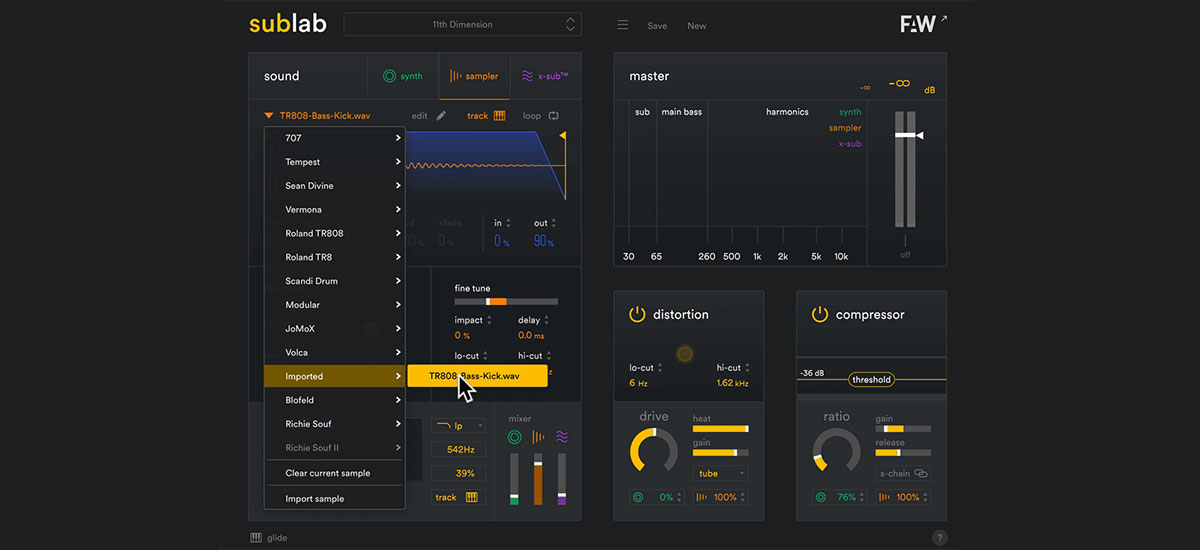 Main features
SubLab plugin is built on three engines that can be used simultaneously. First, an analog-style synthesizer engine has several built-in settings that can be used to adjust the properties of sound. An X-Sub engine, which is the core of X-Sub technology, has a new psychoacoustic sub-bass oscillator. The last is a sample engine, with various typical features, like a drag and drop function or 250 pre-sampled kicks. Bass packs of this instrument include pure subs, Analog Machines, Richie Souf samples, Sean Divine Bass, Crushed, and Hits DNA Vol.1.
Thanks to how the interface is designed, it is easy to get into it and start making your tracks. It is also utterly customizable regarding your display size. Mix workflow is made as simple as possible to perform the utmost sound quality on any sound system. All those engines and settings make it possible for you to transfer any kick into deep subs by using such options as distorting, sampling, widening, or layering.
The X-Sub technology is of particular interest here, for it is created by using a brand new psychoacoustic sub-bass oscillator. This technology is a recent invention and a fine addition to SubLab VST, allowing users to reach those accurate and consistent subs combined with any bass note. Users can adjust glide curves and use synced BPM glide times among other minor features.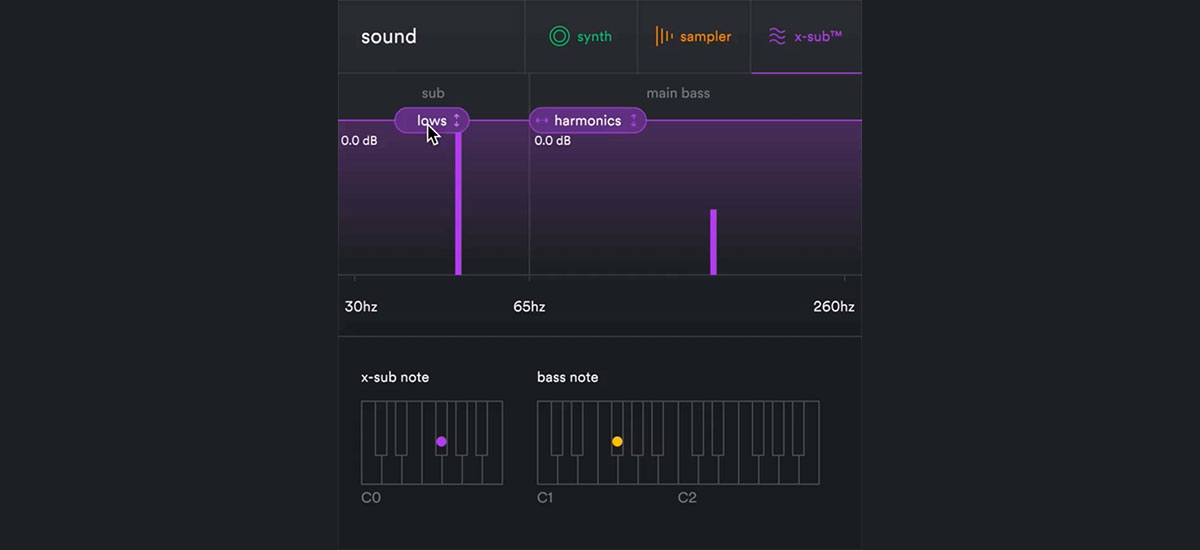 How does It sound?
I used many plugins of bass synthesizers during many years of my Hip Hop production. However, I have never seen an instrument emulator this good at performing sub-bass sounds. The sound quality is fantastic, bass packs are handy, and this drag and drop feature helps a lot. Those authentic and vintage 250 kick drums, transients, and 808s, sampled from the analog drum machines sound fantastic. The distortion feature has so many controls, it is a pleasure to look at what audio tracks I can create with it.
Summary
Here, you will find an impressive collection of samples and kicks to create deep and accurate sub-basses. This plugin has everything you need to make top-notch music: from proprietary X-Sub technology to a massive collection of basses, controls, and various adjustments. The only disadvantage I could think of is that even though SubLab is available in offline mode, you will need to go online to activate it.
Tech specifications
Platform: Mac, Windows.
Formats: VST2, VST3, AU, AAX.
System requirements - Mac: macOS 10.10 or later.
System requirements - Windows: Microsoft Windows 7 or later.
Loopmasters Plugins Bass Master
Creating superb bass lines is no longer a big deal with Bass Master powered by Loopmasters. It is a sample-based plugin that can be applied to produce bass tones for any genre of music. In this Loopmasters Plugins Bass Master review, I will show you all the key characteristics of this tool.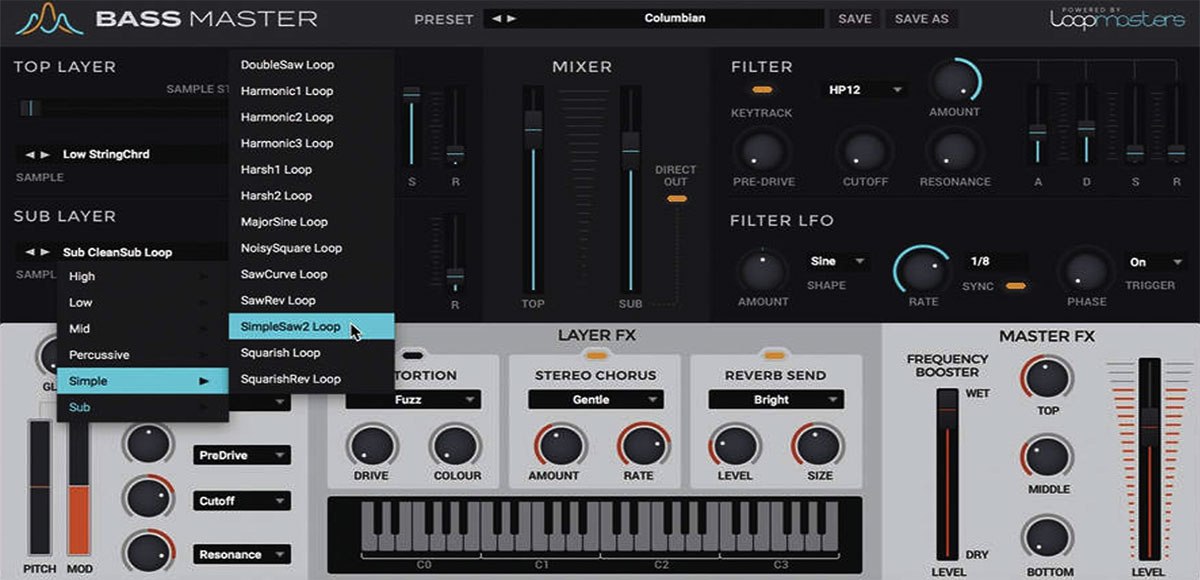 Main features
Bass Master is a 64-bit plugin accessible both to Windows and Mac OS that suits any modern DAW. One of the advantages of this tool is that it does not demand much memory from your computer because it is just 225 MB.
The main peculiarity of the plugin is its two-layers nature which includes the Top Layer and the Sub Layer. Each layer is independent and comes with versatile settings. Thus, the Top Layer is meant for higher registers and makes it possible to offset the sample start point, while the Sub Layer is reserved for sub-basses and gives you an opportunity to modify the octave.
The multi-mode filter is fantastic; it allows you to employ 13 different filter types and modulate them with a dedicated filter envelope and LFO. This plugin comprises 217 waveforms that cover both classic vintage and contemporary samples.
Rivet your attention to the effects area, where you can find 3 different types of effects which include Distortion, Chorus, and Reverb. You will definitely like 350 presets from experienced sound makers and famous artists. The presets are organized in 10 different folders and cover Simple, Harsh, Swaggy, Modulated, Percussive, and some other sounds.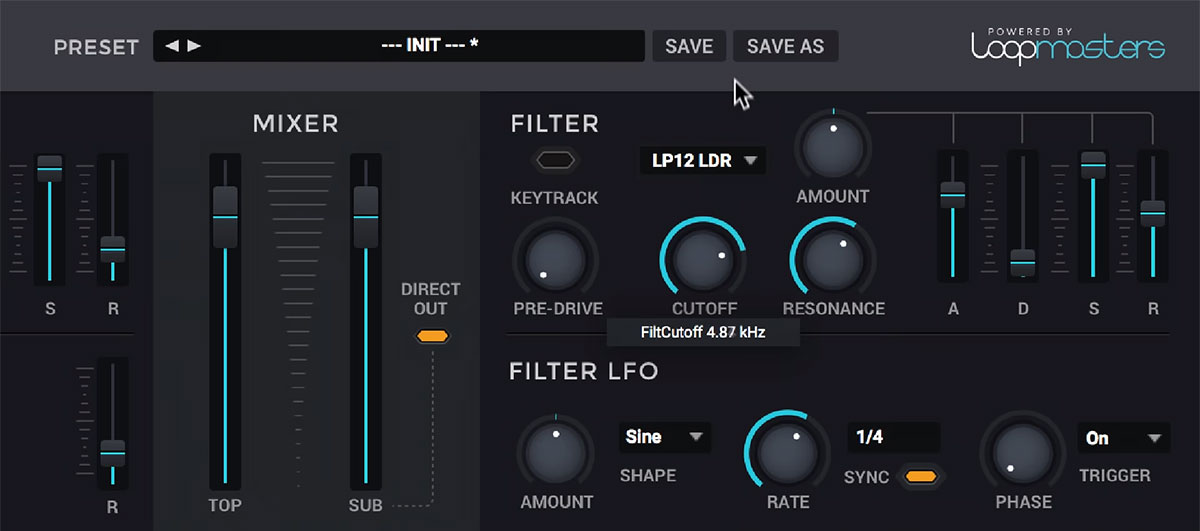 This tool can be used for creating any electronic music, from Techno to Hip Hop, from House to Drum and Bass. Since the user interface is quite simple and self-explanatory, it is a pure pleasure to work with this plugin.
How does It sound?
Regarding the quality of audio, you are unlikely to find a VST that will be able to create such an immense genuine sound. The great quality of the sound is gained owing to the blend of classic hardware with modern synth technologies. You will always get heavy, powerful, and speaker-shaking bass tones with the help of the Bass Master.
With this plugin, you can create excellent tracks as you can mix everything from subsonic bass to screeching lead tones. You may tweak the sounds even further to your liking without having to fiddle with a multitude of synth parameters. Even when your time is limited, the manufacturer guarantees that you will get solid, manually morphable bass sounds in the end.
Summary
All in all, Bass Master VST is an effective and flexible tool that you can use for creating the finest bass tracks. Owing to the simplicity and functionality of this CPU-friendly plugin, you will always get weighty and rich bass tones despite the limitations that actually make the instrument easy to apply.
Tech specifications
Platform: Mac, Windows.
Formats: AU, VST.
System requirements - Mac: macOS 10.12-10.15, 1GB RAM, 300 MB disk space, 64 bit only.
System requirements - Windows: Microsoft Windows 7 or later, 1 GB RAM, 300 MB of disk space, 64 bit only.
Best free sub bass VST reviews
u-he TyrellN6
This is a u-he TyrellN6 review – a utilitarian synth emulator. It is built based on the vintage synthesizers, with a couple of modules, modern features, and analog sound. This plugin is a manifestation of old-school synthesizers.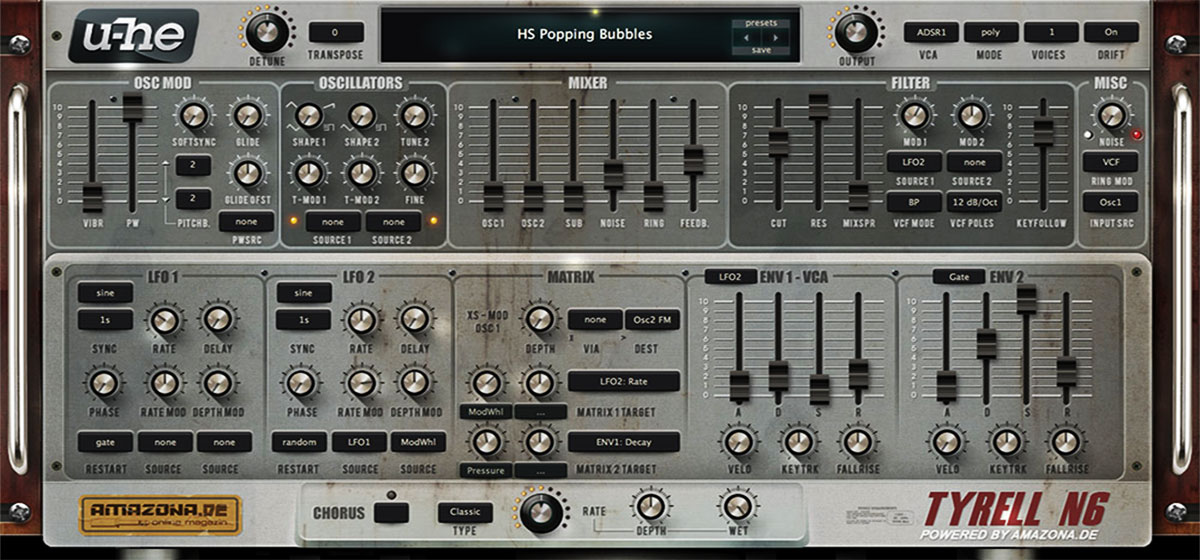 Main features
Even though the Tyrell plugin has a strict, utilitarian architecture, it is still a digital synth with extra features. For example, it has two oscillators, a noise and ring modulator, and 2 LFOs with eight different waveforms. Also, it has an audio source mixer with authentic overdrive. Here you can also find a rare feature – an interface with changeable skins. And finally, the TyrellN6 plugin has more than 580 pre-downloaded presets for you to use at your discretion.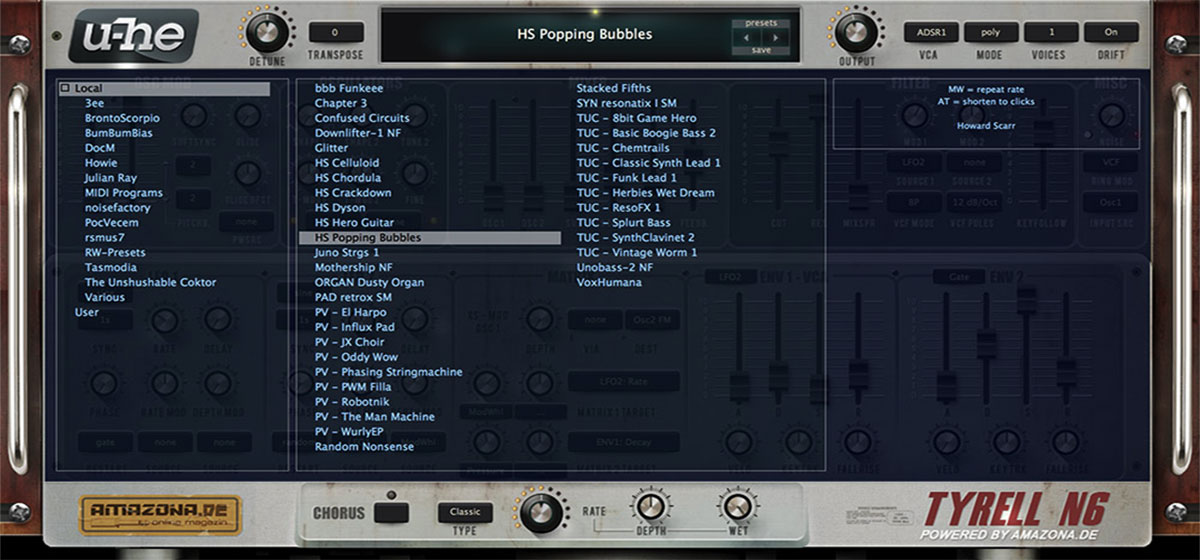 How does it sound?
With such freedom of choice and a large number of controls, this plugin can produce an astounding variety of tracks. Such vintage, iconic sounds combined with some modern technologies can create a masterpiece of a synth emulator.
Tech specifications
Platform: Mac, Windows, Linux.
Formats: AU2, VST2, AAX.
System requirements - Mac: mac OS 10.7 or later, 1 GB RAM, Modern CPU (Sandy Bridge or newer recommended), 50 MB disk space, 32-64 bit.
System requirements - Windows: Microsoft Windows 7 or later, 1 GB RAM, Modern CPU (Sandy Bridge or newer recommended), 50 MB disk space, 32-64 bit.
FAQ
Does sub-bass need to be in key?
No, sub-bass does not need to be in key, but it can add a lot of flavor to your track if it is. If you're looking for a particularly heavy or driving bass sound, then sub-bass in key can be a great option. However, if you're just looking for a nice, solid bass sound, then you can get away with not using sub-bass in key. It really depends on the sound you're going for.
How loud should your sub-bass be?
Sub-bass should be fairly loud in the mix, but not so loud that it drowns out the other elements. You want it to be present, but not overbearing. A good rule of thumb is to keep the sub-bass at around -6dB below the kick drum. This will ensure that it's audible without being too overwhelming.
How do you control the sub-bass in a mix?
There are a few things you can do to control the sub-bass in a mix. First, you can use a low-pass filter to cut out some of the high frequencies. This will help to keep the sub-bass from getting too muddy or overwhelming. Second, you can use EQ to boost or cut certain frequencies. This can be helpful for shaping the sound of the sub-bass. Finally, you can use a compressor to control the dynamics of the sub-bass. This can help to keep the bass nice and tight in the mix.
Should you compress the sub-bass?
Yes, you should compress the sub-bass, especially using a
bass guitar plugin
. This will help to keep the bass nice and tight in the mix. A good rule of thumb is to compress the sub-bass at a ratio of 4:1. This will help to control the dynamics without squashing the sound too much.
How to mix heavy kicks and sub-basses in mixes?
One of the most difficult things to do when mixing is to make sure that the sub-bass and kick drums don't sound muddy. A lot of times, producers will try to compensate for this by over EQing or adding distortion, but this can often make the problem worse. Instead, try using a sidechain compressor to duck the sub-bass whenever the kick drum hits. This will help to keep the two elements from fighting for space in the mix and will allow you to add more low end without muddying up the mix.