Creating bass sounds is no longer a challenging task owing to a huge choice of bass synth plugins that can complete the job efficiently. A bass synth VST is special software that emulates the sounds of a real bass synthesizer and makes it possible to craft new tracks even being at home. You do not have to spend a fortune on real musical instruments and you do not have to be a real expert to make new audios with the help of a bass synth plugin.
To say that the choice of tools for making bass is huge means to say nothing. You can find thousands of both free and paid programs that you can add to your library. I am sure that you want to find the best bass synth VST and it will be my pleasure to help you make the right choice and get the software that will meet all your expectations.
Our pick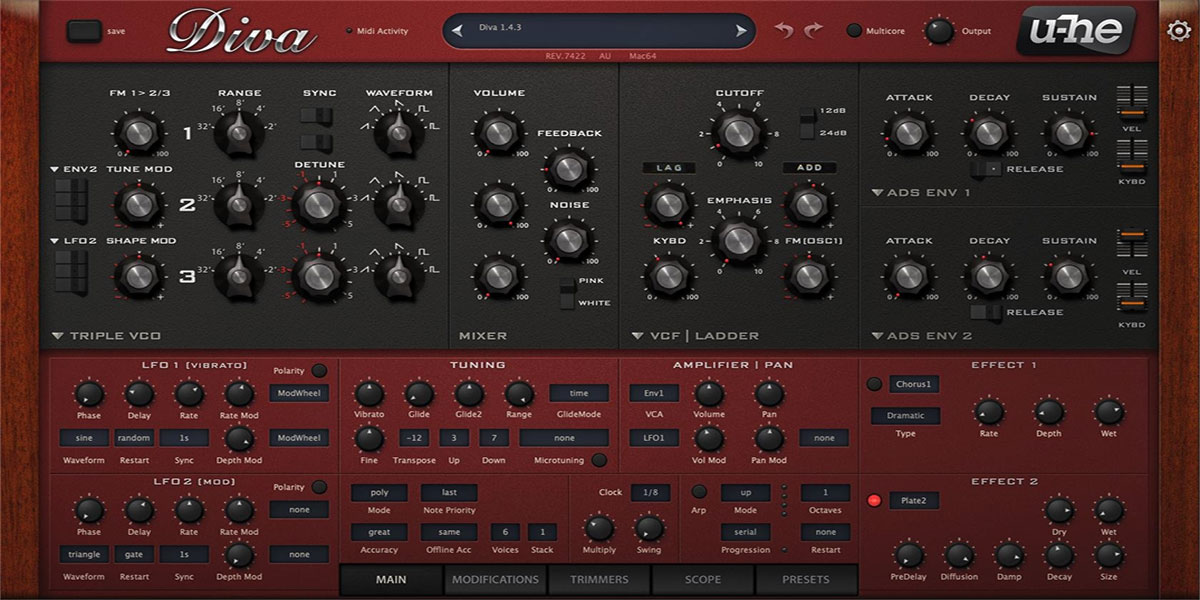 u-he Diva
Best bass synth VST
Diva captures the spirit of five decades of analogue synthesizers. Oscillators, filters, and envelopes from some of the greatest monophonic and polyphonic synths of yesteryear were meticulously modelled for unmatched analogue sound.
Best bass synth VST reviews
u-he Diva – best overall
We've had a huge choice of virtual analog synths over the last couple of years, yet connoisseurs of vintage synths still doubt that classics from the past can be put into a software form. But Diva seems to be the perfect plugin that can meet everybody's expectations as it is not a particular synthesizer; instead, it contains elements of various well-known instruments, all painstakingly analyzed and meticulously recreated with agonizing attention to detail. To be specific, Diva has all that you need to create any basic analog sound, and, in this u-he Diva review, I will do my best to show you the main features of this VST.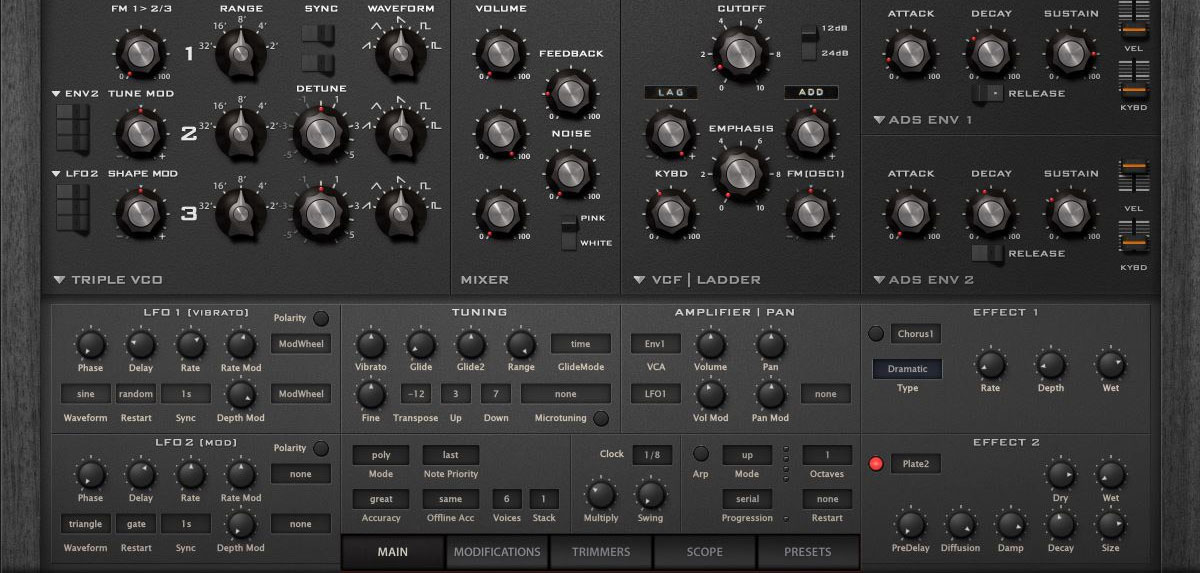 Main features
Diva (Dinosaur Impersonating Virtual Analogue) is a virtual synth that applies techniques from commercial circuit simulators. Since it is compatible almost with all DAWs, it is appropriate for Mac OS, Windows, and Linux. Available in 32-and 64-bit versions, u-he Diva VST comes with more than 1200 presets. With this tool, you will always have an opportunity to discover new sounds owing to the clever tag system that allows marking each patch with a color code.
Authentic sounds are created owing to the mix of filters, oscillators, and envelopes. The tool has a regular design with 5 oscillator modules which include Triple VCO, Dual VCO, DCO, Dual VCO Eco, and Digital. For instance, Triple VCO follows the structure of Minimoog's oscillator, and DCO is similar to Roland Alpha Juno, which provides rich waveforms.
At the same time, Diva has 5 filter modules based on classic synth hardware, which are VCF Ladder, VCF Cascade, VCF Multimode, VCF Bite, and VCF Uhbie. Having the advantage of zero-delay feedback filters, you can expect authentic resonance behavior.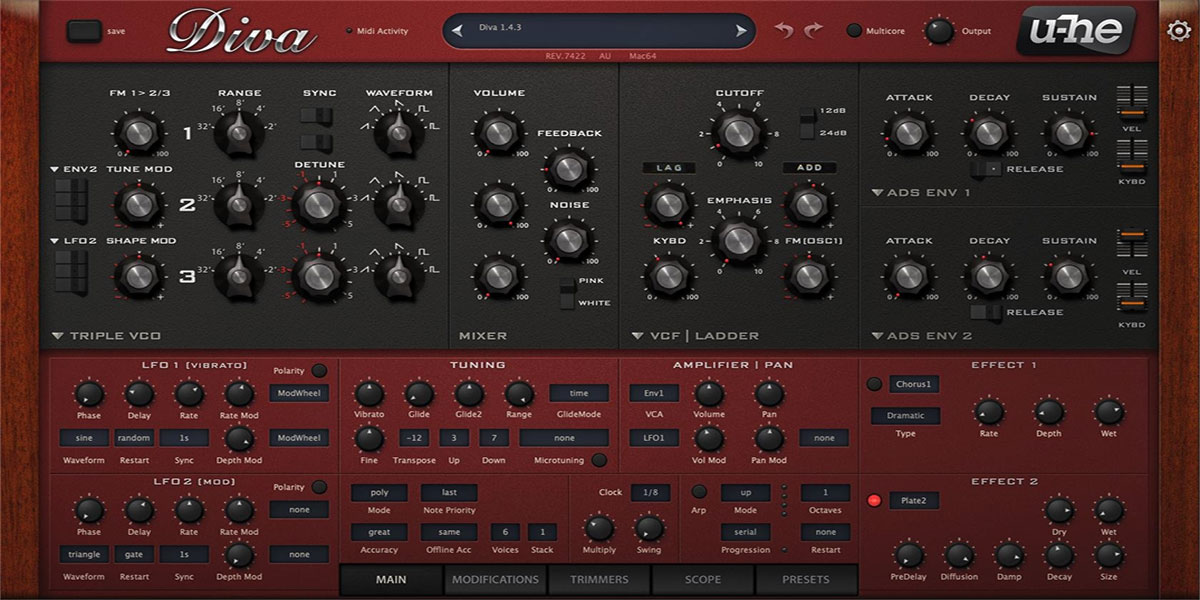 This VST includes 3 ADSR envelope models that are based on classic synthesizer hardware: Minimoog-style ADS, analog ADSR, and digital ADSR. The patch browser occupies the whole panel by itself and allows you to create, edit, and save your own patches.
It is an ideal plugin for electronic musicians and composers; its Trimmers section allows you to make your audio sound more analog. With this panel, you can detune voices and some "slop" to filter cutoff, envelope times, pulse widths, and glide times.
How does It sound?
If you ask me about the quality of the sound of this plugin, I will tell you that u-he Diva sounds like a deluxe instrument, and owing to its flexibility, it feels like real analog hardware sitting in front of you. Honestly, I have never heard such a natural, soft, and warm synth with this amount of dimensional depth, and I have to confess that the soundstage is huge.
Since you have the capability of changing the parameters for synthesis, you will always get an authentic, rich and dense sound in the end. Even if you are not in the mood for creating your own sounds, the terrific present library that includes various sounds will allow you to mold them to your own preferences in order to get very detailed audio that is so evocative of the original instruments.
Tech specifications
Platform: Mac, Windows, Linux.
Formats: AAX, AUv2, VST2, VST3.
System requirements - Mac: macOS 10.9 or higher, Intel or Apple silicon processor, 1 GB RAM more recommended, 50mb of disk space, 64 bit only.
System requirements - Windows: Microsoft Windows 7 or later, 1 GB RAM, 50 MB of disk space, 32/64 bit.
System requirements - Linux: glibc version 2.28 or newer, 1 GB RAM, 50 MB of disk space, 32/64 bit.
Summary
In general, u-he Diva synthesizer is a tool that will grab your attention right from the start and will let you create audio masterpieces with ease. I can assure you that this VST is functional and really easy to use, even for an amateur. You can add this VST to your sound library owing to its undoubtedly amazing sound and accessible interface. Keep in mind that the plugin is CPU-hungry, but still, it possesses a number of convenient operational features that give you a lot of space for experiments.
Loopmasters Plugins Bass Master – budget solution
Creating superb bass lines is no longer a big deal with Bass Master powered by Loopmasters. It is a sample-based plugin that can be applied to produce bass tones for any genre of music. In this Loopmasters Plugins Bass Master review, I will show you all the key characteristics of this tool.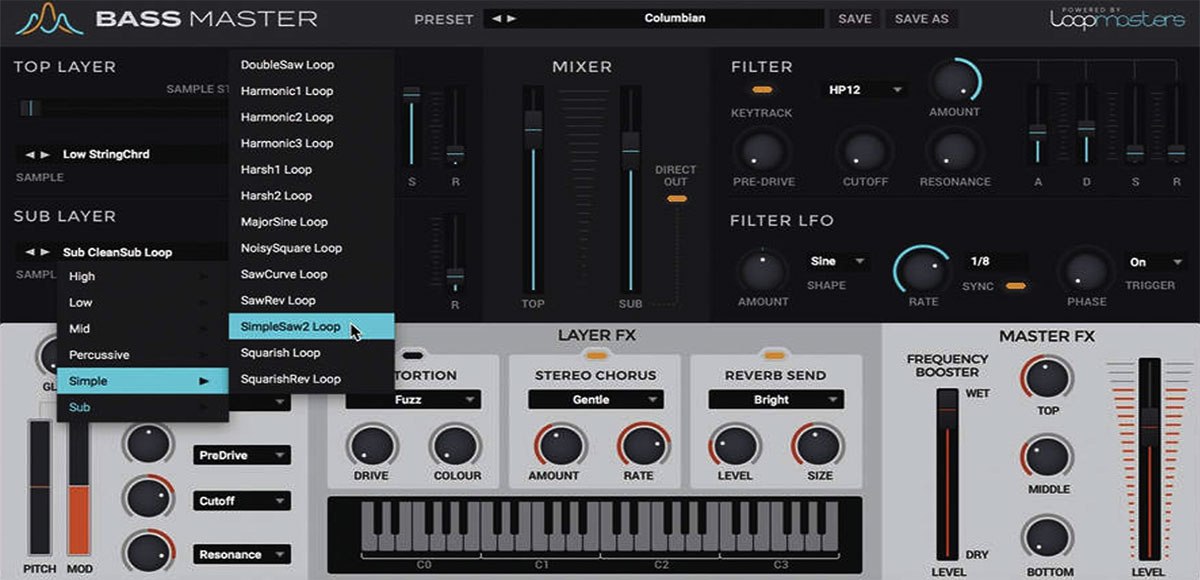 Main features
Bass Master is a 64-bit plugin accessible both to Windows and Mac OS that suits any modern DAW. One of the advantages of this tool is that it does not demand much memory from your computer because it is just 225 MB.
The main peculiarity of the plugin is its two-layers nature which includes the Top Layer and the Sub Layer. Each layer is independent and comes with versatile settings. Thus, the Top Layer is meant for higher registers and makes it possible to offset the sample start point, while the Sub Layer is reserved for sub-basses and gives you an opportunity to modify the octave.
The multi-mode filter is fantastic; it allows you to employ 13 different filter types and modulate them with a dedicated filter envelope and LFO. This plugin comprises 217 waveforms that cover both classic vintage and contemporary samples.
Rivet your attention to the effects area, where you can find 3 different types of effects which include Distortion, Chorus, and Reverb. You will definitely like 350 presets from experienced sound makers and famous artists. The presets are organized in 10 different folders and cover Simple, Harsh, Swaggy, Modulated, Percussive, and some other sounds.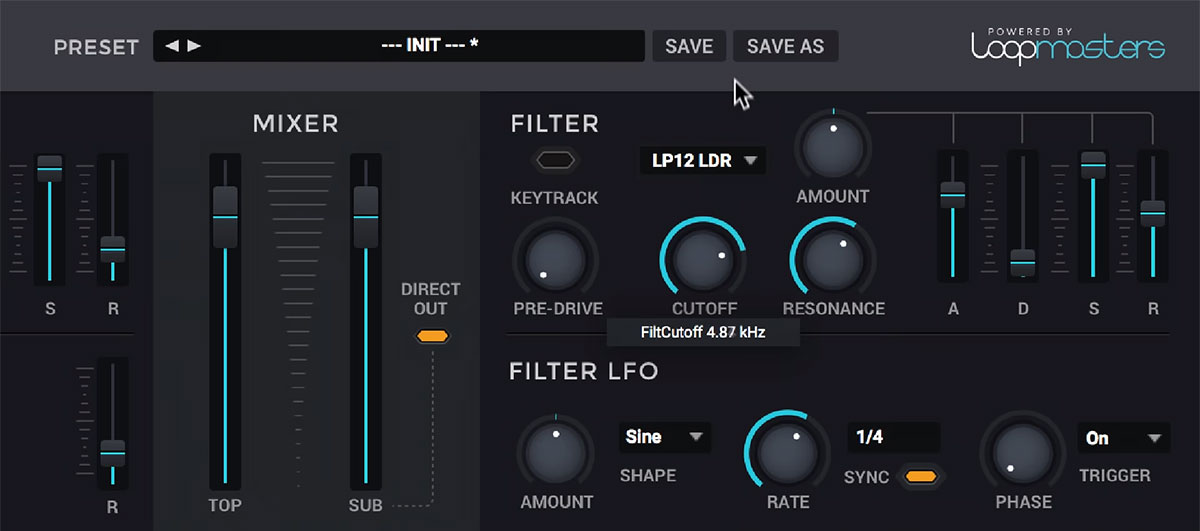 This tool can be used for creating any electronic music, from Techno to Hip Hop, from House to Drum and Bass. Since the user interface is quite simple and self-explanatory, it is a pure pleasure to work with this plugin.
How does It sound?
Regarding the quality of audio, you are unlikely to find a VST that will be able to create such an immense genuine sound. The great quality of the sound is gained owing to the blend of classic hardware with modern synth technologies. You will always get heavy, powerful, and speaker-shaking bass tones with the help of the Bass Master.
With this plugin, you can create excellent tracks as you can mix everything from subsonic bass to screeching lead tones. You may tweak the sounds even further to your liking without having to fiddle with a multitude of synth parameters. Even when your time is limited, the manufacturer guarantees that you will get solid, manually morphable bass sounds in the end.
Summary
All in all, Bass Master VST is an effective and flexible tool that you can use for creating the finest bass tracks. Owing to the simplicity and functionality of this CPU-friendly plugin, you will always get weighty and rich bass tones despite the limitations that actually make the instrument easy to apply.
Tech specifications
Platform: Mac, Windows.
Formats: AU, VST.
System requirements - Mac: macOS 10.12-10.15, 1GB RAM, 300 MB disk space, 64 bit only.
System requirements - Windows: Microsoft Windows 7 or later, 1 GB RAM, 300 MB of disk space, 64 bit only.
Spectrasonics Trilian – also a great choice
This is a Spectrasonics Trilian review, where we will tell you about all features and advantages of this plugin. Trilian is one of the most versatile digital bass guitars on the market, which is considered to be an industry standard. A high-resolution UI, customizable controls, authentic sound, advanced arpeggiator, the possibility to integrate it with Omnisphere, 33 FX Units, and many more features are hidden inside this plugin. Here, we will talk about all of the above and tell you how exactly this bass guitar emulator sounds in practice.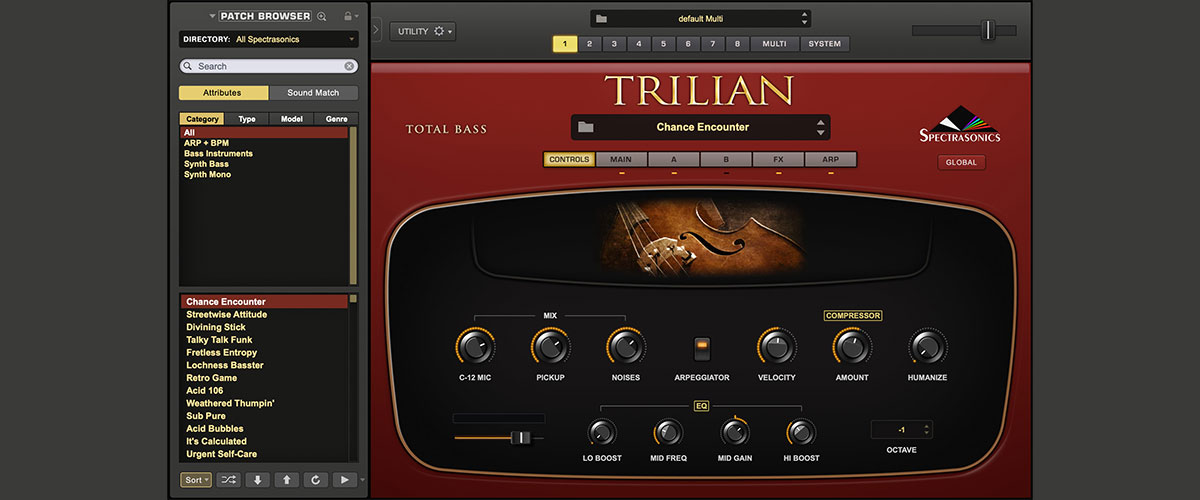 Main features
The interface can be adjusted to any display and even to a size comfortable to you personally. It also supports HiDPI displays. Trillian Bass guitar emulator has a vast library of 34GB of different acoustic, electric, and synth basses and more than 60 electric guitars with 4, 5, 6, or 8 strings. In addition, there are numerous playing techniques available, such as fingered, picked, fretless, slapped, tapped, and muted.
On top of that, the interface is not simply user-friendly but also supports customizable controls. It grants an outstanding versatility not only in making your working space as comfortable as you want it to be but also allows you to create music more effectively. Developers of the Trillian VST sampled a huge number of bass lines and other instruments to create its vast samples library that sounds incredibly authentic, just like physical instruments.
Among other features is that this plugin supports touch screens and a live mode that has 8 dynamic bass articulations loaded at once. It supports instant key-switching, so you can work faster. The advanced arpeggiator has Groove Lock that allows users to sync bass lines to an RMX groove or MIDI Files. And the Stack mode will help a user to map customizable key/velocity/controller articulation. This is only about half of all features it has, so as you can see, this plugin hides many opportunities for a musician.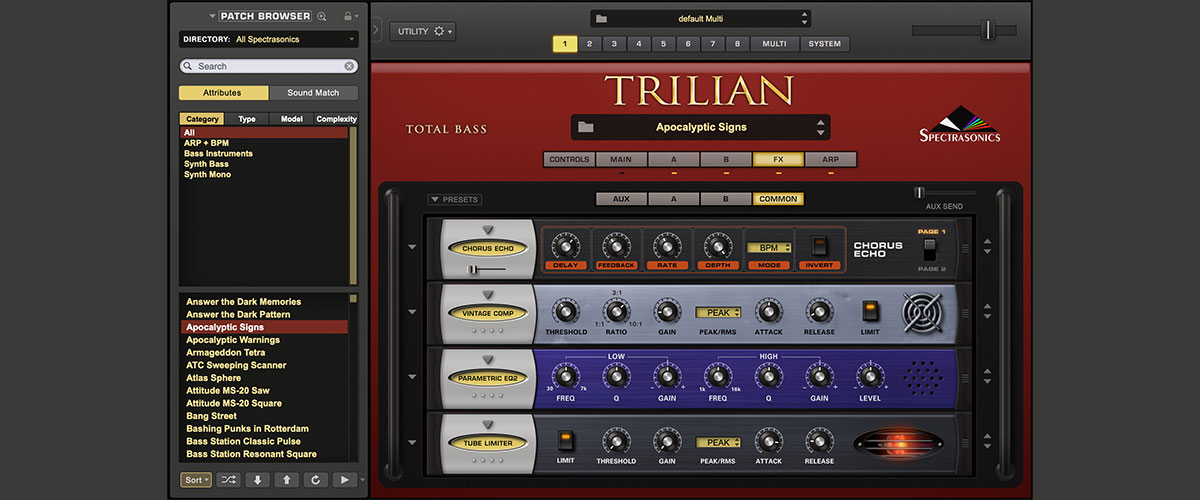 How does It sound?
This plugin is capable of creating incredible bass tracks. It's no big deal to come up with ground-shaking music by using its vast library of juicy acoustic, electric, and synth basses filled with life. Also, it is important to highlight the versatility and adjustability of this bass guitar emulator, which makes it stand out among other plugins like this one. Amazing sounding, super realistic bass lines, a selection from acoustic to synth basses - this music creation toolkit is a vast field for experiments with music in general and bass sounds in particular.
Summary
Trilian Bass Virtual Instrument software is a great example of a high-quality complex product aimed at experienced musicians. But in case you want to learn how to create music, it will be easy to figure everything out. You can utilize a full package of its functions and features to create fascinating music and separate audio tracks, like its huge library of samples and patches, or an impressive list of features, like expressive multi-sampled dynamic slides, edit page with Flex Mod, Timbre Shifting, FM, Modultable FX, and other sound manipulation features, 8-part multitimbrality, and many others.
Tech specifications
Platform: Mac, Windows.
Formats: AAX, VST 2.4, AU.
System requirements - Mac: macOS 10.13 or later, 2.0 GHz or higher processor, 8GB of RAM, 72GB of disk space, 64 bit only.
System requirements - Windows: Microsoft Windows 7 or later, 2.0 GHz or higher processor, 8GB of RAM, 72GB of disk space, 64 bit only.
D16 Group LuSH-101
Virtual synthesizer LuSH-101 is a tool that was created from many modules combined into a single compact design. It is a powerful instrument with great flexibility for creating a huge variety of sounds. In this D16 Group LuSH-101 review, I will tell you about the plugin's main features.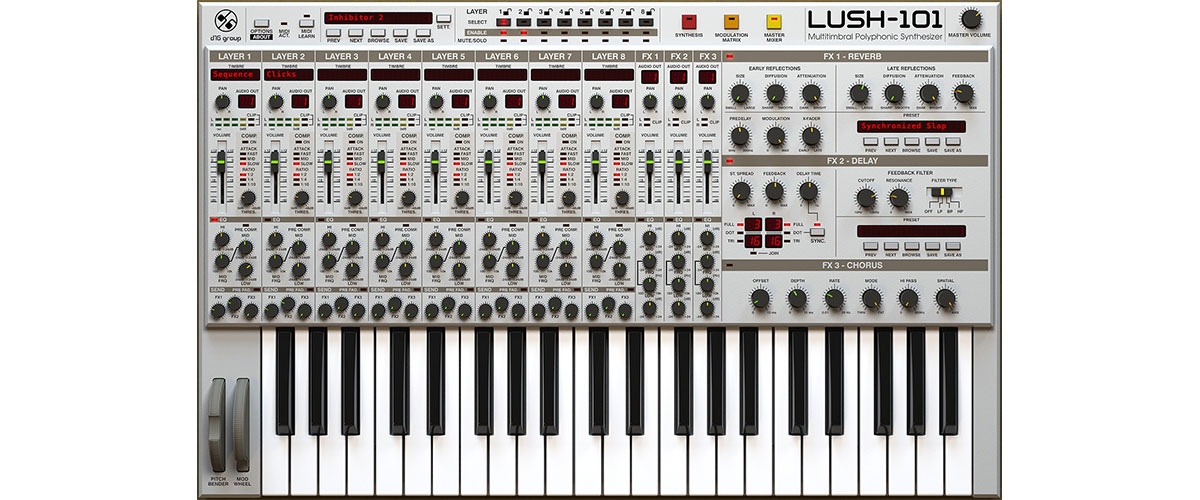 Main features
The key feature of D16 Group LuSH-101 is its multi-layered architecture that allows to assign each layer its own polyphony, arpeggiator, and insert effects. What makes this plugin so powerful and unique for sound design is the ability to layer 8 independent instances of the synthesizer at once. Thus, you can create sophisticated splits since the layers are assigned to different keyboard zones.
The manufacturer claims that this VST comes in 32- and 64-bit versions and is available both for PC and Mac. Yet, it requires a lot of processing power even for a single layer sound, not to mention multiple layers sounds. The interface of the LuSH-101 plugin is split into three main sections: Synthesis, Modulation Matrix, and Master Mixer, and is easy to operate.
It is a pretty straightforward VST with four oscillators. There is one waveform for each of the first two oscillators, while the third oscillator is a sub-oscillator, and the fourth oscillator is a noise generator.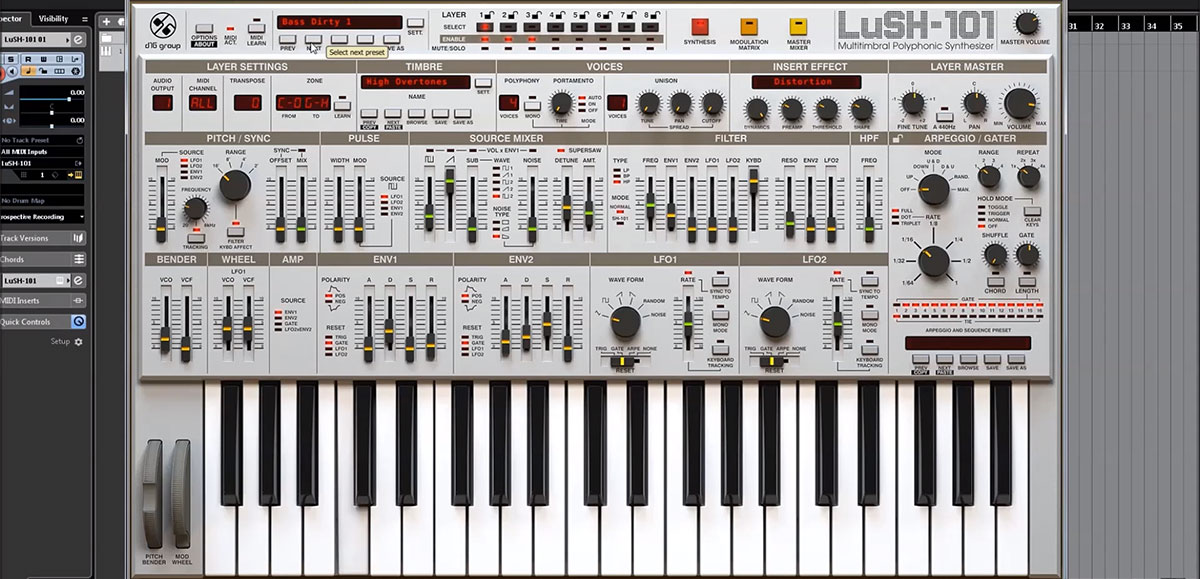 A clear and easy-to-navigate Preset Browser of LuSH-101 includes a generous factory library of more than 1600 presets covering leads, bass, percussion, and anything else that you would expect from a versatile synth. All the presets are divided into 5 categories - whole synth, single layer, arpeggiator, reverb, and delay.
You can control modulation (pitch, pulse width, etc.) owing to two envelopes with re-triggering modes and two LFOs with optional tempo synchronization. You also have an opportunity to modify the sound to your liking owing to eight insert effects.
How does It sound?
The quality of the sound of LuSH-101 VST can be described by the words superb, spectacular, incredible, etc., and that will not be an exaggeration. You will get awesome sounds even when you do not use all the layers available. In my opinion, this tool is ideal for big, fat analog sounds like warm or shimmering pads and bold bass sounds.
Even though the tool is not as versatile as some synths, very rich and clear sound is achieved owing to the simplest waveforms. The lows are warm and organic, the mids are punchy, and the highs are sharp and clear. From my own viewpoint, this VST is especially good for morphing, modulating, and pulsing sounds.
Tech specifications
Platform: Mac, Windows.
Formats: AU, VST2.
System requirements - Mac: macOS 10.9 to 10.15 , Intel based 2.8 GHz (i7 based 3.4 GHz recommended) , 4 GB RAM ( 8 GB recommended) , 90mb of disk space, 32/64 bit.
System requirements - Windows: Microsoft Windows 7 or later, 2.8 GHz SSE (i7 based 3.7 GHz recommended), 4 GB RAM ( 8 GB recommended), 90 MB of disk space, 32/64 bit.
Arturia Mini V3
We prepared this Arturia Mini V3 review to show you a legendary analog synthesizer that can produce vintage sound. With its help, you can choose between four parameters and make adjustments in real-time within the preset. Furthermore, you can create an impressive classic synthesizer track to complement your music with its up-to-date automation.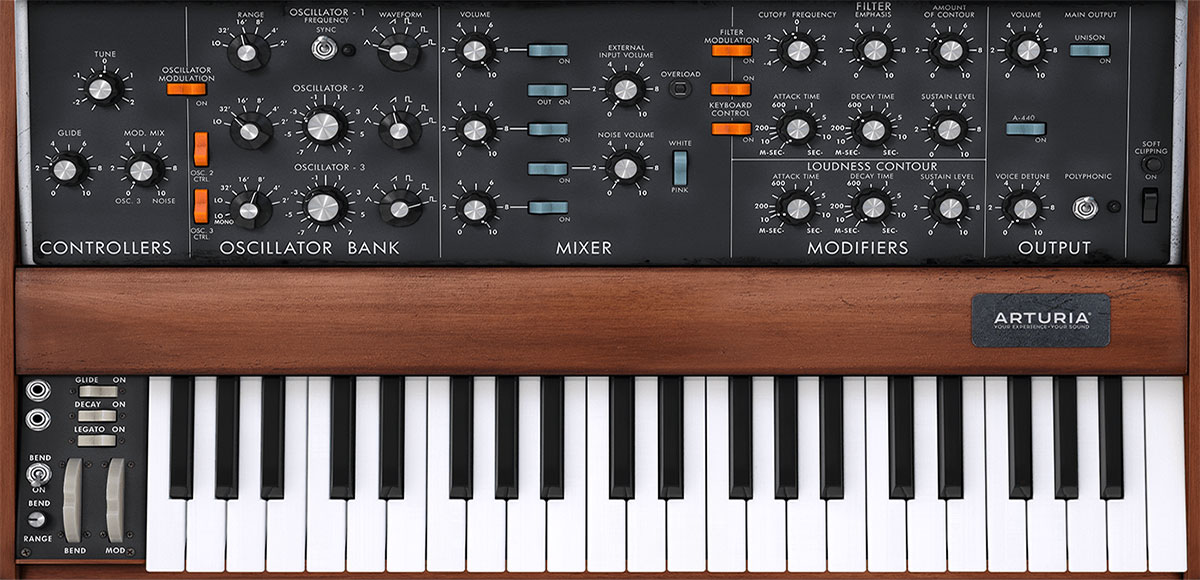 Main features
If you are a vintage things connoisseur, Arturia Mini V3 plugin design is made to look like a classic analog synthesizer. Also, a unique TAE technology is made so that it emulates classic synth circuits to ensure authentic sound. And, on top of such vintage style, such features, such as polyphony, arpeggiation, and effects are mounted to widen your possibilities to adjust your tracks.
Another feature of this plugin is a customization of the interface size on HD displays. The interface also poses an immeasurable interest - a genuine recreation of the legendary Bob Moog synthesizer from the 70s. A preset browser within Mini V3 VST opens the possibility to search for a particular sound by using tags or writing a name, make comments, mark and recall favorites, and create playlists. The library of this emulator contains over 1000 presets, which were created by some of the most professional sound designers from different countries.
Among other features, you will find stereo effects, like chorus or delay, soft clipping function, arpeggiator, and unison mode. If you are interested in the polyphony feature, Arturia has around 32 voices. The modulation matrix of this plugin comes with eight connections. It even has a fully automatable vocal filter with a formant-based effect, which also has its own LFO, by which you can make your synth talk.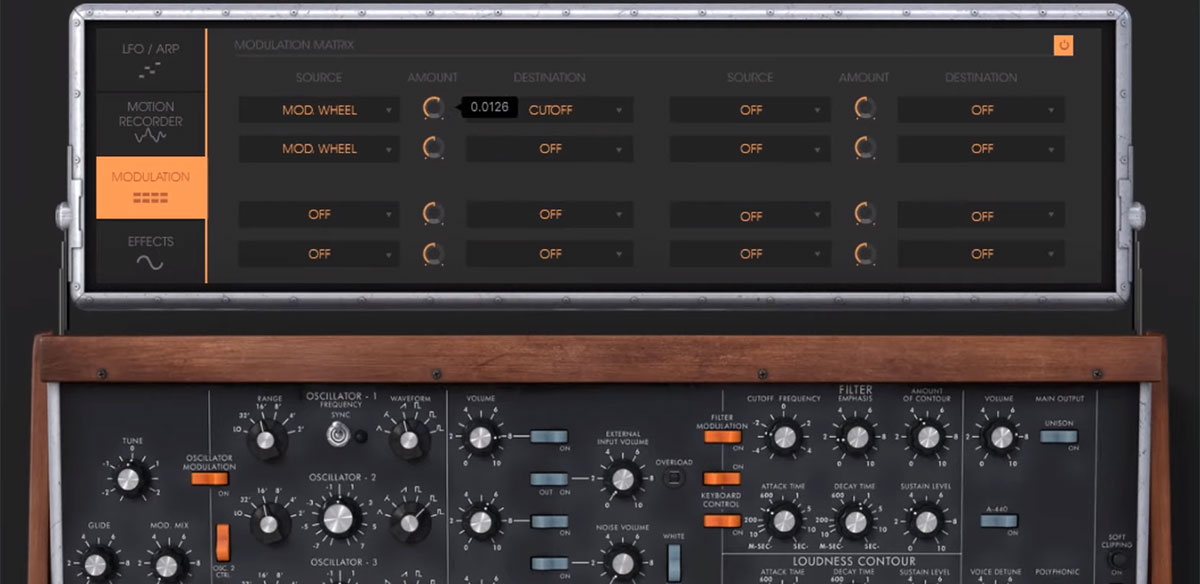 How does It sound?
This emulator brings vintage synthesizers to the next level. With a rich and powerful bass, thoroughly recreated 'free-running' waveforms, and a variety of settings and options, I can improve my track with quality synth sound. Or when I need deep and fat blistering bass, I always come back here since it gives such a great result. I almost feel like one of those hitmakers from the 70s creating some incredible iconic music.
Tech specifications
Platform: Mac, Windows.
Formats: VST, AAX, AU, NKS.
System requirements - Mac: mac OS 10.13 or later, 4 GB RAM, 2.5 GHz CPU, OpenGL 2.0 compatible, 2GB disk space.
System requirements - Windows: Microsoft Windows 8 or later, 4 GB RAM, 2.5 GHz CPU, OpenGL 2.0, 2 GB disk space.
Best free bass synth VST reviews
TAL Bassline
This is our TAL Bassline review, where we look into a digital bass synth based on an analog instrument whose specialty is various effects and acid or deep bass sound. The controls here repeat those of a physical synthesizer if you want to feel like using a real one.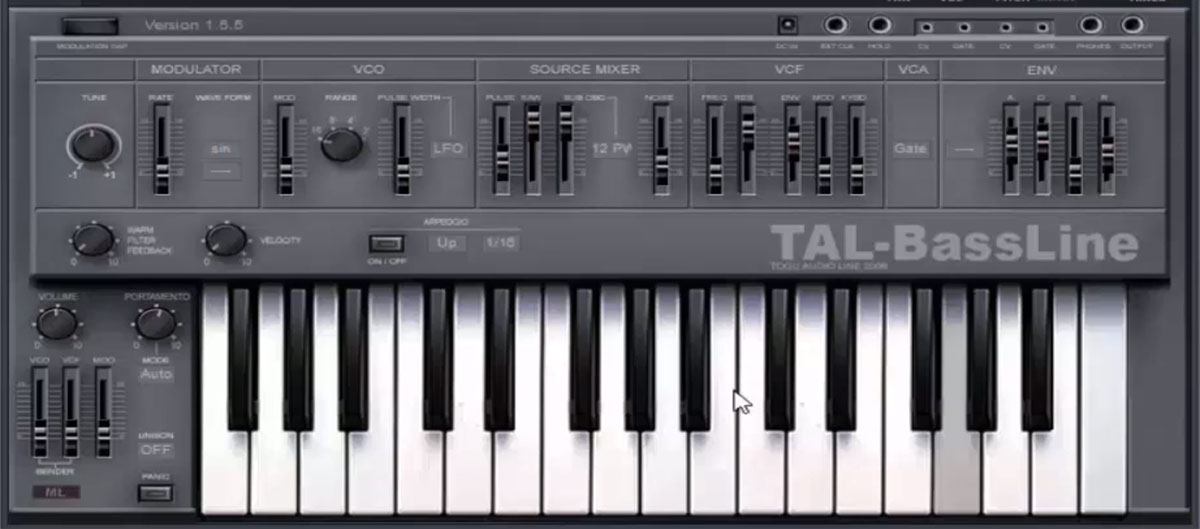 Main features
TAL Bassline plugin is built on a proprietary core with a one-of-a-kind -18dB low pass filter. Its feature is randomized asymmetric elements that ensure a warm and analog sound. Another feature of this plugin is non-linear envelopes. This bass guitar simulator can reproduce any sample rate. The number of presents available is 23, and you can use 2x Unisono Mode. You will be able to precisely control the fader by pressing Shift.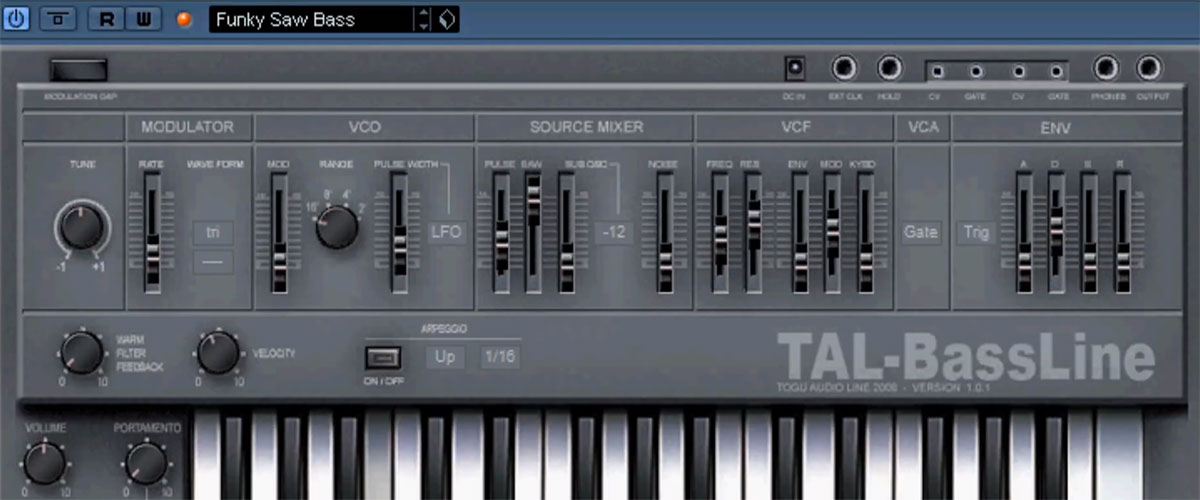 How does it sound?
It was an amazing experience to use this plugin to create bass guitar tracks. This easy-to-learn plugin with top-notch samples is 100% one of my the most favorite ones so far.
Tech specifications
Platform: Mac, Windows.
Formats: AU, VST.
System requirements - Mac: macOS 10.6 or later, 8 MB disk space, 32-bit.
System requirements - Windows: Microsoft Windows 7 or later, 8 MB disk space, 32/64-bit.