After digitalization became a common trend, many instruments and musical hardware also were turned into virtual copies. They make it easier not only to learn how to create music but also make it much quicker. Digital distortion plugins are tools that emulate special audio effects adding them to a track. Such effects were created back in the day by hard-clipping the input sound through transistor-based or tube-based circuits.
Distortion VST creates great sounds when used with electric guitars, however, it also sounds good with other instruments, like drums or synthesizers. The best distortion plugins have a wide variety of controls, settings, and knobs that change the sounding so that you can adjust your tracks to any point. Such plugins are exact replicas of the one's musicians used before the age of computers. Many of them even have corresponding skins that make them look and sound like their vintage counterparts. If you want to add some subtle saturation or extreme breakup to your audio tracks you will need such a plugin.
Our pick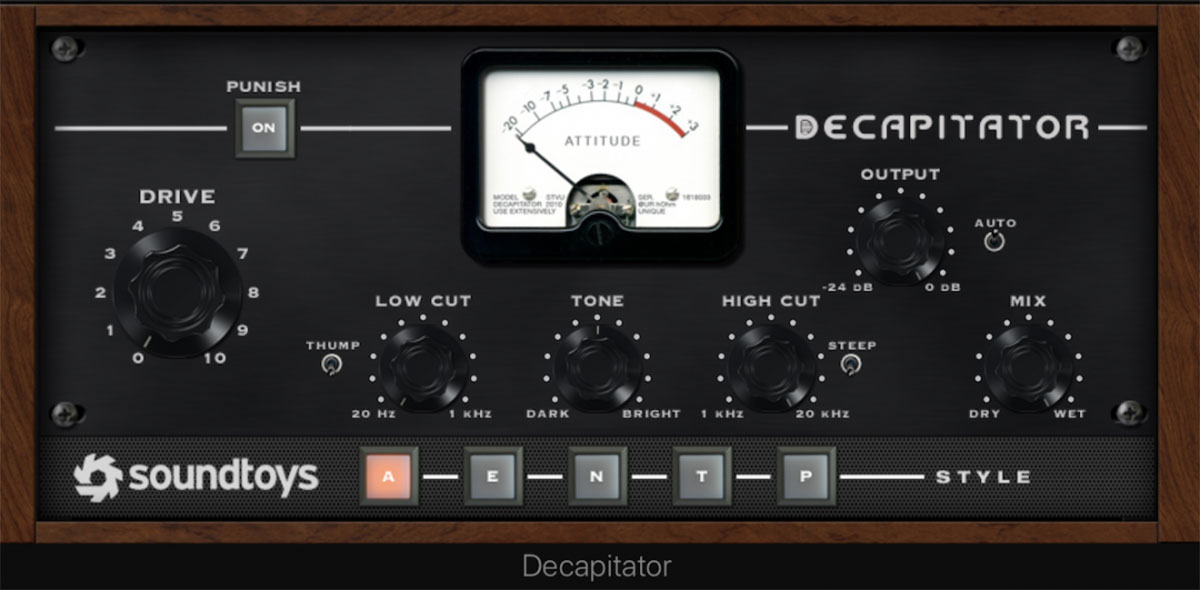 u-he Diva
Best distortion plugin
With five different analog saturation models to choose from, Decapitator is perfect for adding character to every kind of track and instrument in your mixes.
What is distortion?
Distortion is a type of audio signal processing where the waveform of an incoming signal is altered in some way. The most common type of distortion is clipping, where the peaks of the waveform are "clipped" off, resulting in a distorted sound. Other types of distortion include overdrive, fuzz, and saturation.
Distortion can be used to create a variety of different sounds, from the warm overdrive of a tube amplifier to the harsh fuzz of a distorted guitar pedal. It can also be used to simply add some extra sustain or "crunch" to a signal.
Best distortion plugins reviews
Soundtoys Decapitator – best overall
In this Soundtoys Decapitator review, we are going to discuss a digital recreation of the analog saturation modeler. This particular plugin will add that old-school analog vibe to your audio tracks, allow you to shape your songs with saturation, and improve the sound with the Punish button.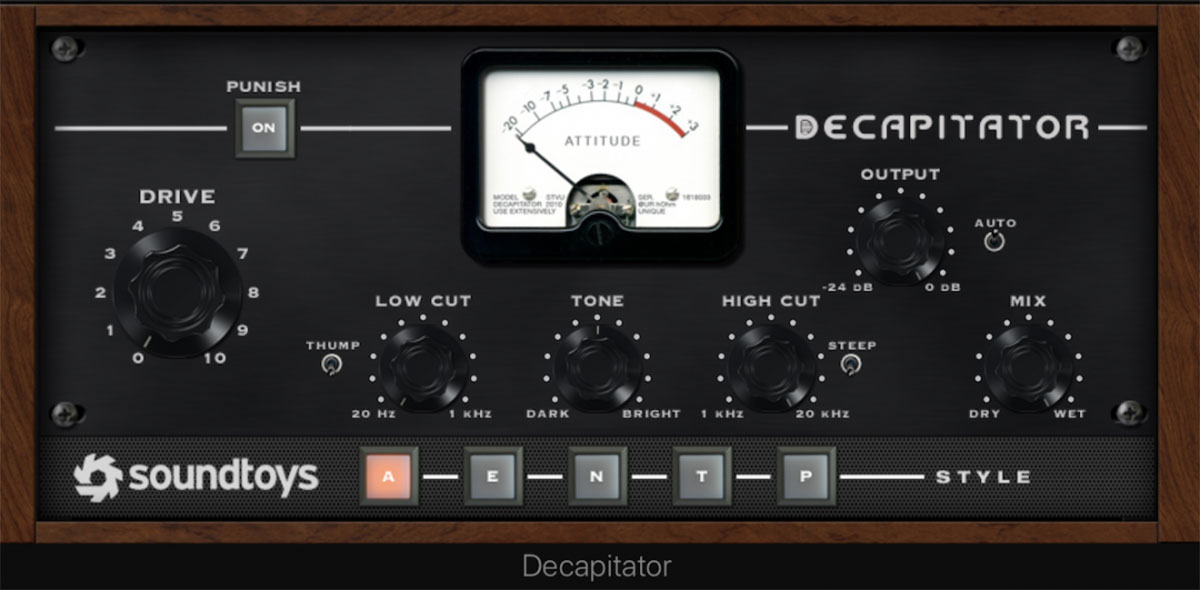 Main features
This plugin has many features regarding saturation adjustment. For example, Decapitator VST has 5 models built after physical counterparts. These models can be used to add dynamic saturation to your tracks and instruments. Also, it has a modeled tone control and a mix control which are used to adjust the saturated sound and blend in dry and wet signals. The Punish button is responsible for bringing the sound to another level. Also, each of the 5 models mentioned above has a unique Punish sounding.
Among other features, the plugin has the following controls: Drive, Thump, Low Cut, Tone, High Cut, Steep, Output, Auto, Mix. Sound designers analyzed various compressors, preamps, input channels, studio distortion units, and other instruments to make this plugin recreate that vintage atmosphere within your songs.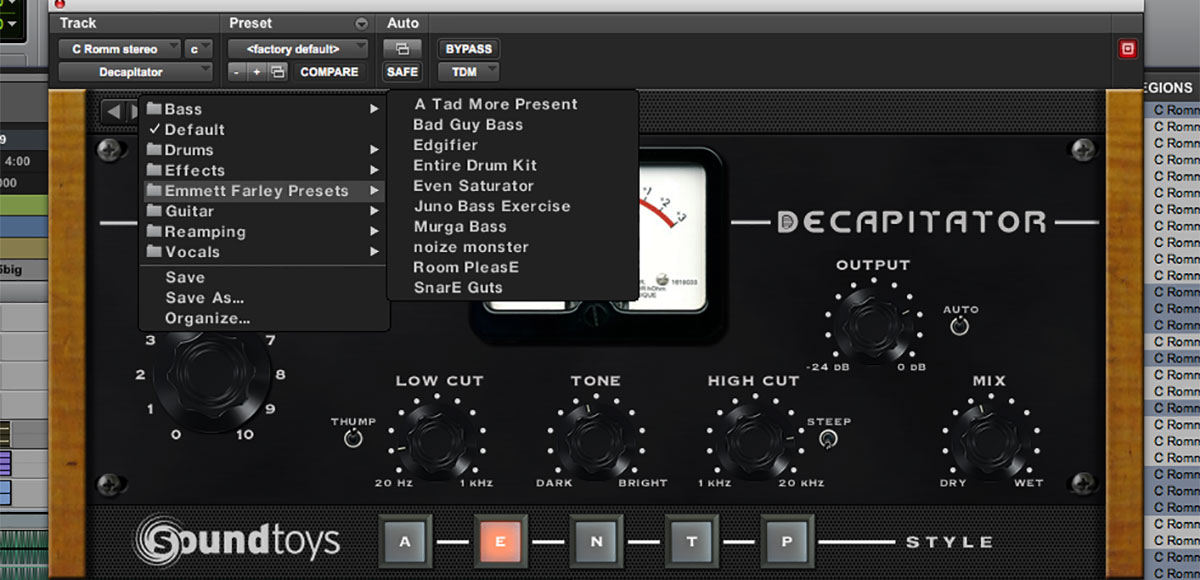 Soundtoys Decapitator plugin developers made everything possible to ensure this software recreates the sound exactly as a hardware instrument. And they sure did it - sound designers were inspired by those old classic transistors and tubes hardware. Now, you can appreciate their work captured within this state-of-the-art plugin and saturate your audio tracks with retro vibes.
How does It sound?
A crucial part of every musical composition is saturation. This plugin opens access to the chest full of analog hardware sound. Adding those sounds of old machinery and technologies, like wires, tubes, transistors, etc. is essential to get a special atmosphere in your audio track. This software recreates these sounds perfectly and even adds some interesting ideas, like Punish button.
Thanks to its wide spectrum of settings, like Low Cut from 20 Hz to 1 kHz and High Cut from 1kHz to 20 kHz, it is so much fun to experiment and see what effect it will have on the whole song. With the help of this plugin, I could add warmth to my songs, add dry and wet signals, and create signature sounds - all that thanks to one tiny creation of sound designers.
Summary
A relatively simple and compact saturation modeler that will help you to create the core of every song. With its 5 models, the Punish button, and other controls this plugin is everything any musician will ever need.
Tech specifications
Platform: Mac, Windows.
Formats: AAX,VST 2, AU.
System requirements - Mac: macOS 10.10 or later.
System requirements - Windows: Microsoft Windows 7 or later.
AudioThing Wave Box – budget solution
We present you with an AudioThing Wave Box review, where we will scrutinize a dynamic dual waveshaper emulator. This plugin supports both symmetrical and asymmetrical distortion, which we will discuss in detail, and has 2 LFOs, 12 shaping functions, and a preset library with a randomizer function.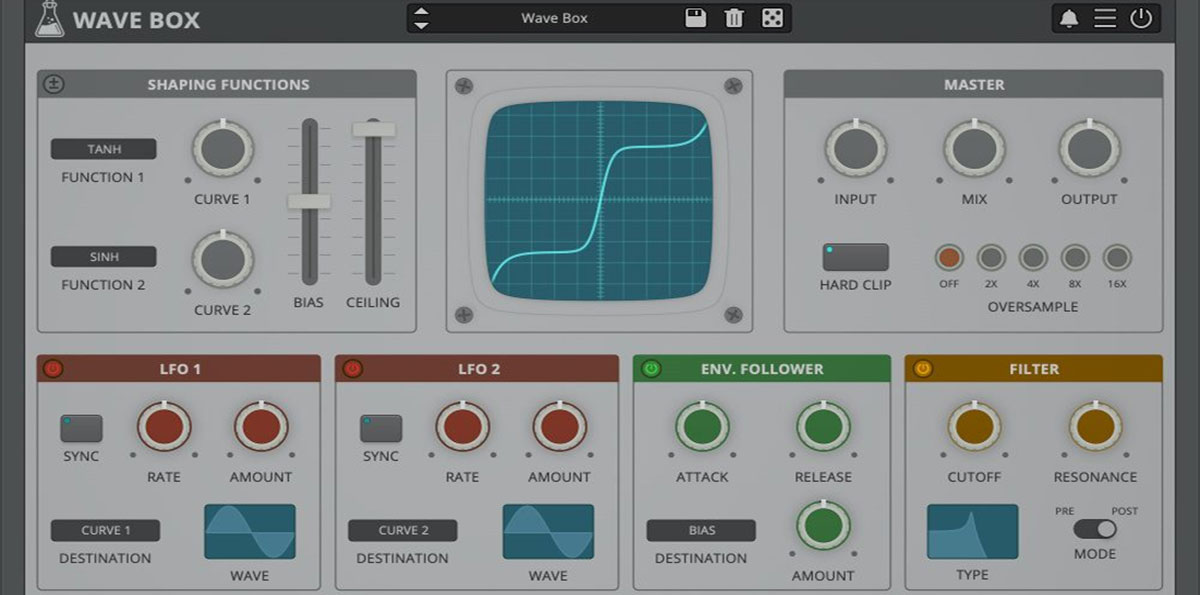 Main features
Let's start with the most outstanding feature - the symmetrical and asymmetrical shaping of waves. So, symmetrical shaping of sound waves works the next way: when a user applies the shaping feature to the positive and negative parts of the sound wave equally. That's how we get odd harmonics. In the case of asymmetrical waveshaping, we get even harmonics if we apply the waveshaping function only to the positive or negative part of the signal.
Thus, the Wave Box plugin grants you the choice of which shaping mode to use and allows adjusting the outcoming sound. In addition, you can even mix symmetrically and asymmetrically shaped sounds. The audio track here is modulated by an Envelope Follower and 2 LFOs with 6 waveforms. Not much, but it is everything this plugin needs.
On top of that, Wave Box VST has 6 shaping functions in its library: sinh, sin, tanh, linear, round, and floor. With their help, users can change the waveshaping curves to influence the sound. Also, it has around 30 pre-loaded presets with a randomizer function at your disposal, and an oversample up to 16x. This plugin has a simple but utilitarian interface design, created after the design of analog waveshapers so it is a pleasure to work in such a nostalgic environment.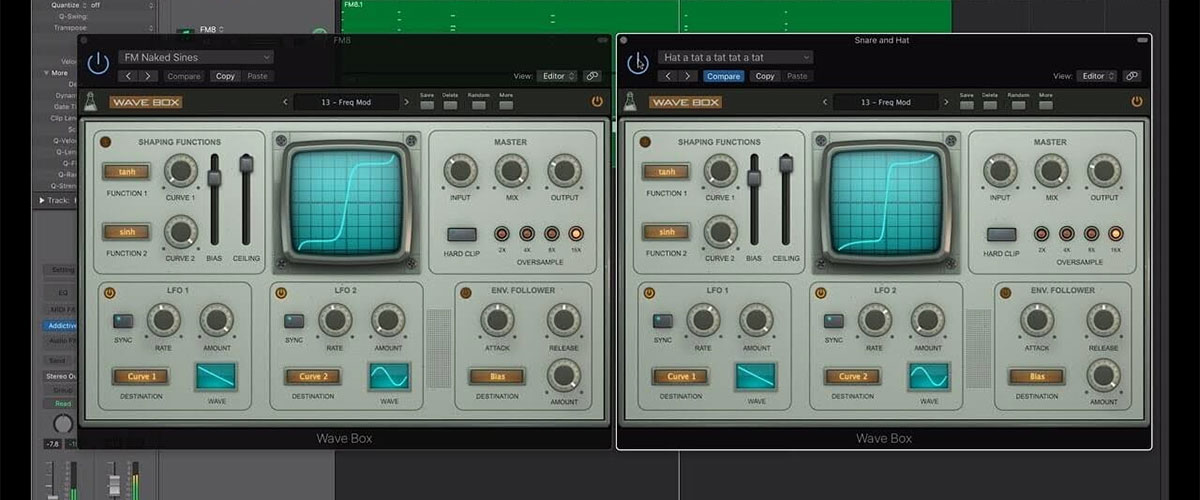 How does It sound?
This plugin is capable of creating impressive shapes of sound. Those shaping functions help a lot in achieving that. The range of the sound distortion goes from the mild tube-flavored overdrive to extreme digital harshness. Despite its simplistic architecture, this waveshaper emulator demonstrates fantastic versatility and flexibility. Getting wicked sounds or giving them that extra edge with this miracle box is no big deal.
What impressed me the most were these symmetric and asymmetric sound-shaping modes. The effect it has on the audio track is truly something that any musician should experience at least once.
Summary
If you like electronic music and want to create it yourself, this plugin is right what you need. Straightforward design, a wide spectrum of features and functions, 2 unique waveshaping modes that can be mixed, etc. And that is not the full list of what this emulator is capable of.
Tech specifications
Platform: Mac, Windows.
Formats: AAX, VST2, VST3, AU.
System requirements - Mac: macOS 10.10 or later, 2GHz CPU, 4 GB RAM, 64-bit only.
System requirements - Windows:Microsoft Windows 7 or later, 2GHz CPU, 4 GB RAM, 64-bit only.
iZotope Trash 2 – also a great choice
Here we present you our iZotope Trash 2 review – a flexible distortion modeler. With its help, even an inexperienced musician can distort, transform, and mangle the sound exactly how you see it. It has a Multiband Trash module, Filter modules, Convolve, Delay, Output limiter, and some different samples and patches libraries.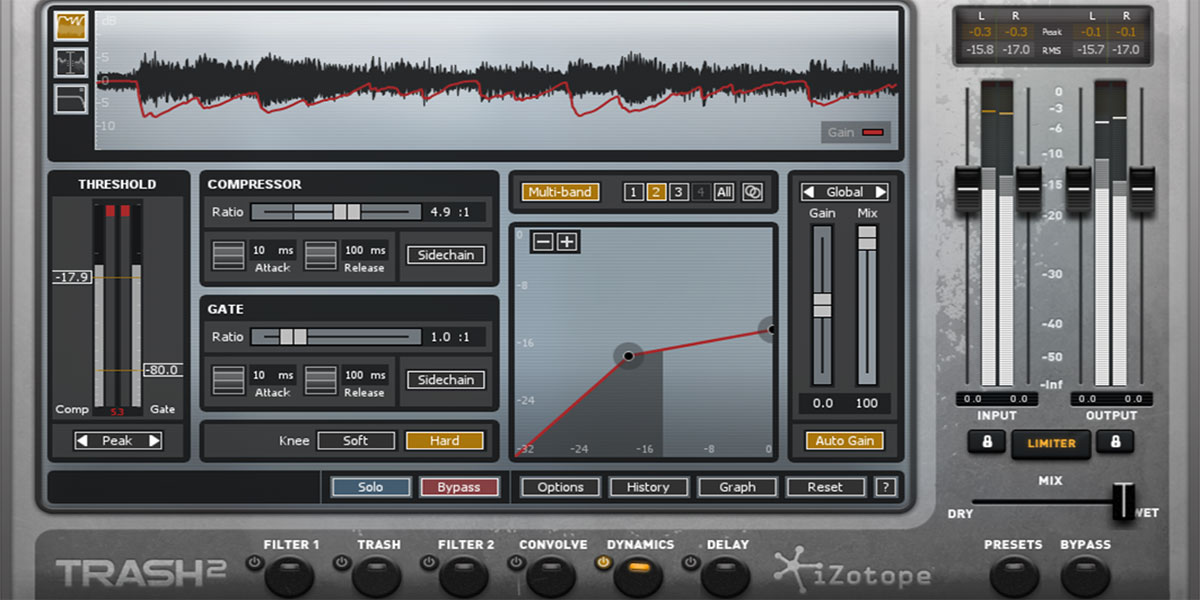 Main features
The main idea of this plugin is a dual-stage multiband waveshaping distortion feature. It allows dividing the signal into multiple streams and applying distortion to each of them independently. Next, we have upgraded filters with various tonal options, dynamic audio reaction mode, and many other interesting functions.
These filters include 3 other features. The Delay feature comprises 6 types and is responsible for tape, analog, lo-fi delay effect, input filtering, extra distortion, etc. Output limiter prevents your sound from going crazy and allows you to control the process. The Dynamics feature is a tool that is responsible for processing the signal you split into different brands.
In addition to that extensive toolkit, the Trash 2 distortion plugin has a huge presets' library. Next, it has the Classic Textures, and Edge expansion packs with impulses samples, like Reel to Reel, Gravel, Taxicab, etc., and patches, like Hard Cider, Cassette, Bleached, and many more.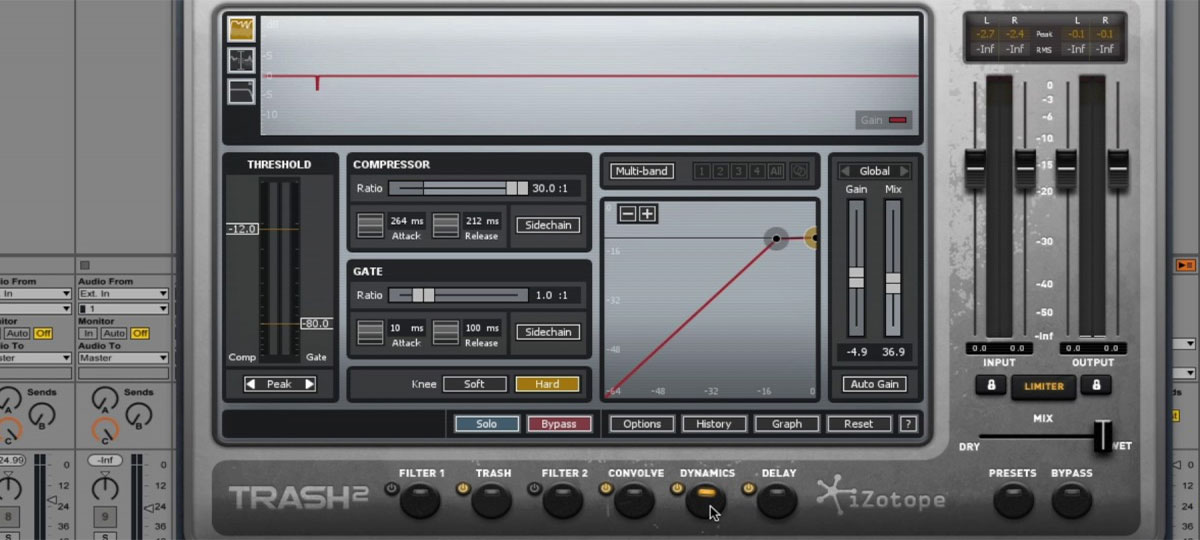 On top of that, users get around 20 brand-new distortion algorithms to experiment with and a Convolve module that includes over 100 impulse responses. And if you like to customize everything, iZotope Trash 2 VST allows arranging multiband waveshaper as will be comfortable for you.
How does It sound?
This plugin can mangle various sound sources, like drums, synths, guitars, etc. This up-to-date sonic annihilator showed me a real emulation of impressing amp, cabinet, and stompbox. The quality of the distortion, multitasking in terms of sound streams processing, variability of modules and options, everything works so well. When I was using this plugin, I felt like I was standing near Nine Inch Nails and Korn, which also use this software to process their music. With this highly advanced sound-distortion tool, my audio tracks are now in safe hands that can reproduce such rich, aggressive, and juicy sounds.
Summary
It is a great example of a high-quality plugin that brings energy into lifeless sounds. Here, you will find a vast collection of samples, patches, impulses, tools, modules, and settings that allow performing complex changes of sounds and audio tracks. If you are looking for a top-notch sonic mangler for your audio tracks - try this one and you won't regret it.
Tech specifications
Platform: Mac, Windows.
Formats: AAX, VST, VST3, AU.
System requirements - Mac: macOS 10.10.8.5 or later, Intel-based only, 32/64 bit.
System requirements - Windows: Microsoft Windows 7 or later, 32/64 bit.
Softube Harmonics
Today we will discuss our Softube Harmonics review. With the help of this digital distortion emulator, your songs will be filled with juicy sounds. We will review such features as Dynamic Transient Control, 5 different distortion sound modes, drive & character controls, and many others that create deep, rich sound.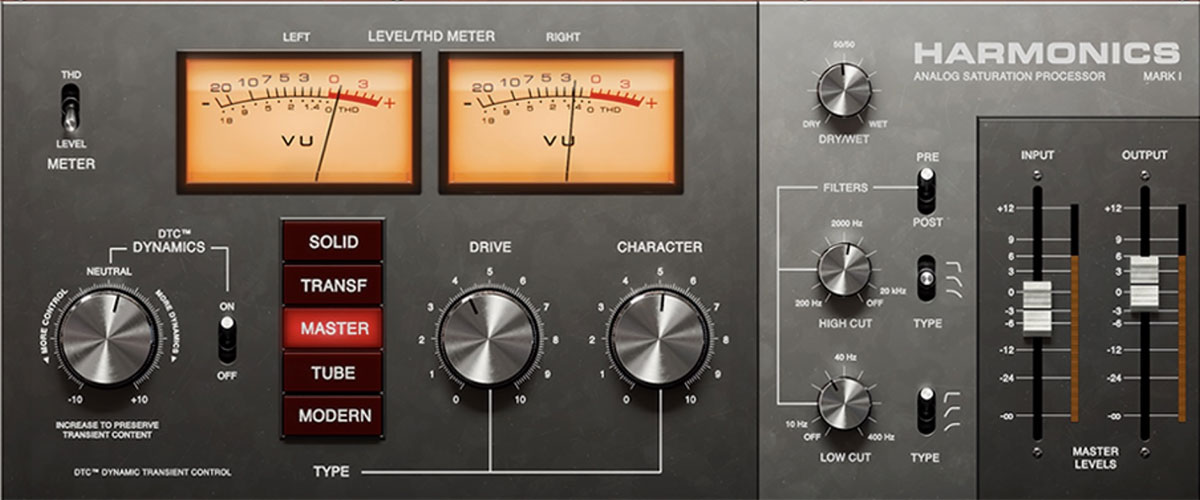 Main features
Here musicians will find many interesting features and settings that make the Softube Harmonics plugin so good in terms of quality. Its 5 distortion models, like transf, master, or modern, have a unique sounding to each. All knobs, controls, meters, filters, and switches are copied from vintage distortion hardware. By using the amount control, the user can change the saturation of the sound. Next is the character control, which is used for adjusting the color/tone of the distortion.
In addition, you can mix the wet and dry sound with parallel processing, thanks to professional developers. Here we have 2 knobs that are used to adjust the distortion in the track in terms of high and low cuts. To maintain, increase, or adjust the distorted signal, users have a THD meter that precisely shows the vital information about the audio track.
The Dynamic Transient Control feature processes the input signal automatically creates the most compatible distortion, which can be manually adjusted, and then adds it to your track. Together with everything above, you will be getting presets created by Joe Chiccarelli and Howard Willing. Every aspect of the Harmonics Softube VST was scrutinized and built on the base of vintage hardware analogs by sound designers to deliver this sound distortion console to you.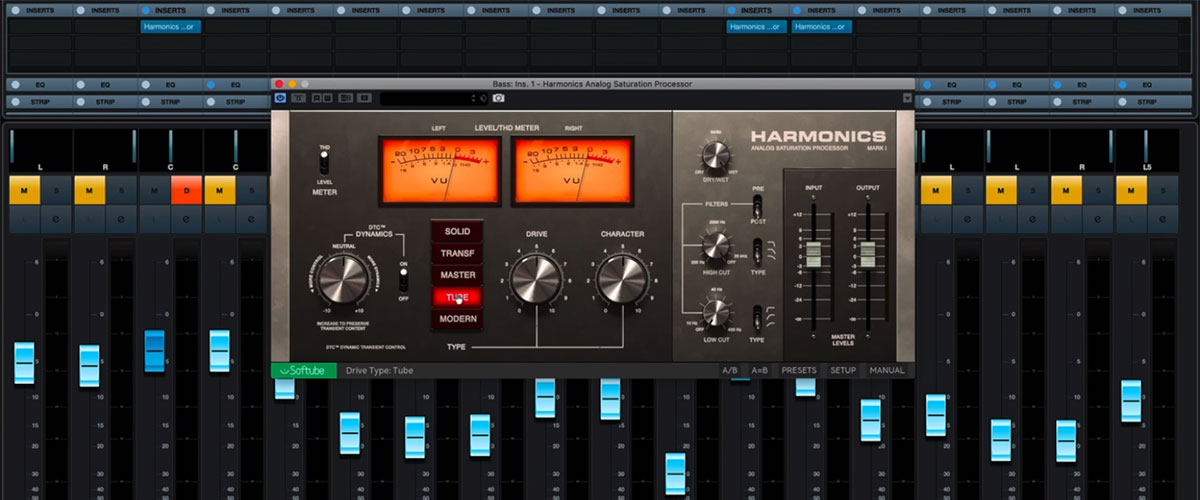 How does It sound?
With the help of the Dynamic Transient Control feature and sound modes, I could achieve the sound I wanted but couldn't get before. The auto distortion thing is awesome, to be honest. The subtle saturation and thickness of the distortion are now so easy to control by using the THD meter. I can easily add grit to the mix, overdrive a vocal, or even make everything lo-fi now. The versatility, quality, and precision of this plugin are displayed by the result of its work.
Tech specifications
Platform: Mac, Windows.
Formats: AAX, VST, VST3, AU.
System requirements - Mac: macOS 10.13 or later, 8 GB RAM, 8 GB disk space, 64-bit only.
System requirements - Windows: Microsoft Windows 10 or later, 8 GB RAM, 8 GB disk space, 64-bit only.
FabFilter Saturn 2
Looking for a versatile sound distortion unit. You should check out the Saturn 2 model. The Saturn 2 FabFilter plugin is capable of reaching all known sound textures. You can set do anything for the desired sounds. Saturn 2 is capable of providing your music with a unique accompaniment.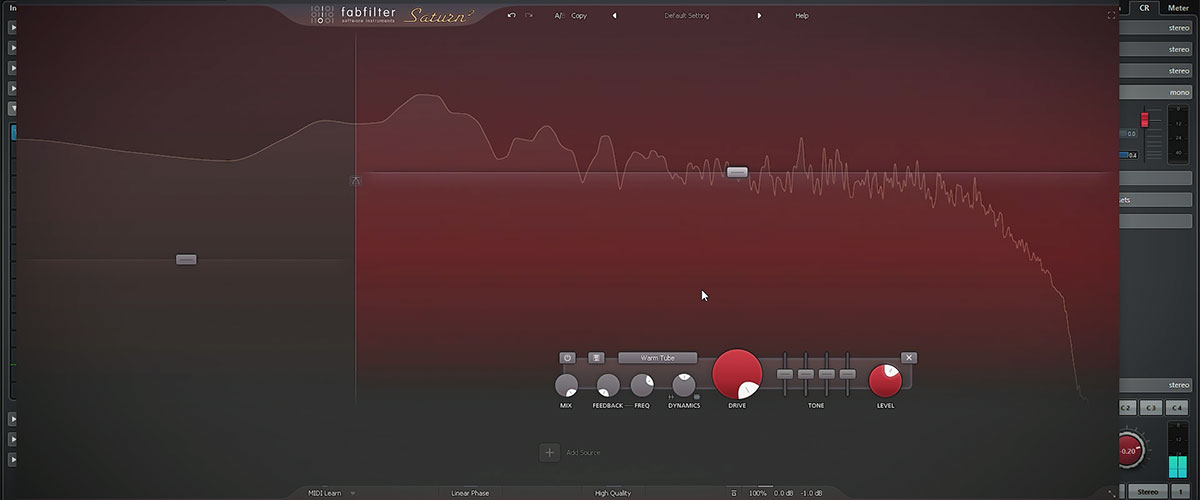 Main features
Using the powerful modulation sections from Saturn 2 VST you will breathe new sound into your music. In Saturn 2 you can easily control the modulation routes. They are simply dragged and dropped into the right place. Modulations can be applied to crossover frequencies and dynamics, and used for different band levels and tempo controls. The combination of these changes improves the clarity of the sound.
In the FabFilter unit, a 16-step XLFO with controllers, envelope generators and other MIDI sources can be used for unlimited modulation variations. Beyond that, the Saturn 2 has many advantages, like the controls are perfectly tuned for smooth transitions between levels and advanced MIDI Learn and Smart Parameter Interpolation technologies. Users also enjoy an extensive auxiliary network with interactive hints and workflow optimization using AltiVec with GPU-accelerated graphics for smooth operation.
To date, FabFilter representatives have created an interesting sound saturation, distortion plugin model with endless creative variations for sound design. The Saturn 2 is a multifunctional device that will suit the complex task of enhancing your music. For just $154 you get all of the above benefits for your work. Try it out and see the benefits for yourself.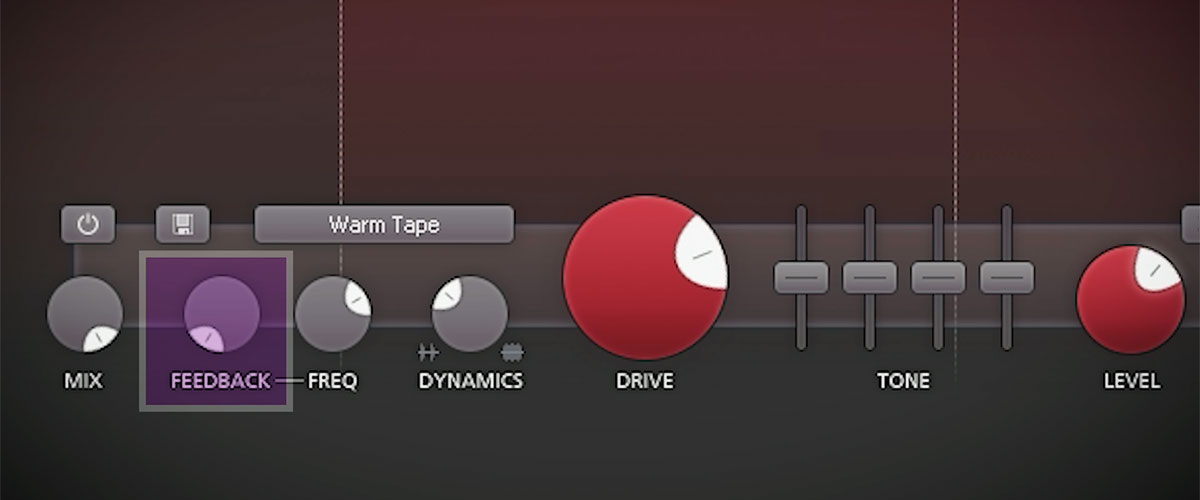 How does It sound?
When testing this unit several differences from other models are noticed. A small FabFilter Saturn 2 review points out its features.
With Saturn 2, the external sound is clearer and more informative. You can use neat variations of algorithms in the plugin, with Tube and Saturation standing out in particular. The new algorithms with British and American amps (Rock and Plexi) have an interesting sound. You can use them to improve the guitar sound in your mixes.
For those who like serious signal changes, you can use Breakdown FX to lower the pitch. This effect is a big help when working with sound design.
The Saturn 2 features let you better control the gain and decay of your sounds, including signal damping. The sound is clean and pleasing thanks to deep distortion. In certain styles, you can use sound warming to make it softer and more pleasant to process.
Tech specifications
Platform: Mac, Windows.
Formats: AAX, AU, VST2, VST3.
System requirements - Mac: macOS 10.12 or later, Apple Silicon or Intel processor, 64-bit only.
System requirements - Windows: Microsoft Windows 7 or later, 32/64 bit.
Best free VST distortion review
Creative Intent Temper
Creating contemporary music and want to infuse it with digital distortion? Then you need to take advantage of the Temper Creative Intent plugin. It's a unique device that will enrich the sound of your creativity.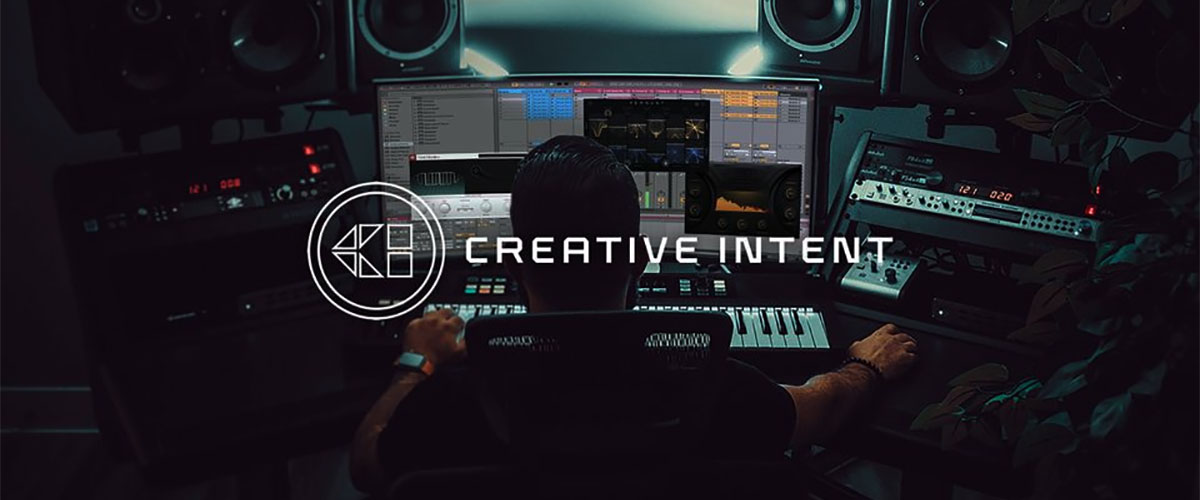 Temper is considered a state-of-the-art digital distortion device. It has a rich saturation stage using unique phase distortion. Saturation curves can be used to add extra effects to your music. They will make the sound warmer or sharper.
Phase distortion can be used to change the clarity or character of your mixes. Temper also uses simple resonance filters to handle lower frequencies.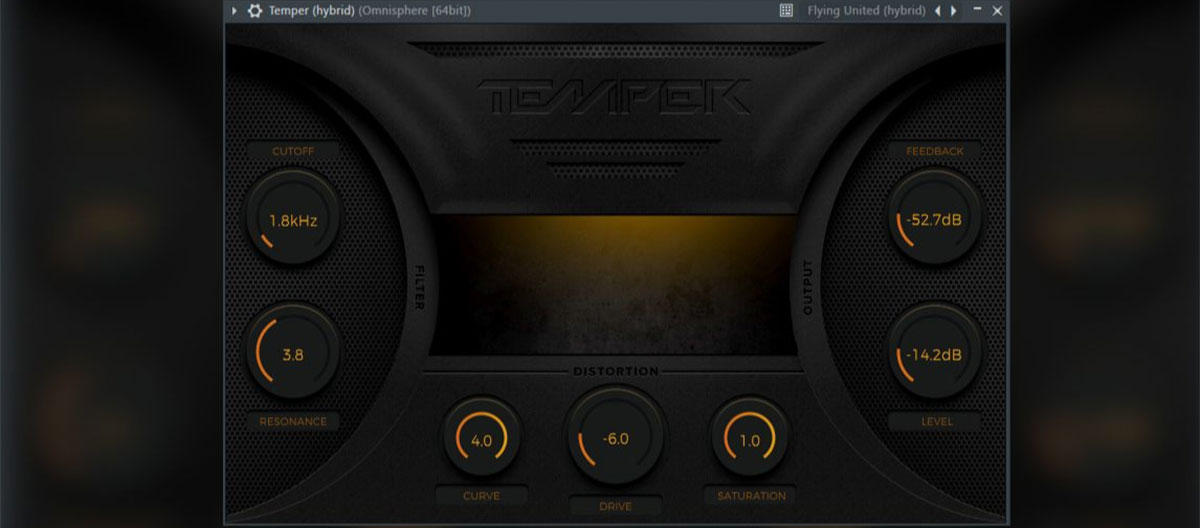 When testing this device, several unique features were noticed that are better displayed in the Creative Intent Temper review. Temper's developers offer a unique algorithm for distorting sounds to clean or add noise to any element of the mix. Besides, you will be impressed by the visualization of effects. Thanks to Temper's modern design it is possible to compare the spectrum of audio input and output in an online format. Also users like working in multiple formats. Users can use all popular formats for work, from Windows and Mac to VST3.
This plug-in is created by professionals and its software is an improved version of the hardware from Creative Intent.
Tech specifications
Platform: Mac, Windows.
Formats: AAX, AU, VST2, VST3.
System requirements - Mac: macOS 10.9 or later, 64-bit only.
System requirements - Windows: Microsoft Windows 8.1 or later, 64 bit.
FAQ
Is saturation the same as distortion?
The answer is no, saturation and distortion are not the same things. Saturation is the process of adding color to an image, while distortion is the process of altering the shape or form of an image. Although both effects can be used to create interesting visual effects, they serve different purposes and produce different results.
How do you use saturation plugins?
Saturation plugins are used to add color and depth to a track, making it sound fuller and more vibrant. They can be used on individual tracks or on the entire mix. When using a saturation plugin, it's important to experiment with different settings to find the sound you're looking for. Too much saturation can make a track sound muddy, so it's important to find the right balance.
Do you need saturation on every track?
No, you don't need saturation on every track. In fact, using saturation on every track can actually make your mix sound worse. It's important to use saturation judiciously and only on tracks that benefit from it.
Should I put saturation on vocals?
There's no right or wrong answer to this question. It depends on the sound you're going for. If you want your vocals to sound fuller and more vibrant, then adding saturation can help. However, if you're going for a more natural sound, then you might want to avoid using saturation.