Welcome to my comprehensive guide on the best compressors for vocals. Vocal compression is the unsung hero of audio production, vital in achieving that polished, professional sound we all strive for. With the advent of compressor plugins, optimizing vocals has become a seamless task. These digital tools offer flexibility, control, and quality, enabling artists to deliver top-notch vocal performances.
So, let's dive deep into the world of paid and free vocal plugins, exploring their functionality and how they can elevate your sonic palette.
Our pick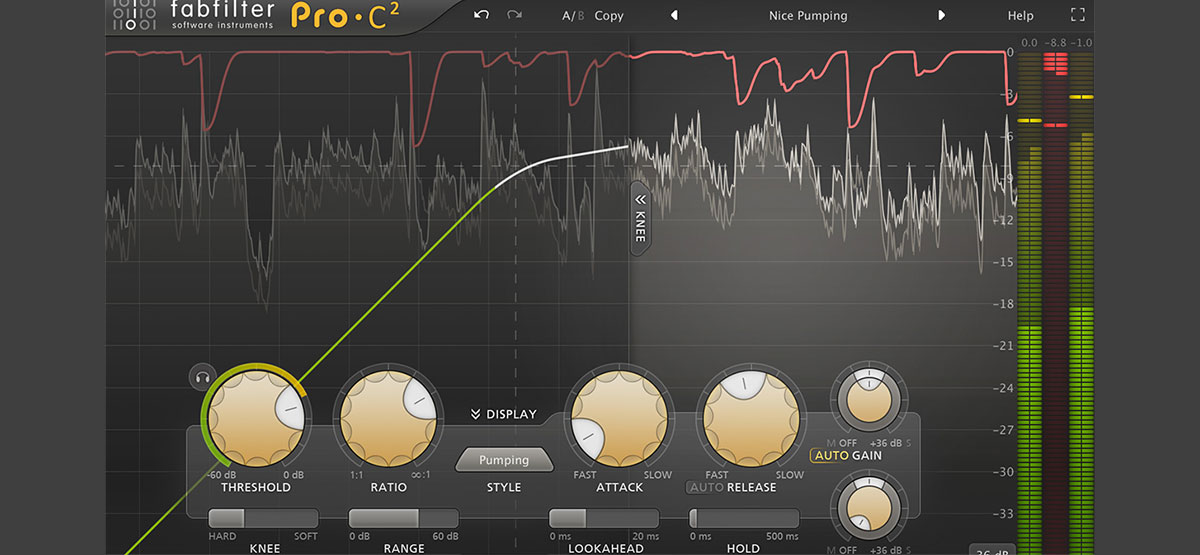 Fabfilter Pro C-2
Best compressor plugin for vocals
FabFilter Pro-C 2 is a high-quality compressor plug-in for the most demanding engineers. Whether you need subtle mastering compression, an upfront lead vocal, or magic drum glue.
Read the full review
.
Understanding vocal compressors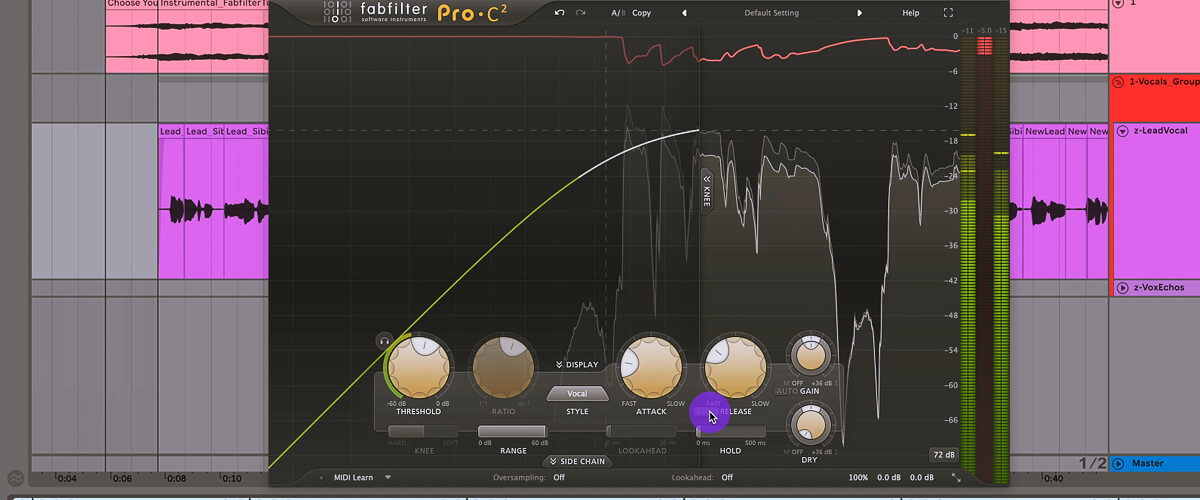 What does an audio compressor do? In essence, compression is the process of evening out the dynamic range within an audio signal. In vocal processing, it helps to bring down loud peaks and elevate softer parts, ensuring consistent and balanced performance.
There are several types of compressors, each with a unique impact on vocals:
VCA (Voltage Controlled Amplifier): fast and transparent, VCA controllers are known for precision. They're great for controlling dynamics without adding significant color to the sound.
FET (Field Effect Transistor): a more aggressive tool, FET adds a distinct punch and warmth. Its rapid response can make vocals cut through in a dense mix.
Optical: utilizing a light-sensitive resistor, optical controllers offer smooth and gentle compression. They are often preferred for adding a vintage glow without overly taming the dynamics.
Variable Mu (Tube): renowned for their rich and creamy character, Variable Mu compressors impart a pleasant saturation, giving vocals a classic, timeless quality.
Understanding these various compressor types and their characteristics helps producers and engineers choose the right tool for each vocal, shaping the sound with subtlety or boldness as needed. Whether you're smoothing out a vocal performance or adding an exciting edge, compressors are essential in crafting the emotion and texture of the voice.
Best compressor plugins for vocals review
Fabfilter Pro C-2 – best overall
Fabfilter Pro C-2 review will help you get acquainted with this software product. My article will be helpful if you are a novice producer, a professional musician, or just passionate about music creation. You will learn about its features, unique functions, as well as advantages and disadvantages.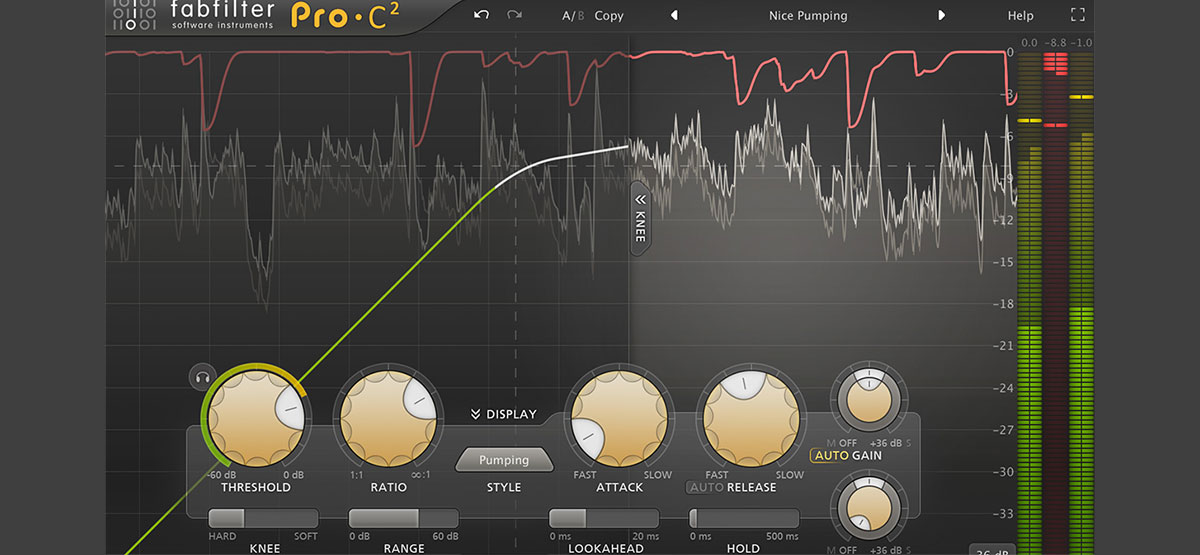 Main features
Fabfilter Pro C-2 plugin is a digital compressor that has 8 unique styles of compression, like Vocal, Bus, Mastering, Pumping, or Punch. Its Retina interface has animated level knee displays, with a customizable knee from hard to 72dB soft. This plugin also has a side-chain EQ section with HP and LP filters that can be customized and an extra filter that you may adjust freely. Furthermore, users can turn the smooth lookahead feature on and off to enable zero-latency processing. On top of that, this plugin has an intelligent automatic gain function, auto release, very fast attack times, and it can perform a hold of up to 500 ms.
The interface is adjustable by using 3 different sizes. Here you will also find a Smart Parameter Interpolation feature, a comparison function of undo/redo and A/B, and auto setting of all parameters accurately to the sample. You can even set a range of the gain change from 0% to 200%. Next, you can use the Audition Triggering function to detect parts of the audio track triggered by FabFilter Pro-C 2 and see the compression level applied there.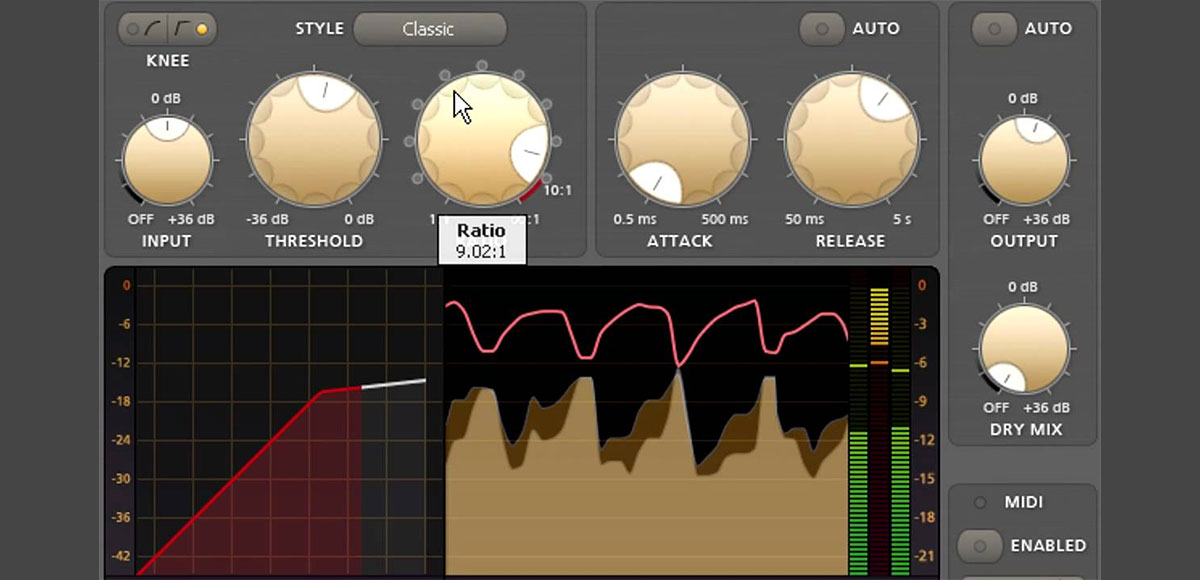 How does It sound?
Customizable filters, smooth lookahead, and a wide range of the gain allow you to achieve a fairly high sound level. This so-called "polishing" is an essential part of making good music. As a result, the processed musical compositions sound much better and more pleasant. Separately, I would like to note that this plugin provides impressive peaks taming on drums and snares.
Summary
Fabfilter Pro C-2 contains all the tools you need to create quality music. The presets are created in a way so that everyone can use them, and you will gradually master more complex functions. The user-friendly and intuitive GUI will help you with this. The only drawback of Fabfilter Pro C-2 is that the system requirements for this software are pretty high. Otherwise, it's an excellent choice for beginners and professional music producers.
Tech specifications
Platform: Mac, Windows.
Formats: AAX, AU, VST, VST3.
System requirements - Mac: macOS 10.12 or later, only 64 bit.
System requirements - Windows: Microsoft Windows 7 or later, 32/64 bit.
With its vast range of compression styles, from soft VCA to aggressive FET and Pumping, the Fabfilter Pro C-2 stands as the best compressor for vocals. Its side chain mode, oversampling, and customizable filters make it a highly flexible and universal plugin for any vocal type.
Pulsar Audio 1178 – fet compressor
I want to share a rather interesting tool with you, so I have prepared a Pulsar Audio 1178 review in this article. This software, created by Pulsar Audio, thoroughly emulates the original 1178 hardware in all aspects, from tonal color to compression character. Here you will find information about the most important features of Pulsar Audio 1178, and I will share with you my experience of how this plugin works.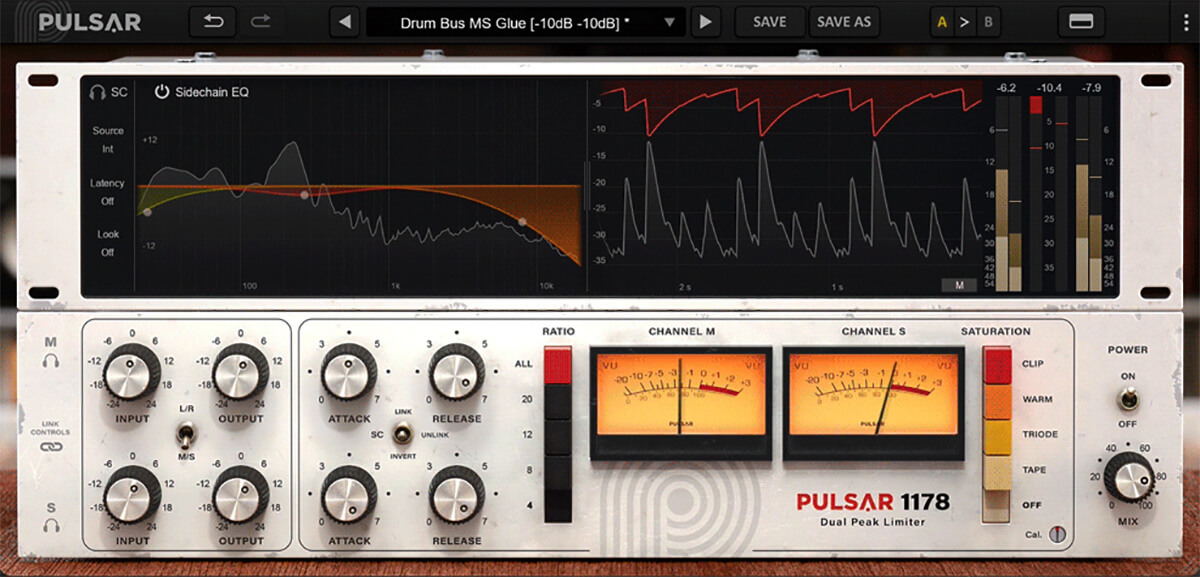 Main features
Pulsar Audio 1178 plugin is a FET-style compressor that accurately emulates its hardware predecessor but also enhances it with modern technologies and functions that broaden your possibilities for sound mastering. Among its features, you will find 4 modes for the optional saturation stage: Tape, Warm, Triode, and Clip. Also, Full sidechain EQ supports a feature of monitoring the reaction of the compressor to specified frequencies.
I was pleasantly astonished by the function of changing the compressor response time. Unlike analog devices that compress the signal as it enters the compressor, the Pulsar 1178 allows you to shift this moment forward or backward with Look-ahead and Look-behind features. So, for example, you can activate the compressor 10 milliseconds earlier or later to get an interesting effect from the pre-compression and delayed compression of transients.
Pulsar Audio 1178 plugin provides Mid/Side encoding and decoding that help make the sound more distinctive. In addition, you can use very accurate and modern peak and RMS meters to monitor any essential indicators for your music.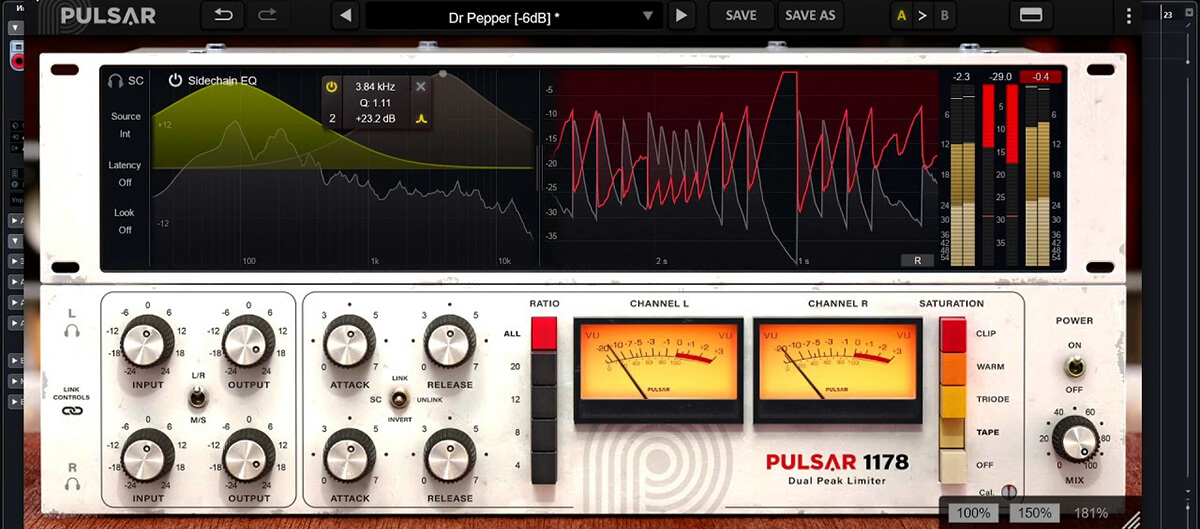 Besides, this plugin has a handy scrolling view feature that fits all its functions on 1 screen, and the smart GUI, which has draggable resize handles, adjusts itself depending on the output configuration. Topology Preservation technology maintains transparency of the sound and aggressive peak-eating behavior of the plugin.
How does It sound?
It is an excellent tool for changing transients to the required degree with high-quality sounding. 1178 plugin allows quick control over transients while giving a rich sound with colorful tones. It is also a good choice to make vocals more distinctive and aggressive. While working with drums, I noticed that it allows you to catch crashes in a flash and open up the top end of the signal while still preserving the natural sound. The bass and master compression is provided by transparency, speed, and sidechain EQ that helps to control the full frequency spectrum.
Tech specifications
Platform: Mac, Windows.
Formats: AAX, AU, VST2, VST3.
System requirements - Mac: macOS 10.9 or later, 4 GB RAM, OpengGL 2.0 compatible GPU, 1GB free disk space, 64-bit only.
System requirements - Windows: Microsoft Windows 7 or later, 4 GB RAM, OpengGL 2.0 compatible GPU, 1GB free disk space, 64-bit only.
The Pulsar Audio 1178 offers a groundbreaking vocal compressor experience, building on the traditional FET compressor-1176 with additional advantages. Equipped with fantastic EQ and saturation modes for shaping timbre and adding vocal color, plus sidechain options and channel unlinking, it's a versatile tool for modern sound mixing.
TDR Kotelnikov GE – budget
From this TDR Kotelnikov GE review, you will learn more about this modern compressor that combines high accuracy dynamic range control with musical versatility. You will find out what features it comprises, its advantages and disadvantages, and what sound this plugin gives in practice.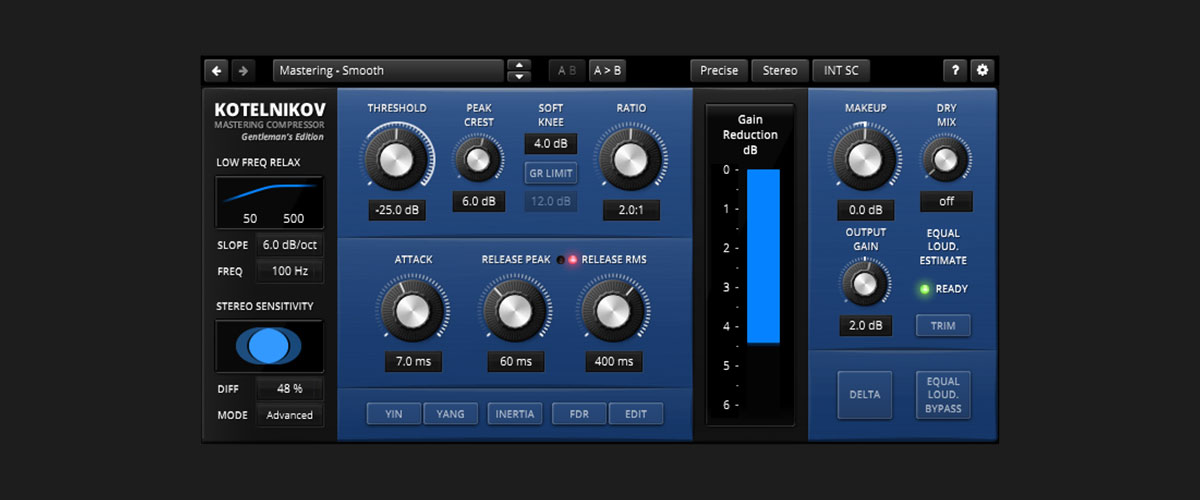 Main features
Being the latest generation of such software, the TDR Kotelnikov GE plugin combines all essential features from its predecessors and modern solutions. For example, to increase the accuracy, the processing structure here is the 64-bit multi-rate one. Yin and Yang modes control the distortion behavior of the compressor. Delta preview feature allows you to monitor the difference between your original sound and the compressed one. Another advantage of this plugin is a new "Advanced" mode in which stereo linking is optimized for the stereo bus. On top of that, it has 10 extra user preset slots for personal customization.
The user interface is not fully customizable, but you can choose between 100%, 125%, and 150% rescaling. Next, we have 2 quality modes called "Insane" and "Live," with the main low latency as their feature. Various knobs and settings allow you to control over "low relax" slope, gain reduction limit, peak, and RMS events. Moreover, thanks to the versatile side-chain high-pass filter, you get a continuously variable control over slope and frequency. Also, some minor features, like inertia timing mode, equal loudness bypass, output gain trimming, or Left&Right sensitivity, complement this plugin's extensive set of tools and functions.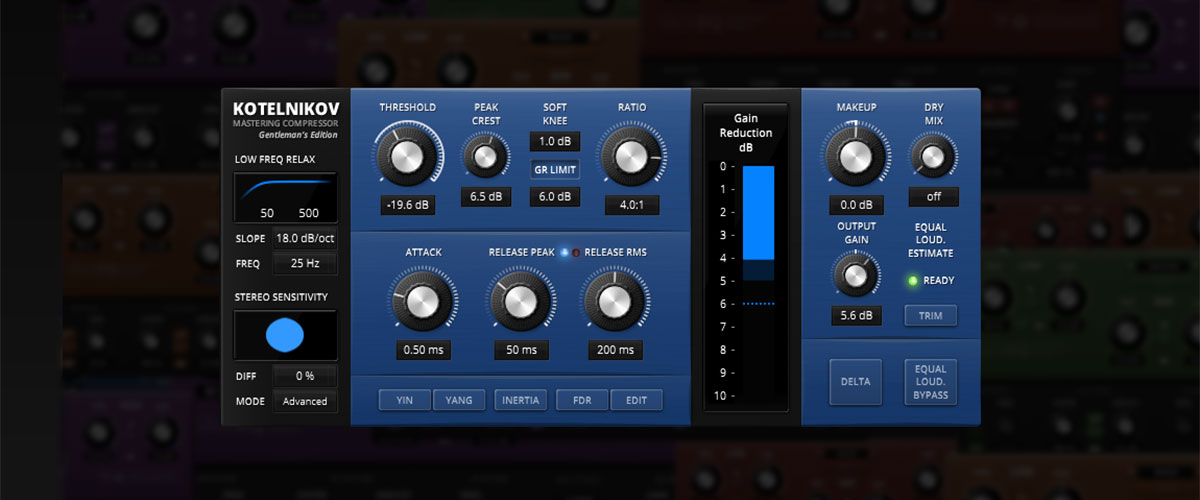 How does It sound?
TDR Kotelnikov GE does everything you can think of and even more. The compression itself is done very fast, and despite that, the sounding is natural and clear, without any artifacts. The dynamic processing feature works effectively, and the final sound has no "by-products," which can occur in some compressor plugins. And, of course, the advanced stereo linking mode is also worth mentioning, for it shows impressive results regarding RMS Compression. After I do the mastering with this plugin, my audio tracks become more distinctive, and the sound itself becomes much more pleasant to listen to.
Summary
Tokyo Dawn Records constantly improves this plugin with updates, but even now, it comprises a comprehensive choice of tools that help you compress the sound. And to figure everything out, you get extensive documentation explaining all its features. On the other hand, it may take a lot of time for you to master all its aspects and options, and this software can load your CPU very hard, so make sure your PC passes all requirements.
Tech specifications
Platform: Mac, Windows.
Formats: AAX, AU, VST2, VST3.
System requirements - macOS 10.9 or later, only 64 bit.
System requirements - Windows: Microsoft Windows 7 or later, 32/64 bit.
TDR Kotelnikov GE, the best-budget compressor plugin for vocals, provides imperceptibly natural compression perfect for gentle, melodic vocals. With a smooth high-pass filter, low ratio, unique release algorithms, and peak and RMS modes, it guarantees a soft yet effective sound mastering experience.
Soundtoys Devil-Loc Deluxe – for parallel compression
Today one can find the Soundtoys Devil-Loc Deluxe review, where one checks all the necessary information about this sound amplifier. Using its features, one can add presence and tube-like warmth that amplify the perceived loudness of any material and get virtual headroom above digital maximum. On top of that, it is compatible with 64-bit devices.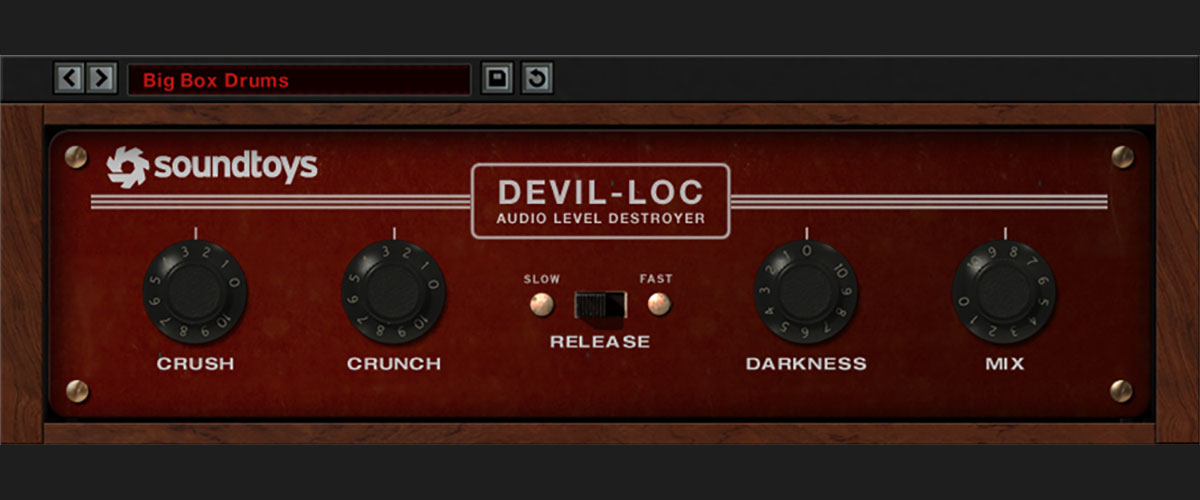 Main features
Usually, sound amplifiers do not possess many features, but the Devil-Loc Deluxe plugin has some of them. For starters, one can enhance the loudness of most of the known program material. The next feature is that this plugin is capable of creating a warm vibe, character, and dynamic excitement that can be heard from vintage analog amplifiers. Virtual headroom is an important parameter, and this amplifier is capable of going beyond the digital maximum. Since signal overload is an issue to be reckoned with, Devil-Loc Deluxe VST helps percussive peaks to pass without any problem.
Within this plugin, one will find 2 modes that ensure high flexibility and allows utilizing creativity to the fullest, namely Band-split and Direct. Another aspect these modes are responsible for is supporting optimal DSP usage. One can add various sound effects starting with subtle, tube-like harmonic characteristics containing warmth, presence, and thickness and continuing with straightforward saturation distortion emulating. With its vast tools, one can add to your clipped signals an additional dynamic range. Topped with a simple, utilitarian design, this sound amplifier is a good choice for all musicians: beginners and professionals.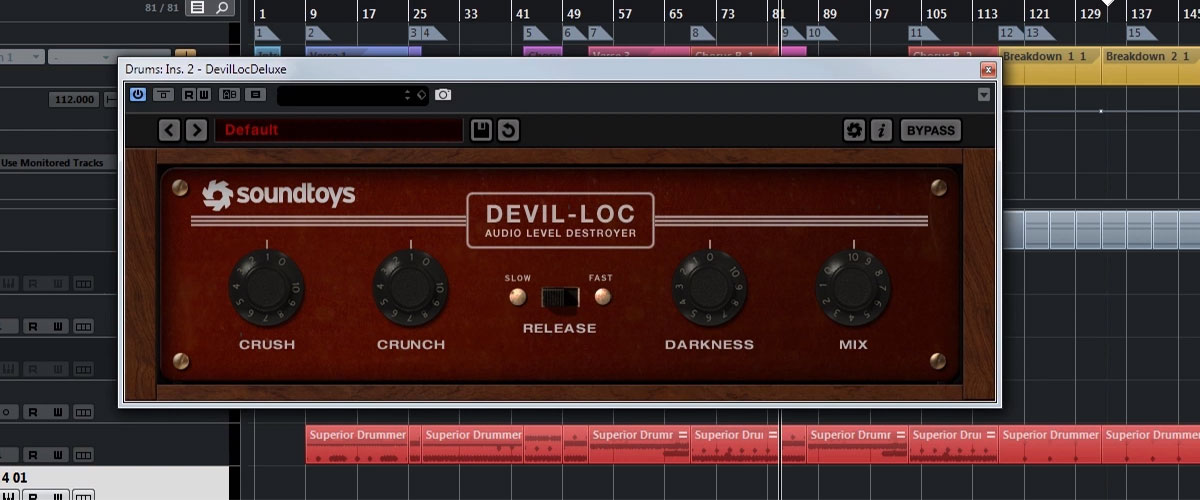 How does it sound?
This plugin truly gets the meaning behind the vintage sound. By using it, one could create that extra dimension to the mixes. With additional depth, the audio tracks gained some juicy and rich color. Thanks to its high quality, it is really hard to get those annoying negative sonic artifacts, unless they are the goal. Creating epic music with pumping loud sounds was never that easy for me before this plugin. Magical, warm signals with a wide range of sounding, and simple design allows even an amateur to perform amazingly. It is especially good with drums and vocals. This plugin can be considered a great invention for any musician.
Tech specifications
Platform: Mac, Windows.
Formats: AAX, AU, VST2.
System requirements - Mac: macOS 10.10 or later, 64-bit only.
System requirements - Windows: Microsoft Windows 7 or later, 64-bit only.
Soundtoys Devil-Loc Deluxe excels in parallel compression vocals, enabling musicians to emphasize the aggressive nature of vocals and intensify emotions. With rich harmonic saturation, it not only brings vocals to the fore but ensures they're broadcastable on various acoustics.
ADHD Levelling Tool – free leveler
I present you with an ADHD Levelling Tool review. Here, you will find out about the features and system requirements of this plugin, and on top of that, I will tell you about its main advantages.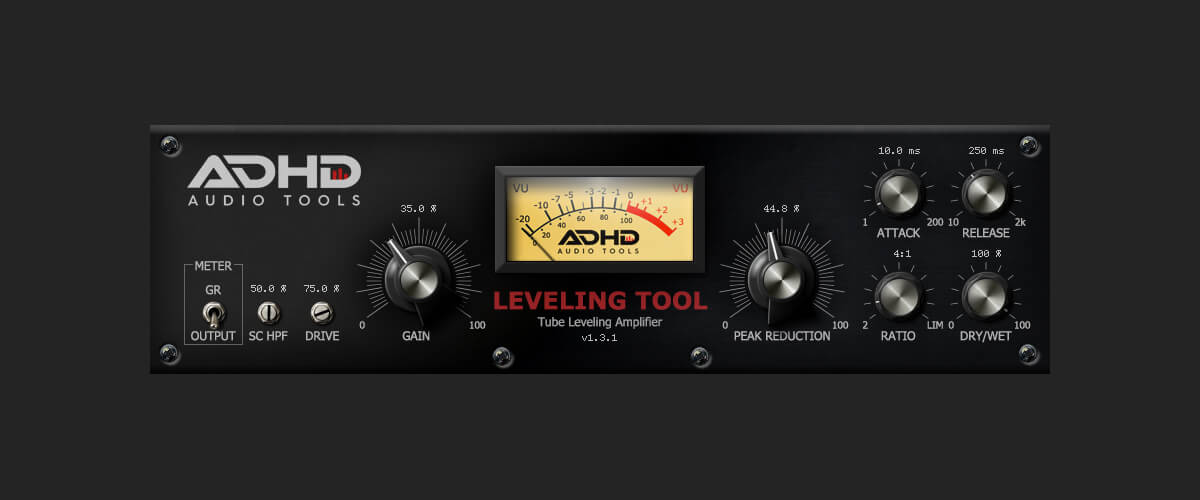 Main features
It is a simple compressor emulator with few features, but it does what a compressor should do. Above all its features, I would especially highlight such as 4x oversampling, 64-bit internal processing, and high accessibility as it is supported by a wide range of Windows and Mac OS devices. Also, the ADHD Levelling Tool plugin has 2 main knobs that control gain and peak reduction and 4 additional knobs responsible for dry/wet mix, ratio, attack, and release.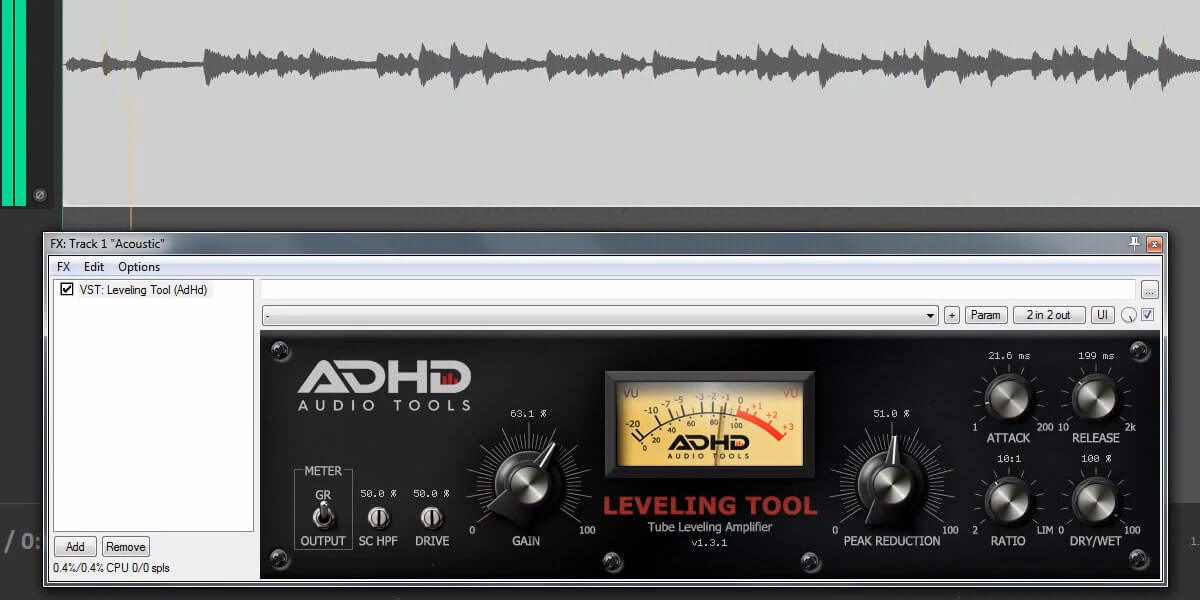 How does it sound?
From my experience, this compressor is ideal for working with vocals. Moreover, you can add more character and tame the peaks on any track in your mix.
Tech specifications
Platform: Mac, Windows.
Formats: AAX, AU, VST, VST3.
System requirements - Mac: macOS 10.10 or later, 32/64 bit.
System requirements - Windows: Microsoft Windows 7 or later, 32/64 bit.
The ADHD Levelling Tool is a free leveler that delivers varying sound characteristics based on settings. Emulating VCA mode through softer adjustments and taking on the character of FET compression during stronger compressions, this plugin is ideal for vocal processing and peak control in your mix.
Klanghelm MJUC jr.
I have prepared for you a Klanghelm MJUC jr. review. You will learn the main features of this compressor, its functions, advantages, and disadvantages. I will also share my impressions of working with it.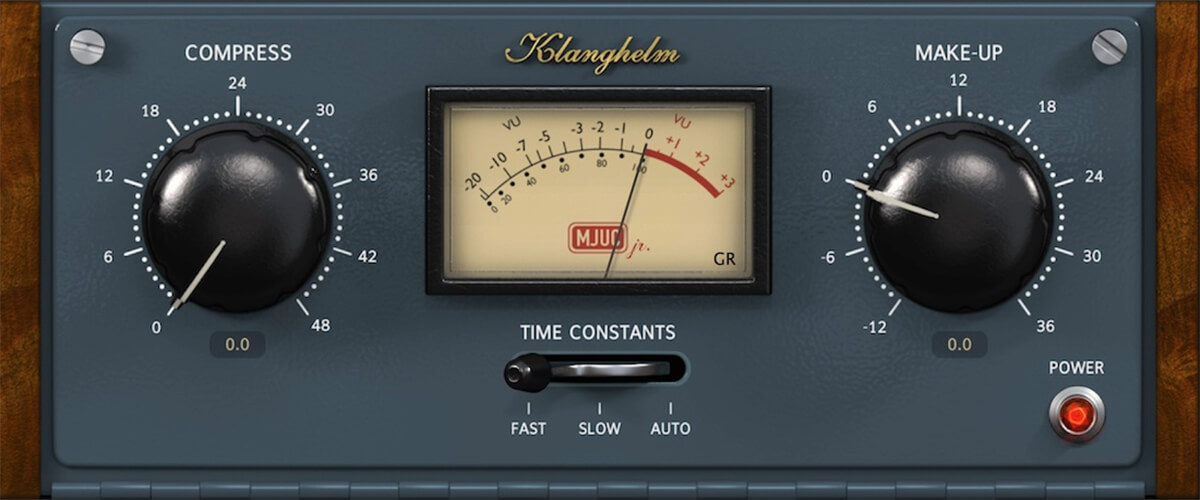 Main features
MJUC jr. plugin has 3 controls and 1 observing element. Knobs on the left and right control the gain of compression and makeup, respectively. Also, a timing switch with 3 positions determines the attack and release timings, the slew rate, and saturation. I liked it has a meter to display additional information and create a fitting image of the old-school compressor. Yes, maybe MJUC jr. does not have unique features, but it does pretty well with the basic tasks while being a freeware plugin.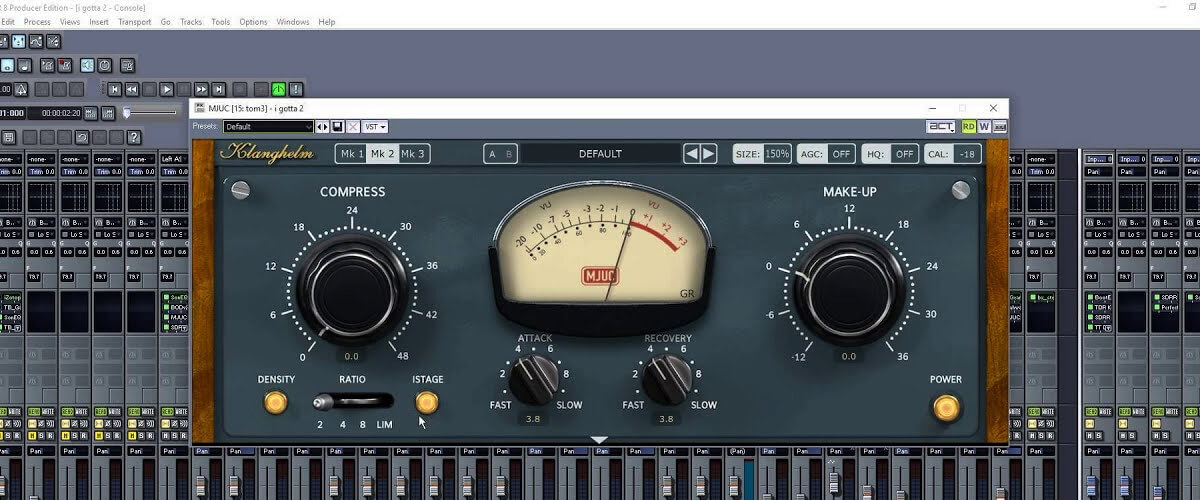 How does it sound?
Klanghelm MJUC jr. can do smooth leveling or heavy pumping effects, depending on your goal. By combining natural compression sounding with more straightforward sounding technologies and harmonics, I can get a highly deep and energetic sound. Usually, I use it on bass guitar and vocals, and it tames the peaks, so I get a nice and even loudness.
Tech specifications
Platform: Mac, Windows.
Formats: AAX, VST, VST3.
System requirements - Mac: macOS 10.9 or later, 64-bit only.
System requirements - Windows: Microsoft Windows 7 or later, 64-bit only.
The Klanghelm MJUC Jr. offers a diverse range of features for acting as a multiband compressor on vocals. With options for aggressive or subtle sound shaping, its Auto mode intelligently adapts to different signals, enriching vocals with a unique saturation effect.
Benefits of using compressor plugins for vocals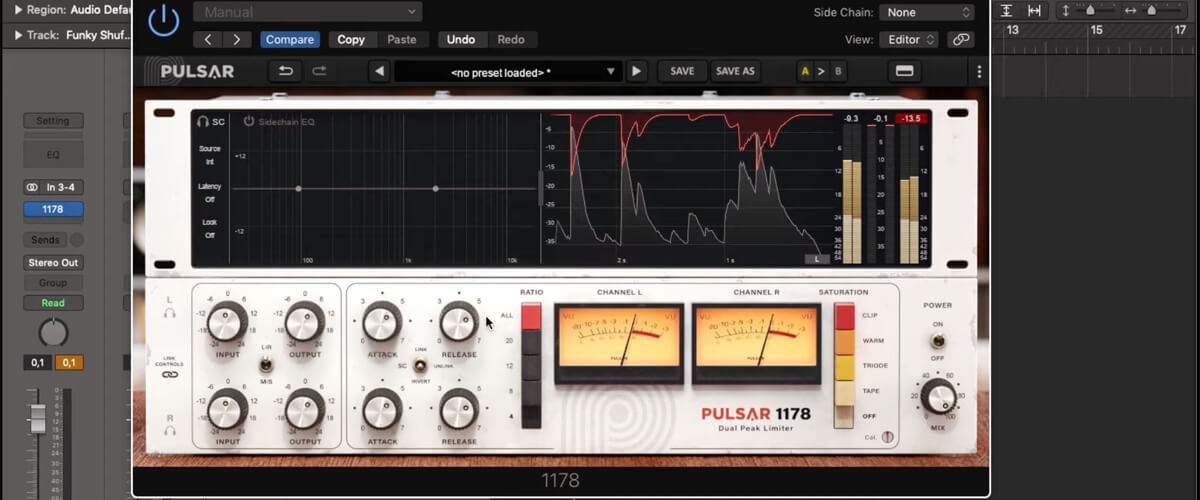 Compressor plugins for vocals have revolutionized the way producers and engineers approach vocal processing. By leveraging these powerful tools, they can create a more compressed voice that perfectly fits the artistic vision of a track. Here are some key benefits:
Improved vocal dynamics and consistency: compression ensures that the vocals maintain a uniform level throughout the song, making them more intelligible and enjoyable for the listener.
Enhanced vocal presence in the mix: by controlling dynamics, compressors help vocals stand out in the mix, ensuring that the singer's performance remains front and center.
Reducing sibilance and harshness: compressors, especially when paired with de-essing, can tame the overly bright or harsh sounds that sometimes plague vocal recordings, resulting in a smoother and more pleasant sound.
Controlling peaks and transients: sudden peaks in a vocal performance can be jarring. Compressor plugins skillfully control these transients, preventing them from overpowering other elements in the mix.
Achieving a polished and professional sound: the right compression brings a professional sheen to vocals, making them sound radio-ready and refined.
In sum, using compressors is not just about controlling levels; it's about crafting a powerful, polished, and uniquely expressive sound.
Vocal compressor settings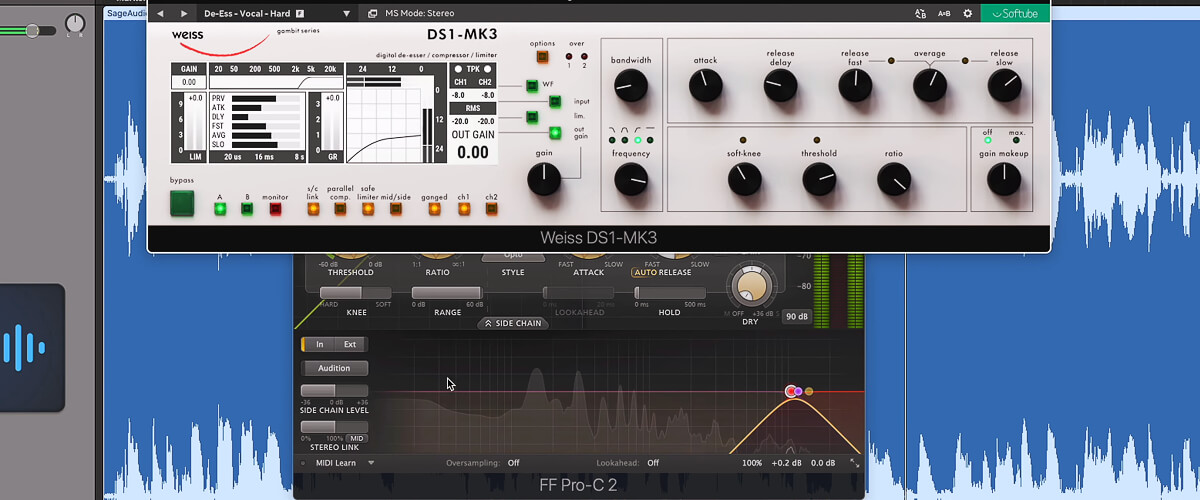 Mastering vocal compressor settings can make a night-and-day difference in the sound quality of your vocal tracks. The first stop on our journey is understanding attack and release times. A sweet balance between the two is crucial; a slow attack can give the vocals that desired punch by allowing some initial transients through, while a quick release avoids an overly compressed, squashed vocal sound.
Next up are ratio and threshold adjustments. These are the dynamic duo controlling the intensity of your compression. Subtle compression comes from a lower ratio, while dramatic dynamics reshaping can be achieved with higher ratios. Threshold adjustments allow you to decide the level at which the compression kicks in, giving you the control to shape the sound to fit your track.
Of course, sometimes, your vocals might seem quieter after compression. That's where makeup gain steps in, acting as the superhero to restore the dynamic presence of your vocals, ensuring they're not lost in the mix.
We also have some specialized tools in our kit, such as sidechain options. With sidechain compression, your vocals can be compressed based on the level of another audio source. This is great for creating a rhythmic pumping effect or carving out space in the mix for other elements.
And lastly, a quick tip for achieving natural-sounding compression: start with a low ratio and a high threshold, then gently adjust to get the desired effect. Remember, over-compression can lead to an unnatural sound. Sometimes, less truly is more.
Famous vocal compressor FX chains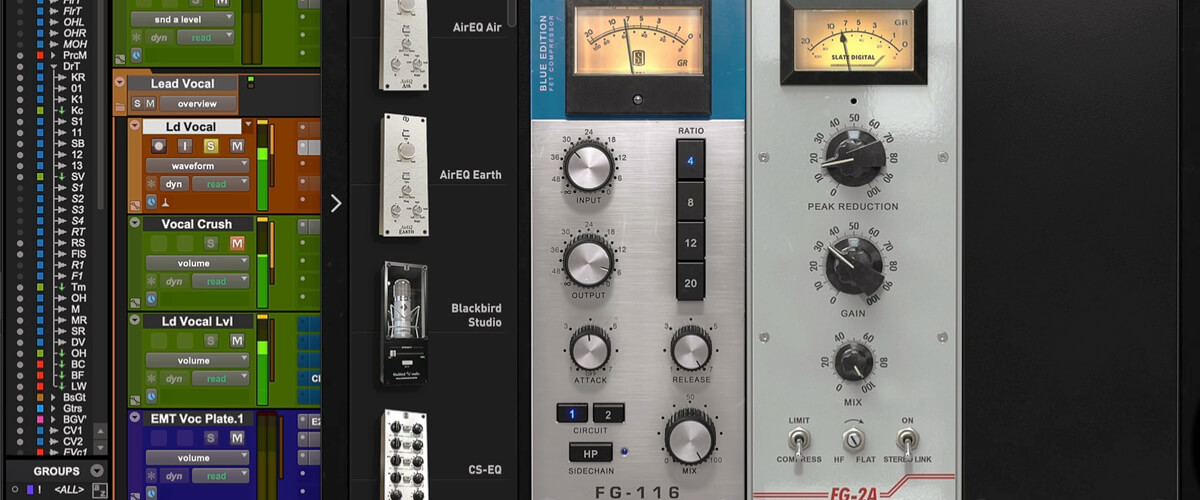 The allure of the legendary vocal sounds we hear on top records often lies in the famous vocal chains used during production. Renowned producers have their favorite compressor FX chains that they use to craft a unique sonic signature.
Take Chris Lord-Alge, for instance, known for his vibrant and punchy mixes. He often employs an 1176 compressor into an LA-2A, creating a blend of aggressive and smooth compression that gives vocals a commanding presence in the mix.
Another popular chain is the Fairchild into Pultec approach, favored by many for its warm, lush, and slightly vintage tone. This combo can give vocals a rich, timeless quality while still maintaining a polished modern sheen.
These FX chains not only control the dynamics of vocals but also contribute to their tonal characteristics, helping to shape the iconic vocal sounds we've come to love. Recognizing and learning from these famous vocal chains can provide valuable insights for crafting your own signature sound.
FAQ
How do I choose a compressor for my vocal recordings?
When choosing a compressor for your vocal recordings, consider the vocalist's style and the desired sonic characteristics of the track. Each compressor type offers unique features that can enhance vocals in different ways. Remember, there's no one-size-fits-all answer here. Experimenting with various compressors and adjusting settings is crucial to finding the finest fit that enhances the vocal's character while seamlessly blending into the mix.
How can I avoid over-compressing vocals and maintain a natural sound?
Avoiding over-compression is all about restraint and careful listening. Be conservative with your compression settings, focusing on minimal gain reduction. By listening critically, you can tweak settings to preserve the vocal's natural dynamics, ensuring the performance retains its authentic energy and emotion.
Can I use a vocal compressor for other instruments?
Yes, you can definitely use vocal compressors for other instruments. However, it's important to recognize that each instrument may have unique characteristics requiring specific compression settings adjustments. Tailoring the controller's parameters to the instrument will ensure you achieve the finest results, enhancing the sound without losing its unique qualities.
How do compressor plugins differ from hardware compressors for vocals?
Compressor plugins are digital tools designed to emulate hardware compressors, providing the same core functionality directly within your Digital Audio Workstation (DAW). They offer the convenience of being easily accessible and adjustable in a digital environment. On the other hand, hardware compressors are physical units used in analog recording setups, often imparting a specific warmth and character associated with analog signal processing. Both have distinct uses and can be chosen based on the desired workflow and sonic characteristics.