Modern audio engineers use various tools to create high-quality music. The best reverb plugin is what every professional or novice amateur needs to have to bring all his ideas to life. It is used to recreate the natural environment to make music much more pleasant.
Our pick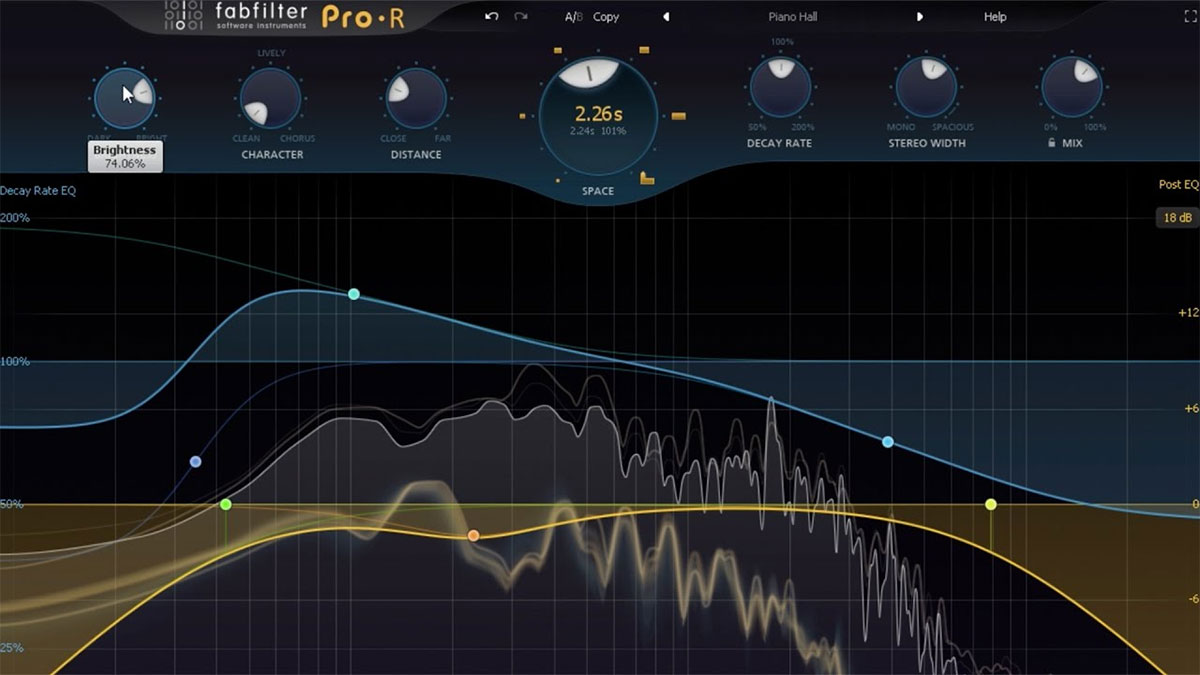 FabFilter Pro-R
Best reverb plugin
As one of the most used effects in the audio world, reverbs come in all forms and flavors. A great reverb sounds natural and sits in the mix perfectly.
Back in the day of hardware tools, music was recorded in echo chambers to get that echo effect. Now, music producers can use modern technologies and get the same effect with the best reverb plugins. They provide access to numerous settings, allowing you to create any room imaginable: from a small apartment to a huge opera.
Next, I want to introduce you to such software and tell you in more detail what types they are divided into, as well as take a look at their main features and capabilities.
Reverb types
Algorithmic reverb
Algorithmic reverb is a digitally recreated reverb unit by using special algorithms. This software emulates other types of reverb plugins, which I'll cover next.
Convolution reverb
This type of reverb VST utilizes recordings of real environment sound as samples to apply the corresponding reverb to your audio track. It is convenient if you want to get a custom-made reverb effect in your music.
Plate reverb
It emulates old plate reverb hardware sound and applies it to your track. This reverb plugin type is better suited for pop music. Percussion, brass, reeds, and vocals sound great with it.
Spring reverb
If the plate reverb simulates a metal plate to get a vibration effect, the spring reverb, as you can guess, uses a moving spring. It sounds as if many echoes gathered in one spot, and this type of plugin is most suited for rock, jazz, and rock organs.
Chamber reverb
Chamber reverb recreates old echo chambers that were made in such a way that sound reflects from many surfaces. As a result, this software gives a thicker and denser sound. Small ensembles, pop music, and classical music sound great when you apply this reverb plugin.
Room reverb
Room reverb emulates the acoustic properties of a set-size room. It allows you to highlight some instruments, like guitars, piano, or vocals, and to get a clear sound as if all instruments are in one room.
Best reverb plugins review
FabFilter Pro-R – best overall
I recently discovered a new high-quality reverb plugin, and today I have prepared a FabFilter Pro-R review for you. First, you will learn about the features that make this reverb software unique, its functions, advantages, and disadvantages. Second, I will share my experience with how this plugin sounds.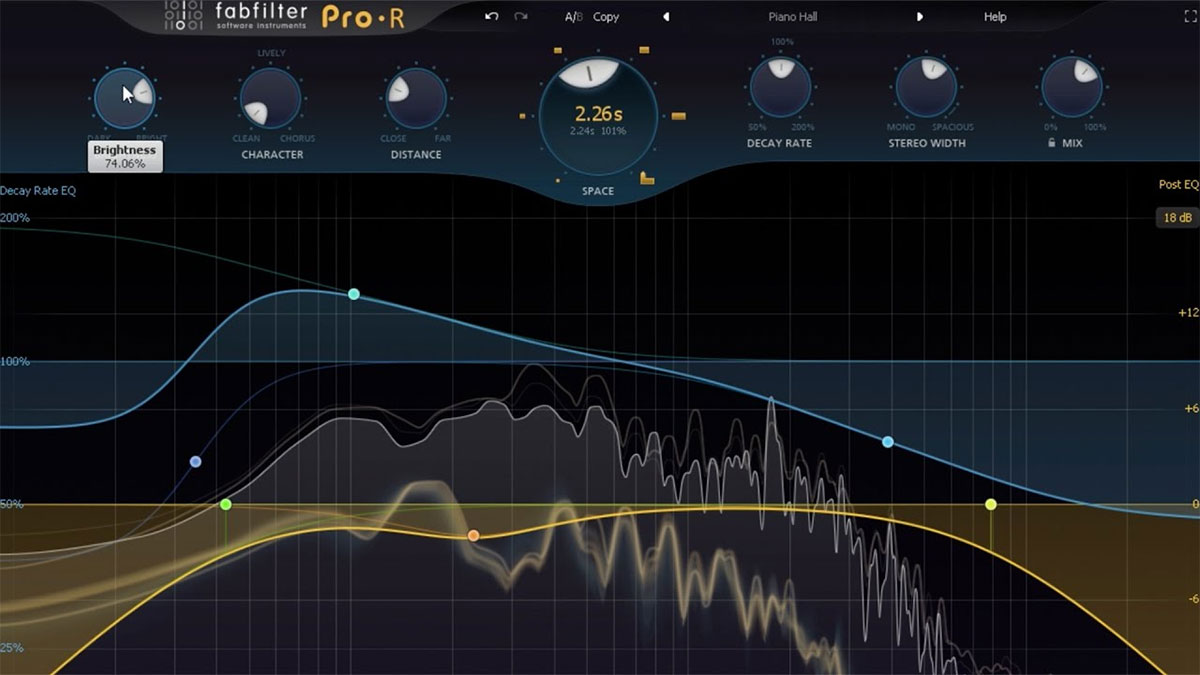 Main features
The FabFilter Pro-R plugin has a long list of features, so I cannot fit all of them in this paper. So instead, I will focus on the most important and significant ones. The Retina interface is particularly interesting, with all knobs situated on one part of the screen. Decay Rate EQ takes the biggest part of its screen with Post EQ curves. The Decay Rate time can be changed, ranging between 50% and 200%. Its Decay Rate equalizer with 6 bands utilizes the following filters to adjust the sound to your liking: Bell, Notch, Low Shelf, and High Shelf. Its companion, a 6-band Post equalizer, uses these filters, which also affect your final reverb sound.
Pro-R plugin's intelligent Stereo Width function controls the range of sound from pure mono to true stereo or even further. The distance control feature allows one to adjust the closeness to the source of sound in the chosen space. Next, the pre-delay function can be set between 0 and 500 ms and has optional host tempo synchronization. Finally, you can adjust the Mix knob from 0% to 100%, and it has a Lock Mix feature that stops preset loading from interfering with the current mix setting.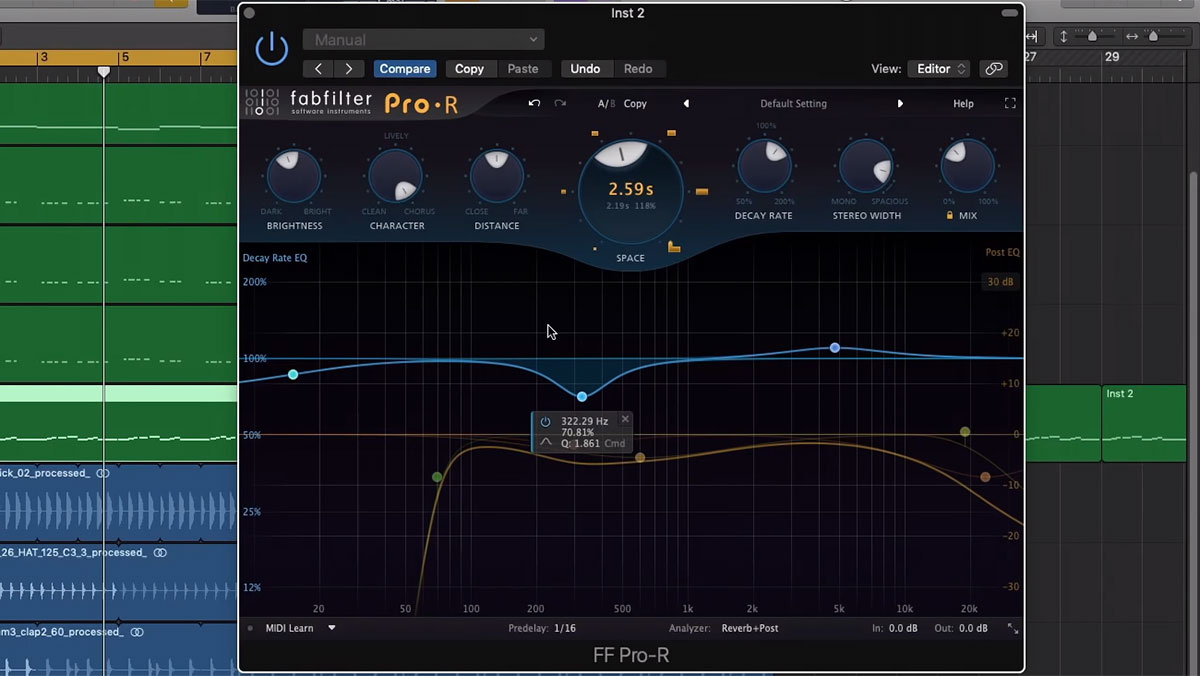 How does It sound?
Once I got to grips with the Pro-R, I began to enjoy working with it and its capabilities. My audio tracks got such a sweet reverb sounding and overall quality that I couldn't believe my ears. After I have mastered my music with Pro-R, it sounds so natural, as if it was not recorded in a studio but rather in some other place. Thanks to its comprehensive set of tools, I can create any kind of space, from a little room to a huge Hollywood-like stage.
Summary
To summarize, the FabFilter Pro-R is a truly quality product. Besides the unique features, you also get all the standard features that are inherent in FabFilter products: easily customizable control buttons, interactive MIDI Learn, undo/redo, and A/B option switch, an extensive help file, sample-accurate automation, advanced optimization, and much more! Of course, there are more powerful, versatile software products, but Pro-R is sure to find its customers and fans.
Tech specifications
Type: algorithm.
Platform: Mac, Windows.
Formats: AAX, AU, VST, VST3.
System requirements - Mac: macOS 10.12 or later, only 64 bit.
System requirements - Windows: Microsoft Windows 7 or later, 32/64 bit.
Baby Audio Crystalline – budget pick
Welcome to my Baby Audio Crystalline review, where I will tell you about this algorithmic reverb plugin that I have been using for a while. In the first part of this paper, I will talk about the main features of this software, and then I will share my personal experience gained while working with it. Now let's get to it.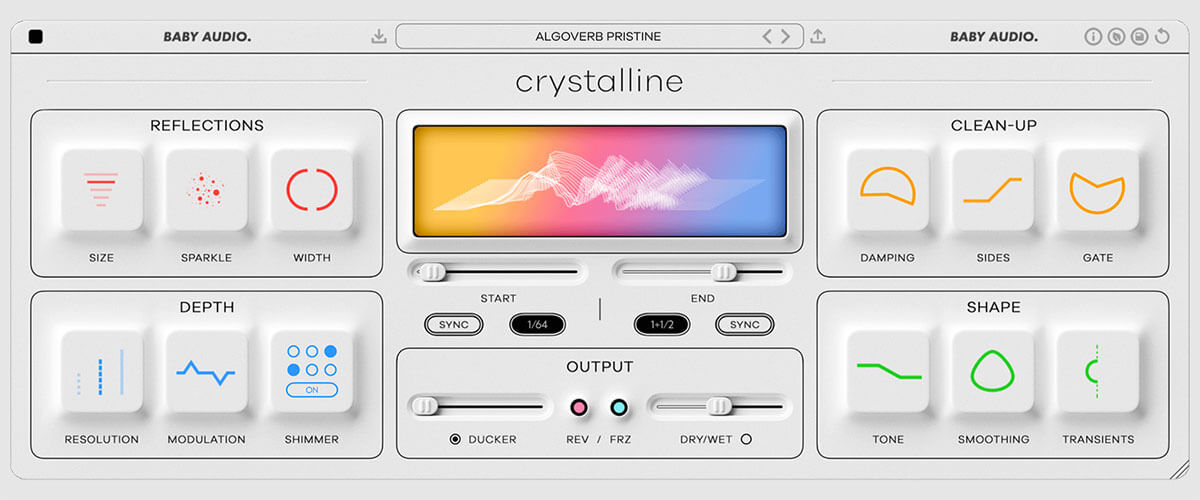 Main features
In its essence, Crystalline is a reverb plugin inspired by EMT and Lexicon. At the same time, being an innovative product of Baby Audio, Crystalline plugin is a state-of-the-art algorithmic reverb with unique features and control over every aspect of reverb. The developers really used many new technical solutions to create this software product specifically for DAW. A fairly wide choice of controls allows you to adjust the signal and change the room so that everything sounds natural. For example, the Output section has the following controls: Duker, Dry/Wet, Reverse, and Freeze. They provide a huge space for imagination to unfold your potential in creating music.
The reflections block is responsible for the size, brightness, and stereo image width of the space. As expected, the Size button allows you to change the size of the room where the sound is supposed to reflect. The Sparkle button enhances your sound, making it much brighter, especially on vocals and snares. In the meantime, the Width button controls the stereo image, ranging from mono to extra wide. In addition, it has a Clean-up section that is capable of removing excessive frequencies, creating a gated reverb sound, and also provides access to a High-Pass filter. The Depth segment switches between basic and complex algorithms, dials in pitch variations, and can slow down high frequencies to achieve a so-called angelic effect. And finally, the Shape section allows you to switch between bright and dark equalizer settings, apply EQ curves to problem areas, and change reverb emphasis from attack to sustain.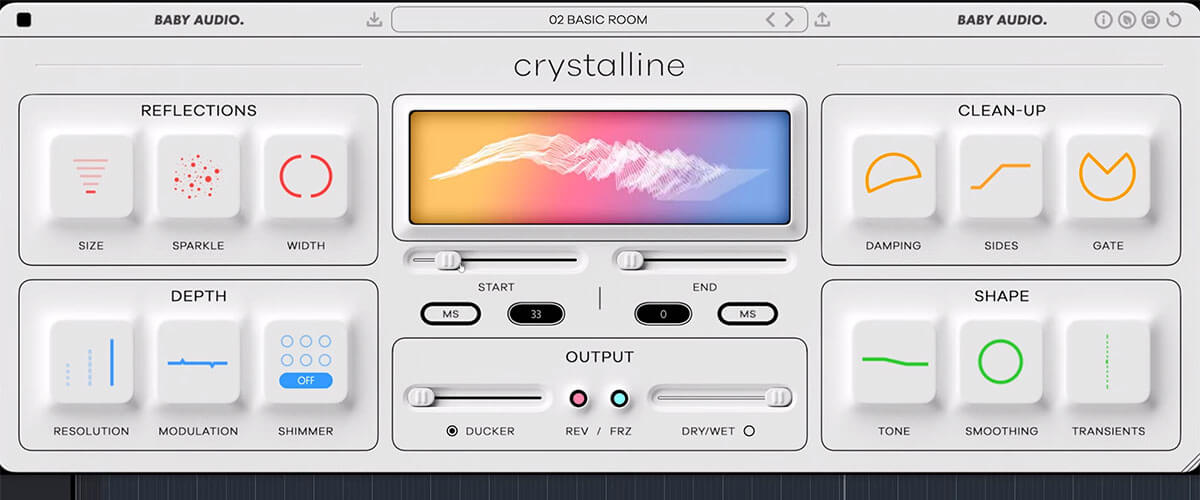 How does It sound?
The Crystalline sounds pure enough, but when needed, it can sound like a typical vintage vinyl reverb, using the damping, timbre, and shape controls. I would note that it is especially good for lead lines and vocals because it won't drown out important elements in your mix. Crystalline is so good in this aspect due to the Ducker control, which qualitatively optimizes the wet signal level depending on the dry input volume.
Summary
It is a high-quality product with a simple interface, which is easy to understand and learn how to work with. Low system requirements, professionalism of the developers, and utilitarian approach led to the creation of this really top-tier software. I found no significant disadvantages, though there are no perfect plugins.
Tech specifications
Type: algorithm.
Platform: Mac, Windows.
Formats: AAX, AU, VST, VST3.
System requirements - Mac: macOS 10.7 or later.
System requirements - Windows: Microsoft Windows 7 or later.
Audio Ease Altiverb 7 – premium choice
I've been planning to do an Audio Ease Altiverb 7 review for a long time because it's quite an interesting plugin, and today you will get a closer look at it. Firstly, I will consider the most crucial features this software has at its disposal and the advantages and disadvantages. Secondly, from this article, you can learn about my experience of using this plugin.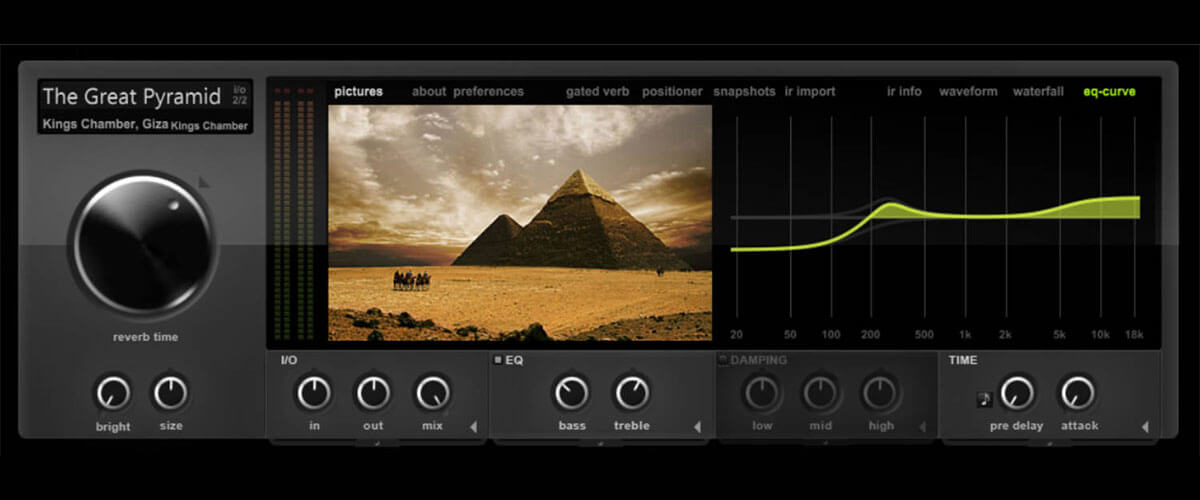 Main features
Altiverb 7 plugin stands up to the name of industry-standard convolution software and allows users a wide range of settings. With their help, you can create various rooms, like an opera, cockpit, or forest. You can use Visual Browsing to find a particular setting from a variety of acoustical spaces. And Keyword Searching function allows you to quickly find ambiances, such as street slapback or metallic resonances. Impulse Responses feature supports world-class recording studios and concert halls, delivering an equally high level of quality. On top of that, those who have bought Altiverb 7 can obtain brand new impulse responses for free thanks to the "News" feature.
Altiverb 7 has a specific Impulse Response library for the post-production stage that will definitely surprise you. Besides, the collection here is suitable for legendary reverb gear, as Audio Ease gathered acoustics from all over the world to create the biggest and most versatile library possible. This plugin supports Stereo In/Out and has a sampling rate of up to 96kHz. In addition, the Brightness feature supports such a level of High End that a regular equalizer could never get from a real-world room.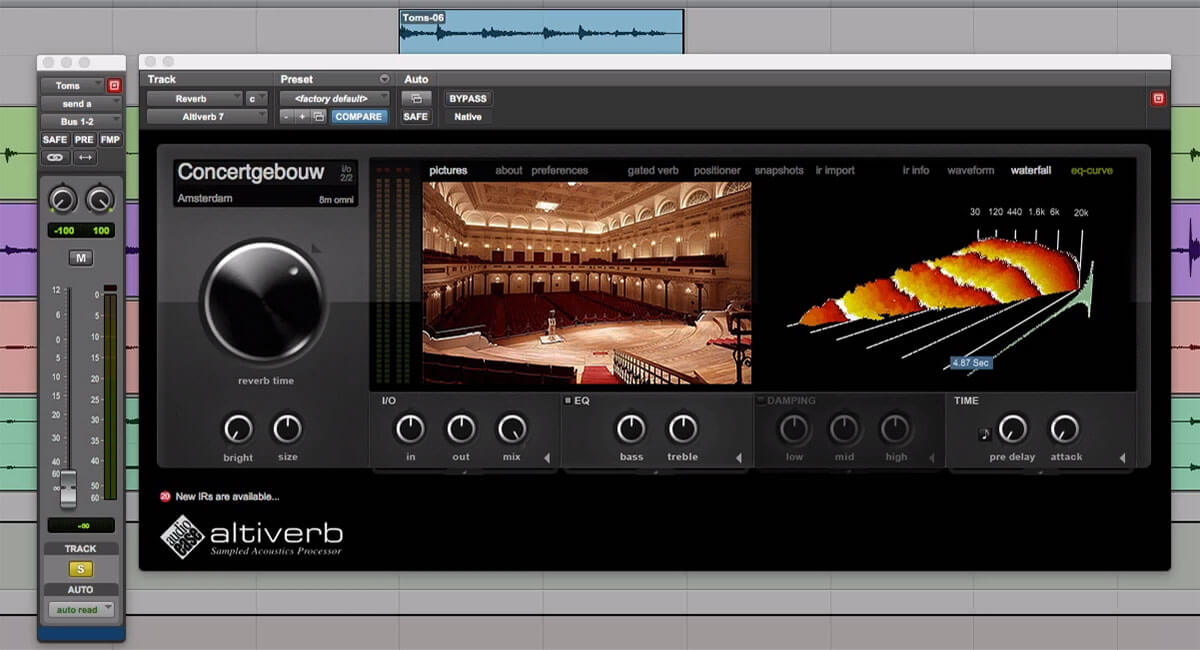 How does It sound?
Altiverb 7 sounds just as good as Altiverb 6, and maybe even better, thanks to the algorithmic layer of reverb, gate, and tempo sync. Moreover, the Impulse Response (IR) library lets me adjust how the sound will reflect, and post-production IRs make the finishing strokes. Thanks to that, my audio tracks can sound as if they were created in a professional studio or recorded in opera or other surroundings.
I find working with EQ more intuitive with the addition of an interactive graphical curve, and the new modulation controls (speed and depth) allow you to slightly randomize early reflections to add some natural variation to the reverb and "cloud" distorted notes.
Summary
By utilizing decades of experience, a desire to be on top, and simple love for music, Audio Ease created Altiverb 7. This plugin combines a modest yet modern look with versatility that opens new possibilities. However, be aware that it utilizes a lot of computing resources, thus loading your PC and CPU in particular. Make sure your computer meets all requirements for this plugin.
Tech specifications
Type: convolution.
Platform: Mac, Windows.
Formats: AAX, AU, VST.
System requirements - Mac: macOS 10.5 or later.
System requirements - Windows: Microsoft Windows 7 or later.
Relab LX480 Complete
I present to your attention a Relab LX480 Complete review from the Relab Development company. In this short paper, I will consider its main features, advantages, and disadvantages.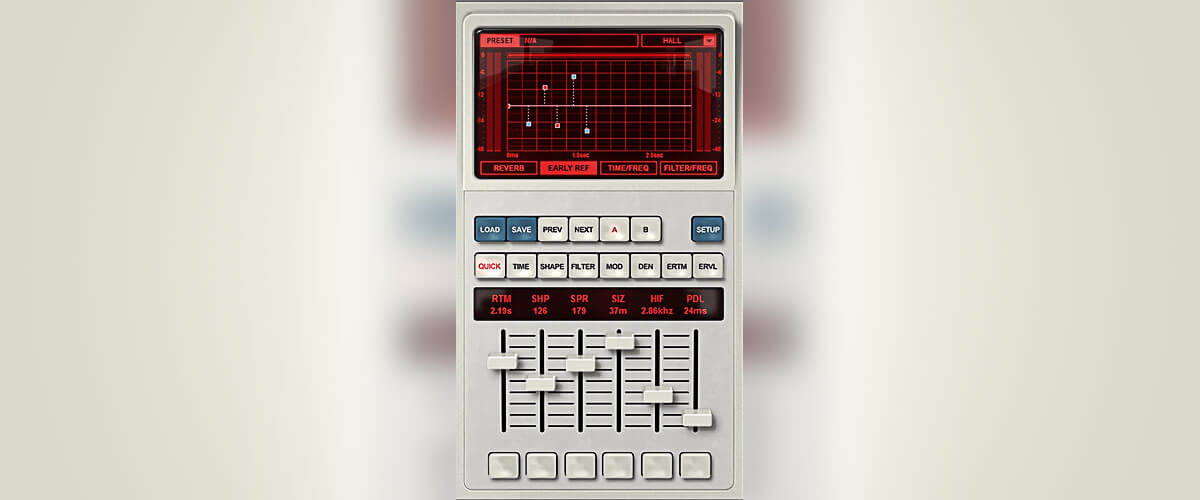 Main features
LX480 Complete VST is a faithful recreation and emulation of its predecessor Lexicon 480L - one of the most popular and high-rated reverb boxes throughout music history. Relab Development has made significant changes to their product, such as continuous controls, more early reflection delay lines, improved filters, and stereo manipulation, to extend the capabilities of the original unit to meet the demands of today's music creators.
The plugin interface duplicates the appearance of the hardware, displaying various aspects of the loaded patch - reverb shape, early reflections, etc. You can interact with them to adjust specific reverb parameters. A nice addition to the Complete version is the ability to change the screen's color and information panel, as well as to load different skins.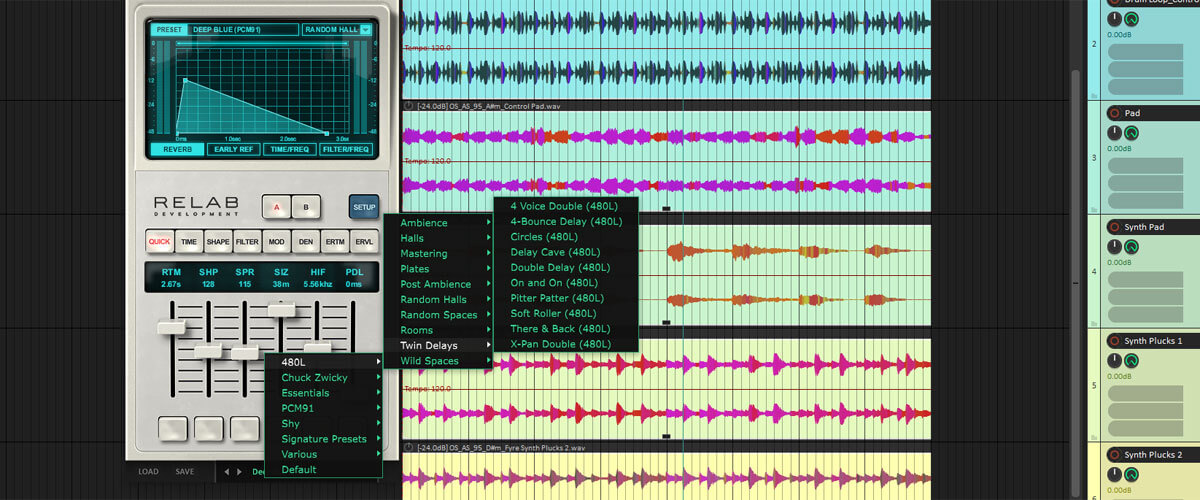 As with the original 480L, the LX480's approach to editing reverb is good with the control sliders. In the Complete edition, special buttons are provided to call up parameter banks to control a much larger number of parameters.
LX480 Complete has several improved and flexible filters that allow you to shape the sound thoroughly. In addition, LX480 Complete has an increased number of ER delay lines and allows stereo manipulation. Another aspect, in which this digital reverb plug-in surpasses its predecessor is continuous controls and support of 88.2KHz and 96KHz. Of course, it's not the most extensive collection of features, but it is constantly improving and various updates bring more and more features into this software.
How does It sound?
The main thing I will highlight is the ability to add some retro sound to your music with this plugin. It captures the sound of classic hardware and recreates it with phenomenal fidelity. I was glad that I could add some old-school vibes to my music. Every time I use it, I hear a rich, beautiful, deep reverb.
Tech specifications
Type: emulation/algorithm.
Platform: Mac, Windows.
Formats: AAX, AU, VST, VST3.
System requirements - Mac: macOS 10.9 or later, only 64 bit.
System requirements - Windows: Microsoft Windows 7 or later.
Soundtoys Little Plate
I would like to introduce you to my Soundtoys Little Plate review. This plugin is inspired by EMT 140 plate reverb hardware. In this paper, I will go through its main advantages, some disadvantages, and the sound it makes.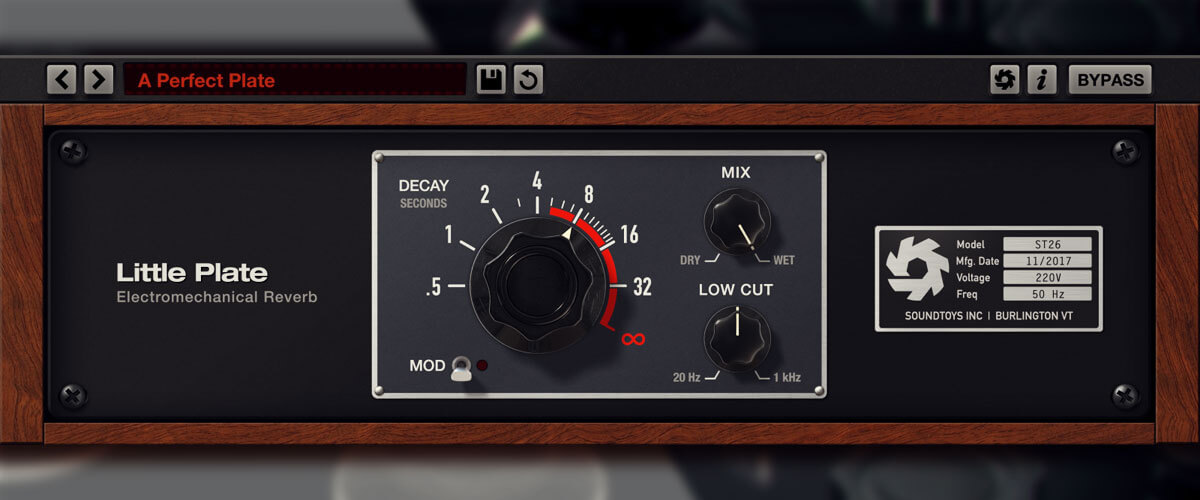 Main features
As a successor of EMT 140 reverb, the Little Plate plugin takes the best from the past and combines it with modernity. It has several controls on its panel: Mix, Low Cut, Decay, and Mod switch. You can change the incoming signal with a dry/wet Mix knob to make it sound as you see it. Low Cut control allows you to get rid of low frequencies that range from 20Hz to 1kHz. If you flip the Mod switch, you will introduce slight modulation into the reverb tail, which will result in a thicker and smoother sound. And finally, the biggest of them all, the Decay knob, defines the fading time of the sound. It ranges from 0.5 seconds to infinite reverberation, so you can create anything you can come up with.
Its interface is made after old-school reverb hardware and follows its visual traits. On top of that, here, you will find 25 various presets that will make it easier to set the room and start making music. Also, it has optional modulation for natural-sounding variation in the reverb tail if you need more realistic sound.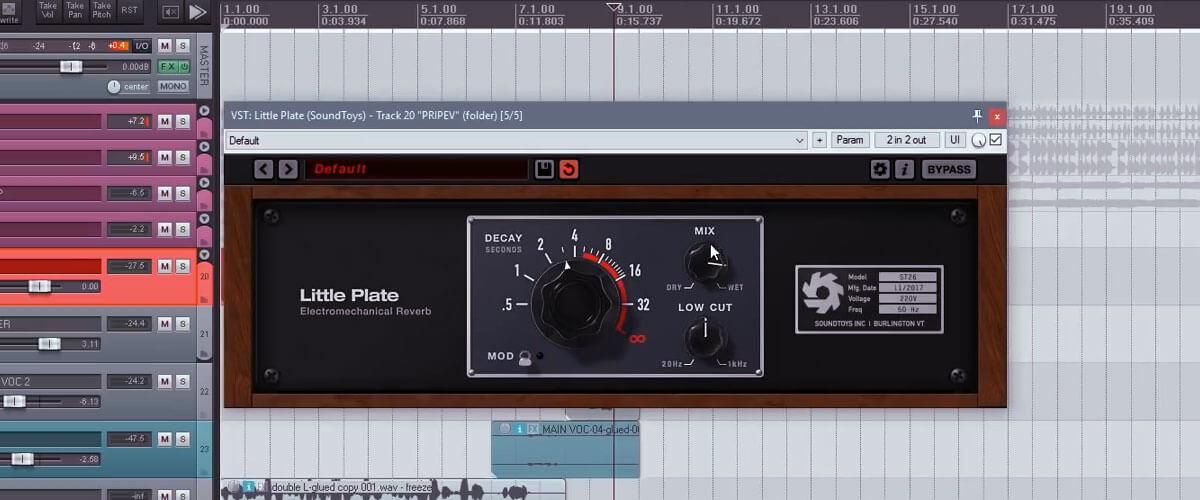 With this plugin, you can add the sound of vintage plate reverb to your audio tracks. However, it has some disadvantages as well. For example, it doesn't have as many controls to set up the room exactly the way you want it. In addition, it would be better to have more options for adjusting the sound.
How does It sound?
Even though I'm a true fan of a real EMT 140 reverb's original sound, Soundtoys surprised me and put a fresh spin on an unfading classic. It allows me to add depth and unique character to my mixes, regardless of the ease of use. The reverb is great, and it's very quick to set up. With most analogs, it takes me a while to really "find the sound" that I crave, but with Soundtoys Little Plate, it's a breeze.
Tech specifications
Type: emulation/algorithm.
Platform: Mac, Windows.
Formats: AAX, AU, VST, VST3.
System requirements - Mac: macOS 10.9 or later, only 64 bit.
System requirements - Windows: Microsoft Windows 7 or later, only 64 bit.
Best free reverb plugins review
Smartelectronix Ambience
I present you with my Smartelectronix Ambience review. I will briefly describe the most important aspects of this reverb plugin, its advantages, disadvantages, and peculiarities of use.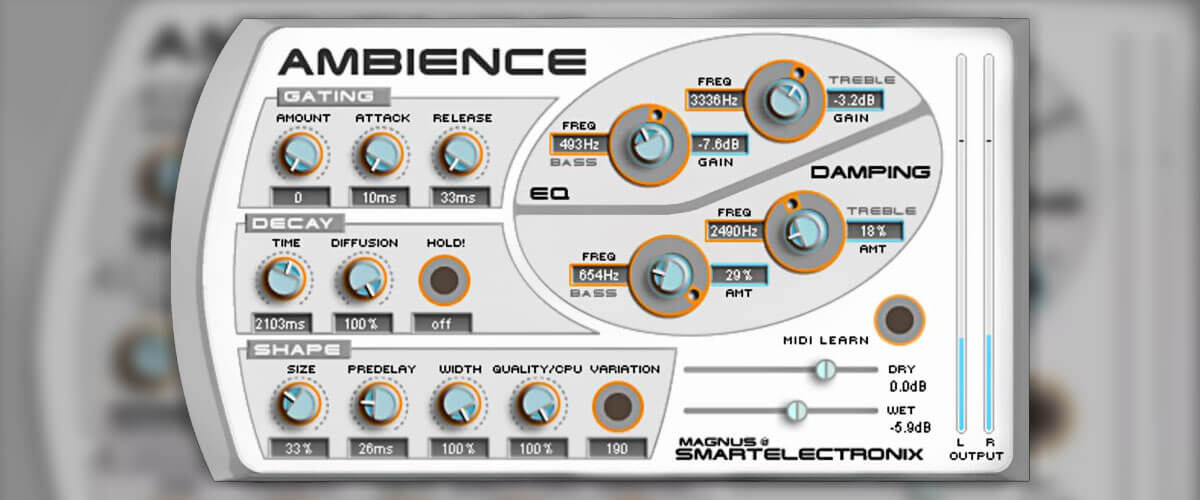 Main features
Smartelectronix Ambience plugin comes with a great variety of presets that will make the music creation process fun and smooth. Dry and Wet sliders change your audio track's level of direct and processed sound. The Gating feature is adjusted through Amount, Attack, and Release knobs, and Decay is set via Time and Diffusion controls and the Hold button. Not many reverbs are supported by Gating, so this is one of Ambience's strengths. The shape of the room is created through several knobs that set all important aspects of the environment. You can also adjust the sound through EQ and Damping panels.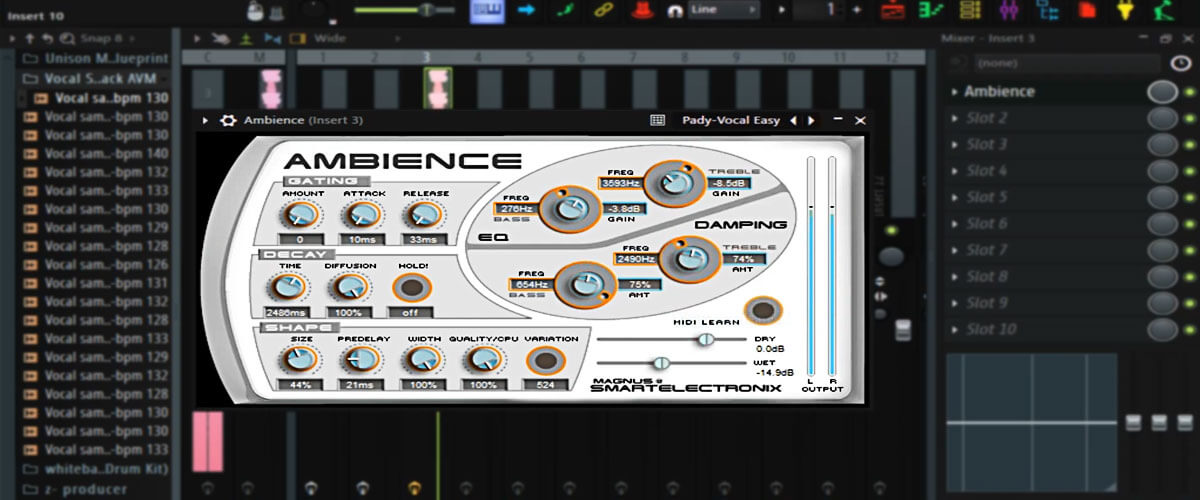 How does It sound?
Smartelectronix Ambience is good as a plate or spring reverb - its character is definitely metallic and reminiscent of some '80s Yamaha reverb. It creates space well (that's why it works well on drums). Also, here's a little hint from my experience: for natural sounds, it's better to use a small room size and a short reverb time. And this reverb does not overload the processor and is great for draft mixes.
Tech specifications
Type: algorithm.
Platform: Mac, Windows.
Formats: AU, VST.
System requirements - Mac: macOS 9 or later, only 32 bit.
System requirements - Windows: Microsoft Windows 7 or later, only 32 bit.
TAL Reverb 2
Welcome to my TAL Reverb 2 review. In this short but helpful article, you will learn about the program's features, interface, as well as strengths, and weaknesses.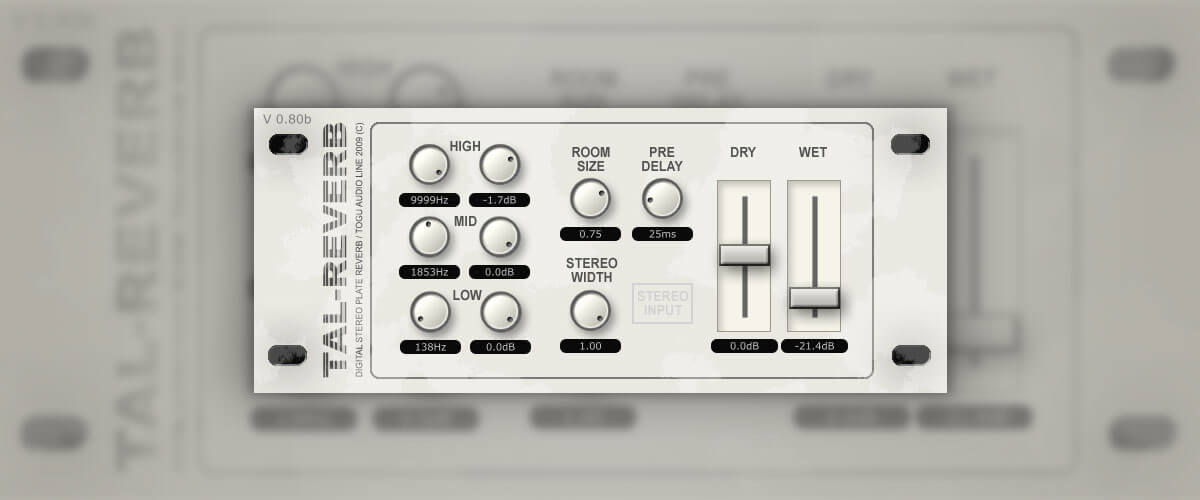 Main features
The Reverb 2 plugin is an improved version of the Reverb 1 plugin, with enhanced sound quality and greater versatility. On its panel, you will find knobs that can change the room size and set the delay length. The maximum pre-delay time can be set up to 1 second. Also, you can adjust the stereo width and Dry/Wet signal processing. On top of that, there is Stereo Input mode and 3 filters: High Cut, Mid Cut, and Low Cut. And finally, you will get 10 unique presets preinstalled in this plugin.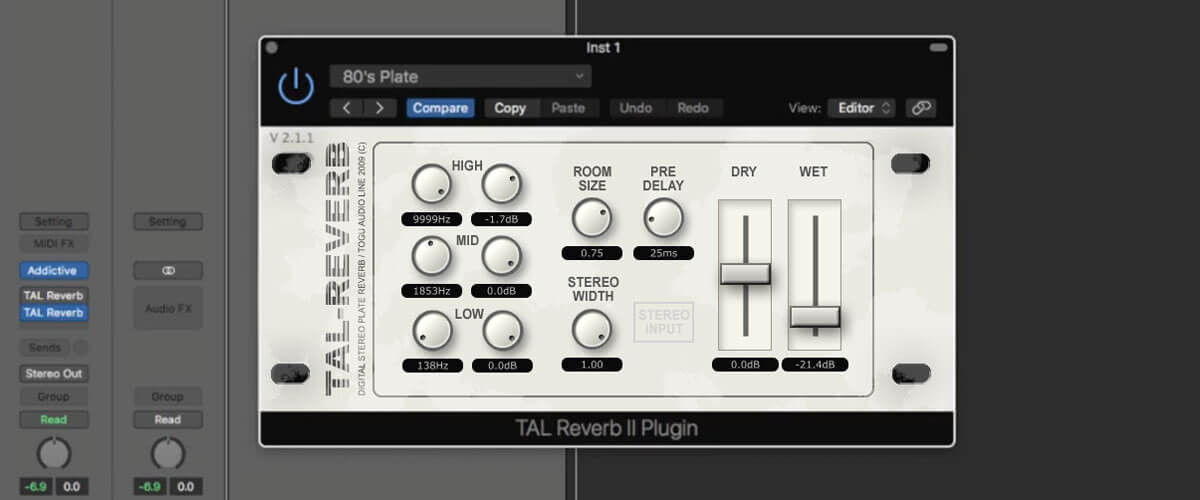 How does It sound?
This reverb software gives my music a lush, wide, and deep sounding. It creates a super diffuse and lush reverb effect with a fast build-up time. Ideal for ambient reverb sounds.
Tech specifications
Type: algorithm.
Platform: Mac, Windows.
Formats: AAX, AU, VST, VST3.
System requirements - Mac: macOS 10.9 or later, only 64 bit.
System requirements - Windows: Microsoft Windows 7 or later, only 64 bit.
System requirements - Linux: Ubuntu 18 or similar, only 64 bit.
FAQ
Why do people love reverb?
People love reverb because it makes voices and instruments sound more beautiful. In addition, reverb adds a sense of space to the sound, making it sound like it's echoing in a large hall or cathedral. It also makes the sound softer and more mellow.
What instruments need reverb?
Strings, brass, and woodwinds all need reverberation to sound better.
Should you add reverb to vocals?
Whether or not to add reverb to vocals is up to the producer and what they are trying to create. Reverb can be used to make vocals sound more epic or more intimate and closer to the listener. It all depends on the style of music you are going for and what you think will work better.
How to use reverb plugins?
There are many ways to use them, but a few popular techniques are listed below.
Use reverb to create a sense of space. With its help, you can create the illusion of space by simulating the reflections of sound waves off of surrounding surfaces.
Use reverb to add depth and dimension to your mixes. You can achieve such an effect by adding ambiance and sweetness to instruments and vocals.
Use reverb as a creative tool. Reverb can also be used as a creative tool to achieve unusual sonic effects. For example, you can use a short delay time with high feedback levels to create dense, swirling textures. Or you can use a long delay time with low feedback levels to create spacious, ethereal pads.