When it comes to achieving stellar productions, selecting the best EQ for vocals is of utmost importance. The art of EQing plays a vital role in shaping the character, clarity, and presence of vocal recordings. In this article, we delve into the significance of EQ in production and explore the factors to consider when choosing the perfect EQ plugin for crafting outstanding tracks.
Our pick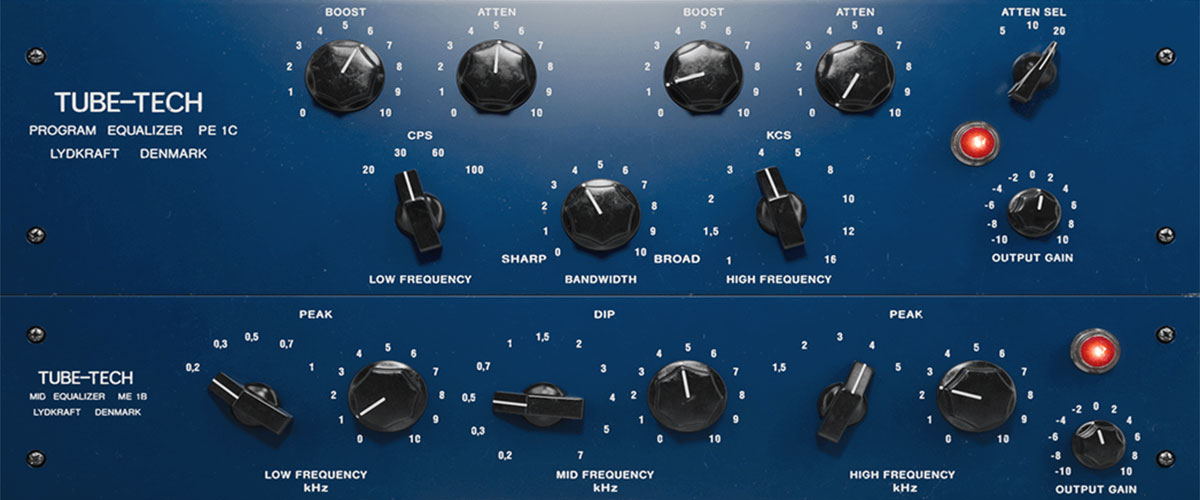 Softube Tube-Tech Equalizer Collection
Best EQ plugins for vocals
Two classics, PE 1C and ME 1B, combined in one musical, versatile, and full-featured equalizer, improving the workflow and allowing for a revitalized approach to digital signal processing technology.
Read the full review
.
Understanding EQ for vocals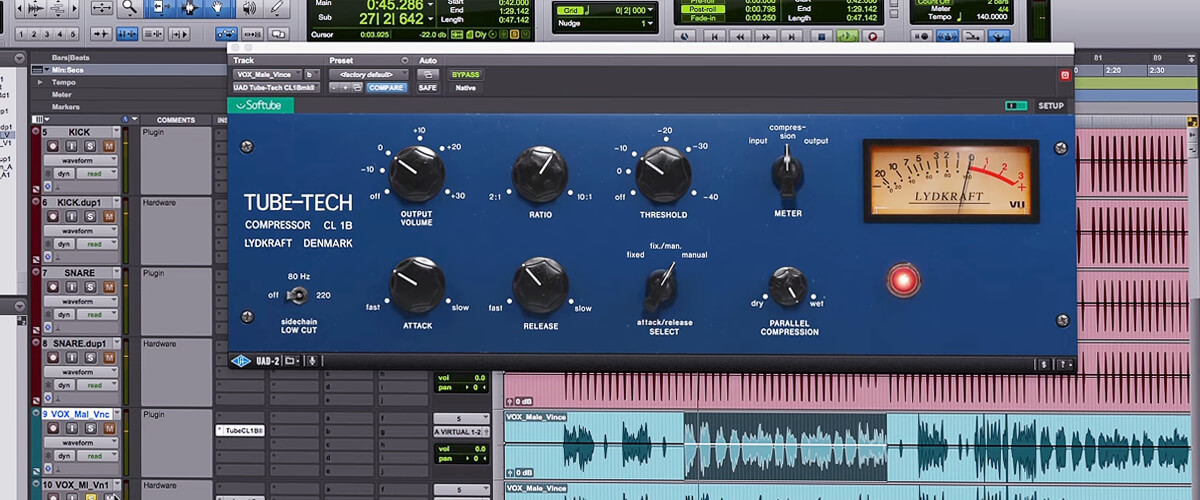 Vocal EQ – the secret sauce behind exceptional mixing – is an art that every music producer should master. Equalization, often called "EQ," is the process of manipulating the balance between different frequency components within a sound. When it comes to vocals, it is a game-changer, allowing you to sculpt the timbre, clarity, and overall character of the singer's performance.
The human voice is a complex instrument, occupying a wide frequency spectrum. Each voice part contributes to the overall sonic profile, from the rich warmth of the chest voice (around 80 Hz to 250Hz) to the shimmering presence of the high-frequency consonants (approximately 2kHz to 6kHz).
The goal of equalization is not just fixing issues but creatively enhancing the vocal's unique character. It can transform a good vocal take into an outstanding one, allowing it to sit perfectly within the mix and shine through.
In the next section, we'll explore the nuances of choosing the best vocal EQ plugins, guiding you toward the tools that can elevate your mixing game to the next level.
Best EQ plugins for vocals review
Enhancing sound to perfection demands the right tools, and in the realm of music production, equalization plugins stand as essential allies. Achieving the ideal sound involves delicate adjustments that resonate with the song's character. Let's delve into a selection of plugins that have consistently proven their mettle in shaping vocals.
Softube Tube-Tech Equalizer Collection – best overall
From this Softube Tube-Tech Equalizer Collection review, you will discover a retro-styled plugin that looks stylish and adds more depth and drive to your sounds. It was designed after 2 classic hardware units PE 1C and ME 1B, which resulted in this vintage-looking equalizer. In this paper, all the crucial features of this software and my experience of using it are laid out.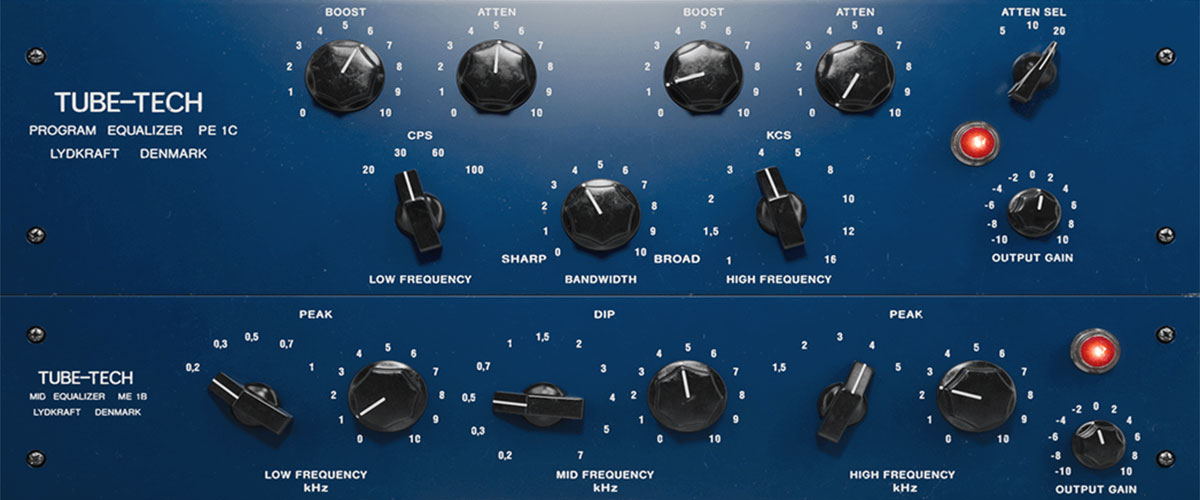 Main features
Even though it is designed after vintage equalizers, the Softube Tube-Tech Equalizer Collection plugin has all the benefits of its predecessors and modern technologies. For instance, by using Softube's innovative signal processing technology, the final sound will be of high quality. When combined with famous Softube audio processors, your music will sound much better than ever before. That feeling of vintage hardware is achieved thanks to high-resolution graphics. Because it is a very simple and utilitarian design, it doesn't load CPU or GPU too much. PE 1C and ME 1B were combined into one plugin to deliver the most efficient sound equalizing process.
It is both a low and high-end equalizer that is made in Pultec style. Also, in this collection, you will find all legacy plugins that will extend your opportunity range. The sample rate range supported by Tube-Tech Equalizer Collection is as follows: 44.1, 48, 88.2, 96, 176.4, and 192 kHz. Of course, it supports mono and stereo modes. In the end, it is a modest mid-range equalizer designed after tube equalizers of the age far past. However, if you like classic instruments and hardware units, you will surely like this one.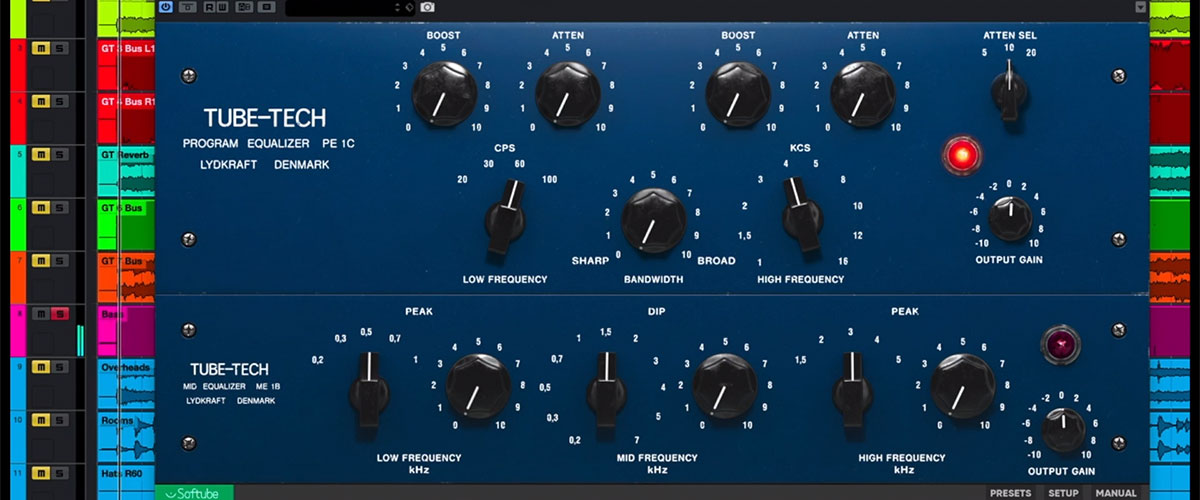 How does It sound?
This is a good example of a high-quality vintage equalizer that does its job and even more. It is extremely versatile with all its knobs and controls. For example, because the low-frequency boost and attenuate functions filters are slightly offset in frequency, it's possible to create captivating and well-focused bumps or cuts in the low end by boosting and attenuating at the same time. It is even though it is being controlled by the same frequency knob. That is just one bit of what this plugin is capable of, the only disadvantage here is limitations for versatility since it is a vintage-based equalizer.
Tech specifications
Platform: Mac, Windows.
Formats: AAX, AU, VST, VST3.
System requirements - Mac: macOS 10.13 or later, 8 GB RAM, 8 GB disk space, 64-bit only.
System requirements - Windows: Microsoft Windows 7 or later, 8 GB RAM, 8 GB disk space, 64-bit only.
As the best EQ plugin for vocals, the Softube Tube-Tech Equalizer Collection allows for subtle and musical adjustments. Modeled after the Tube-Tech analog equalizer, this plugin offers advantages in its implementation. It recreates the recognizable saturation and coloration heard in many commercial hits, achieving a perfect balance, especially in the low and high frequencies. This is an indispensable tool that ensures the highest standard of processing.
FabFilter Pro-Q 3 – digital EQ
This is a detailed FabFilter Pro-Q 3 review. Here you will find out its advantages and disadvantages if there are such, and how it will help in creating magnificent music. This 24-band dynamic equalizer can make snare drums crack, add drive to vocals, and coordinate the EQ curve of one track to another.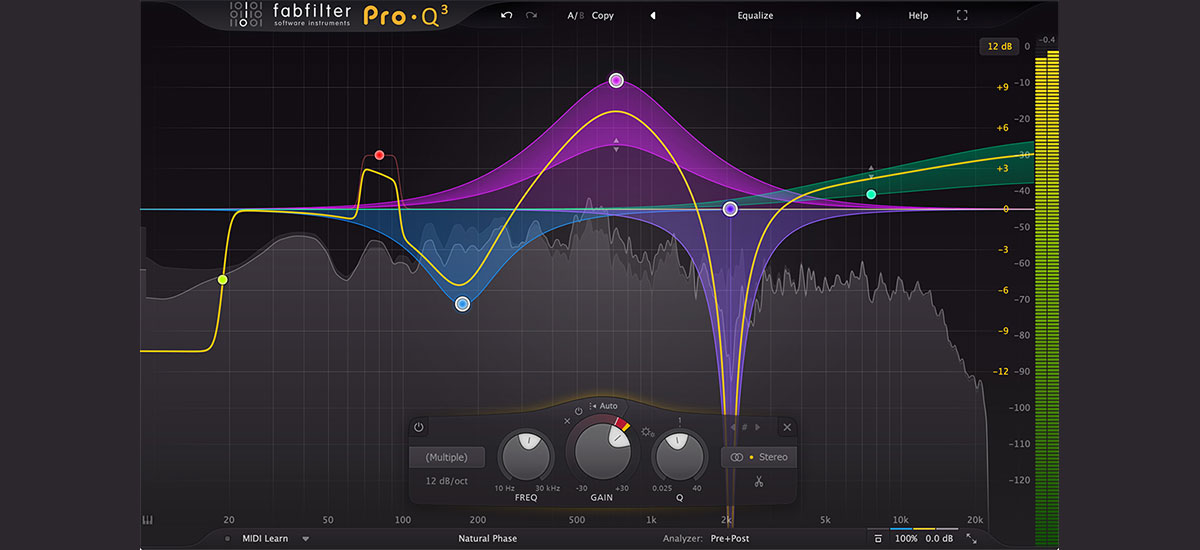 Main features
This plugin has a comprehensive collection of features that make it popular among music producers. For instance, it has a Brickwall LP/HP filter that will take care of unnecessary frequencies. On top of that, it has some other filter types, like High/Low Shelf, Bell, Band Pass, Flat Tilt, etc. These filters have a maximum slope limit of 96dB per octave. The Dolby Atmos support it presents comes with an intelligent per-band speaker choice.
Pro-Q FabFilter plugin EQ Match feature will match a post spectrum of different instances within your session. You will also find here two modes, Mid-Side and Left-Right, to make even more accurate adjustments. With frequency collision indication, you can easily carve out sonic space. Thanks to the Auto Gain function, channel weighting, and an estimated dynamic gain correction are possible.
You can locate critical peaks by using a Spectrum Grab feature. This plugin can be used for live recording or tracking thanks to the Zero Latency mode. In addition, it has two other modes, Linear Phase for transparent operation and Natural Phase if you want to get analog sound. In addition, you can use the Piano Roll view function to choose frequencies based on musical note values.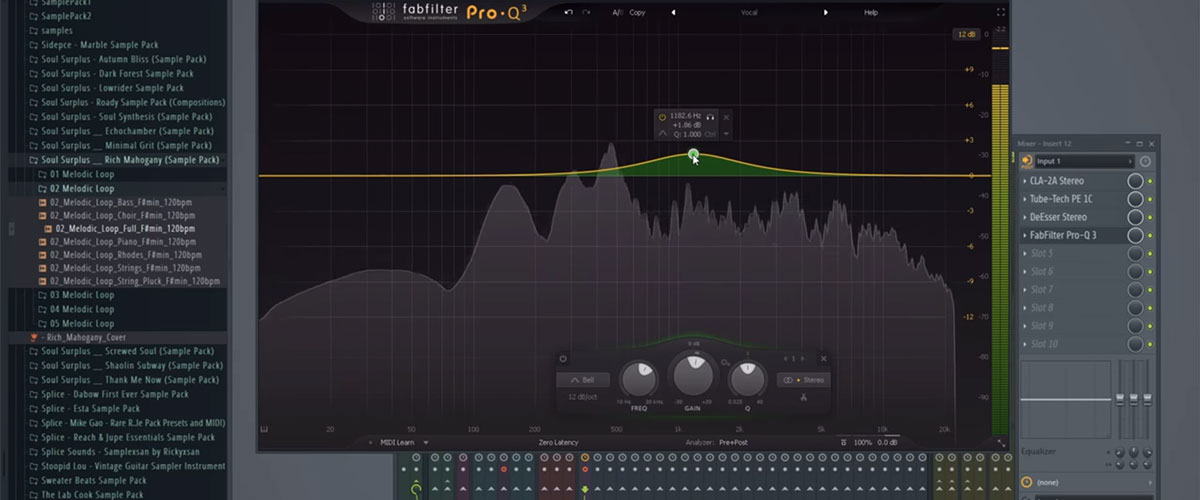 How does It sound?
With its vast features, I was overwhelmed when I used it the first time. And once I figured everything out, I saw how much easier it can be to process the sound. This equalizer is of great help to me, and the feature I like the most now is the dynamic option. After I process the sound with Pro-Q 3, my music is almost perfect, with no digital harshness, no artifacts; everything is just how it is supposed to be. It is a pleasure to work with such professional software, though the sheer number of features is frightening at the start.
Summary
We can say that this is an incredibly flexible plugin with 24 customizable brands. Sidechaining, frequency spectrum, low latency, and other features were specifically designed to be a versatile tool for creating incredible music. The only significant disadvantage is that it might be hard for inexperienced users to figure out since there are no comprehensive instructions.
Tech specifications
Platform: Mac, Windows.
Formats: AAX, AU, VST2, VST3.
System requirements - Mac: macOS 10.12 or later, only 64 bit.
System requirements - Windows: Microsoft Windows 7 or later, 32/64 bit.
FabFilter Pro-Q 3 stands out as the most user-friendly equalization plugin, offering the most flexible customization options among digital counterparts. Key advantages include:
Switching to linear phase mode.
Mid-side mode and separate processing of mono and stereo components.
Utilizing the equalization in dynamic mode (dynamic EQ).
These features make it an indispensable tool for precise and dynamic vocal equalization.
Sonnox Oxford EQ Native – also great
In this paper, we prepared a Sonnox Oxford R3 EQ review for you. This parametric EQ plugin possesses a comprehensive set of tools and settings that allow users to achieve a high standard of professional music creation. Next, we will review some of its main features that you may find the most useful.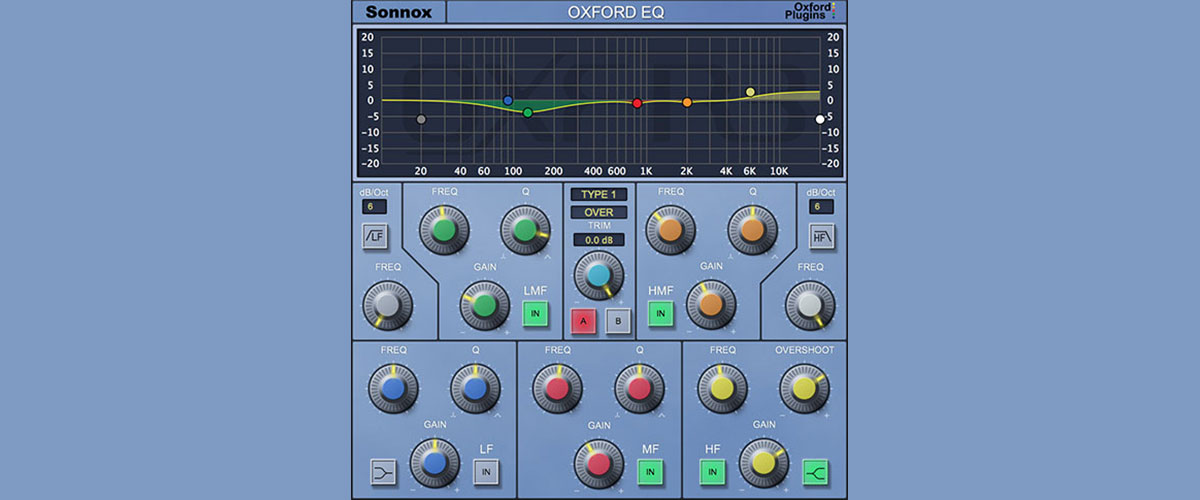 Main features
This particular Sonnox Oxford R3 EQ plugin has 4 changeable types of EQ that will determine the main vector of your sound style. LF and HF sections have customizable shelf settings, and they provide a slope of up to 36dB/Oct. Developers added unique 6 plugins in Oxford R3 EQ VST to ensure the most efficient DSP usage. On top of that, this plugin was created with a well-known 5-band parametric structure that is also responsible for a smooth workflow. It has a very simplistic design that is perfect when you need low system requirements and CPU load.
This equalizer's software is capable of complete automation, with the ability to separate different setting profiles. To deliver the best experiences to its users, the HF response was entirely de-cramped here. All filters and EQ in this plugin have mono and stereo versions that add to the variety of options and settings. The maximum limit for sample rates supported by Oxford R3 EQ is 96kHz. This plugin is supported by a wide range of devices, starting with Mac or PC and following AAX Native, VST, RTAS, etc.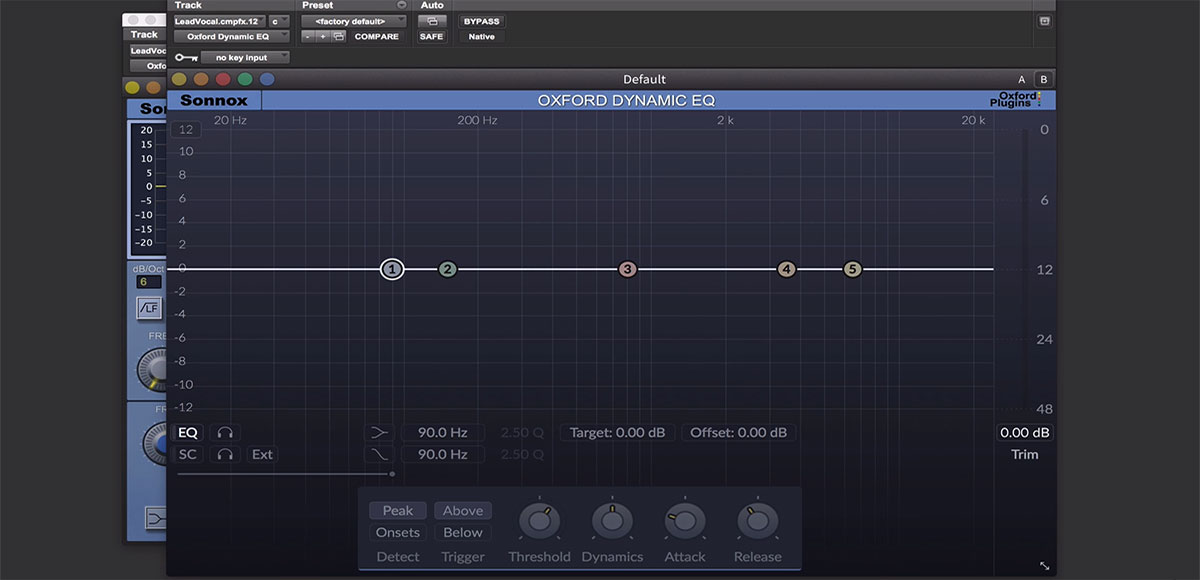 How does It sound?
Oxford R3 EQ plugin is incredibly versatile while being straightforward to use. It is an extremely rare combination of qualities for an equalizer. Honestly, it sounds amazing and crystal clear since the source signal doesn't undergo any changes except the EQ curve, which is great. For example, type 1 is just a basic working model, but type 3 is famous for mastering and broad tonal contours. This software is a necessity if you are working with vocals. At this point, it can be called a classic equalizer plugin but with some modern additions.
Tech specifications
Platform: Mac, Windows.
Formats: AAX, AU, VST2, VST3.
System requirements - Mac: macOS 10.8 or later, 32/64 bit.
System requirements - Windows: Microsoft Windows 7 or later, 32/64 bit.
Sonnox Oxford EQ Native offers an intuitive interface, combining the flexibility and precision of digital equalization with the smoothness of analog devices, particularly on high and low frequencies. Its rare and successful combination makes it a standout choice for processing.
TDR VOS SlickEQ GE – budget
This is our TDR VOS SlickEQ GE review, where you will find out more about this audio plugin. We will explore its various processing options, output stages, filters, models, and many other features that you may find useful for processing your audio tracks. With this software at your disposal, you can get your music to the studio level.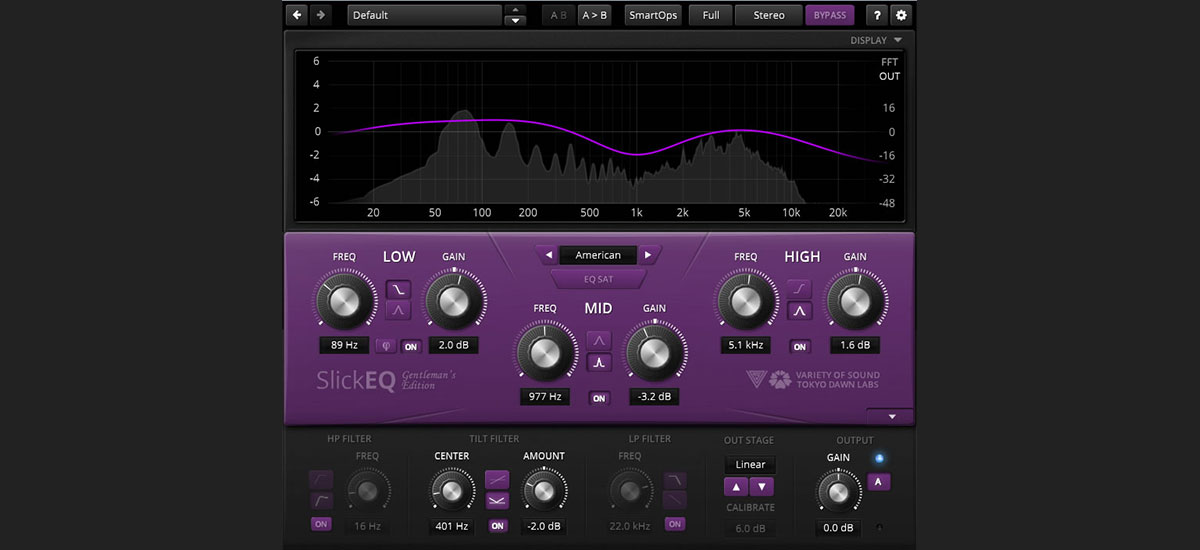 Main features
This software is built on a 64bit "delta" multi-rate structure, which ensures the fast and efficient work of this plugin. At the TDR VOS SlickEQ GE plugin, you get a display that helps to monitor frequency magnitude response in real-time. Loudness compensated auto gain control feature ensures high-quality sound at any volume. Also, here you will find various smart functions, like Match Pink, De-resonate Auto HP/LP, Match reference, and many others. On top of that, you will get access to several processing options, like stereo/mono, left/right, and sum/difference. Randomized tolerances can be imposed if you use the one-of-a-kind Dual Mono mode.
The library of EQ models in this software consists of 5 distinctive variations: American, Soviet, Japanese, German, and British. Aside from that, it has 8 different output stages for you to choose from Silky, Mellow, Excited, Deep, Linear, Seven, Funky, and Toasted. Also, a great collection of filters is available for you here, starting with the High Pass filter, which has an additional Bump mode, and the Low Pass filter, which has 2 different slopes, namely 6dB/Oct and 12dB/Oct. The next filter is Parametric Tilt one, with a unique V mode as its addition. Besides that, you will get 3 semi-parametric filter bands, where each of them has 2 shape options.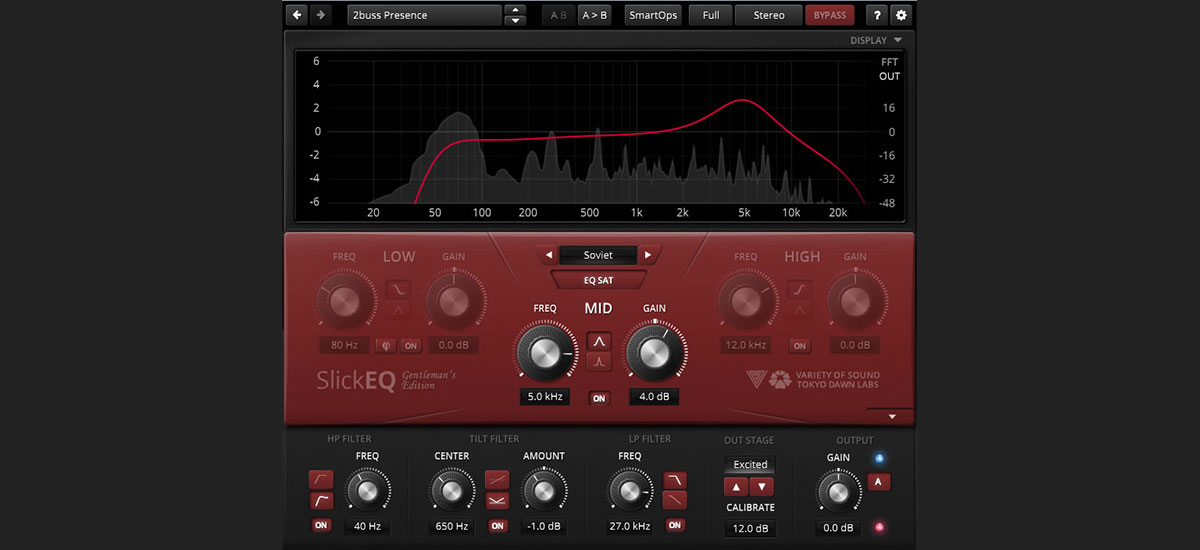 How does It sound?
It is a great old-school knob-workflow-oriented plugin. With the help of its distinctive models and modes, my music got more depth and individuality. A comprehensive collection of options allows me to get my audio track sound just like I want it. Thanks to the low band that grants access to an optional phase lag, I could delay low frequencies relative to higher frequencies and got amazing results. It was a real pleasure to work with the sound in the TDR VOS SlickEQ GE plugin.
Summary
If you like those vintage equalizers with knobs, this plugin took all the best from them and incorporated them into modern technologies. Vast options selection, various modes, and models will make your tracks better, deeper, and your sound processing activity more interesting.
Tech specifications
Platform: Mac, Windows.
Formats: AAX, AU, VST2, VST3.
System requirements - Mac: macOS 10.9 or later, only 64 bit.
System requirements - Windows: Microsoft Windows 7 or later, 32/64 bit.
TDR VOS SlickEQ GE is a flexible and system-friendly equalizer that enables gentle frequency shaping. With its five unique saturation modes, it provides a distinct character to the signal. This plugin is a valuable addition to any mix.
Best free EQ plugins for vocals review
Achieving professional sound doesn't have to come at a high cost. Check out some exceptional free plugins that can elevate your mixing game. These plugins prove that top-notch equalization is accessible to all without compromising quality.
Kiive Audio Warmy EP1A Tube EQ – free pultec emulation
In this Kiive Audio Warmy EP1A Tube EQ review, we will talk about an equalizer plugin based on vintage hardware predecessors. Here you will find all its features, advantages, and some inconveniences that you might face.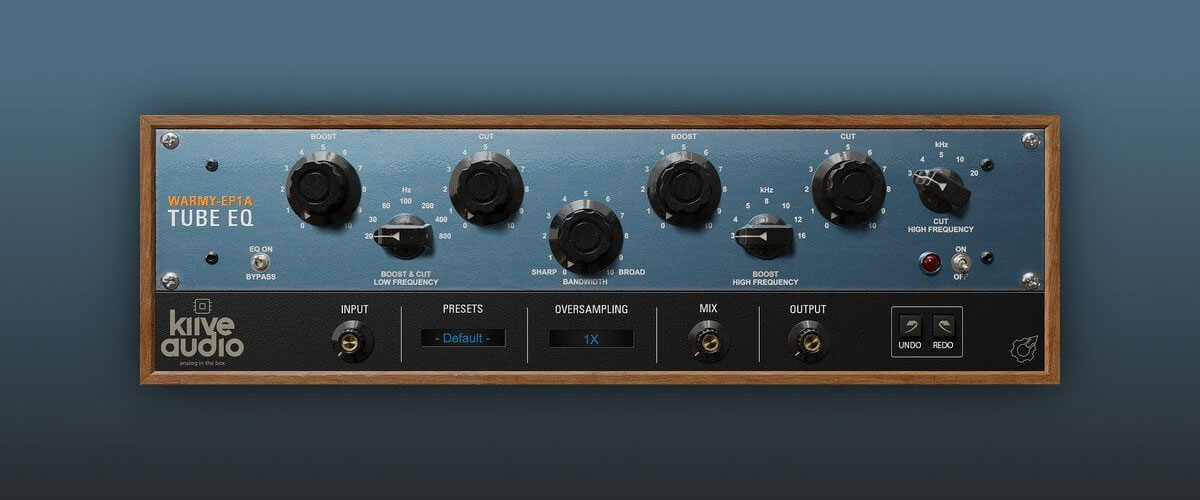 Main features
The first feature of the Warmy EP1A Tube EQ plugin is that you can change the size of its interface, which can be done not in every plugin. As to its more functional features, here you can use oversampling, and several presets. Also, in this software 2 high-frequency selectors are available to broaden your field of work. Tube emulation mix is another interesting feature available via a good old knob. On top of that, in this plugin, you will find knobs for Low Cut, High Cut, and Boost for both.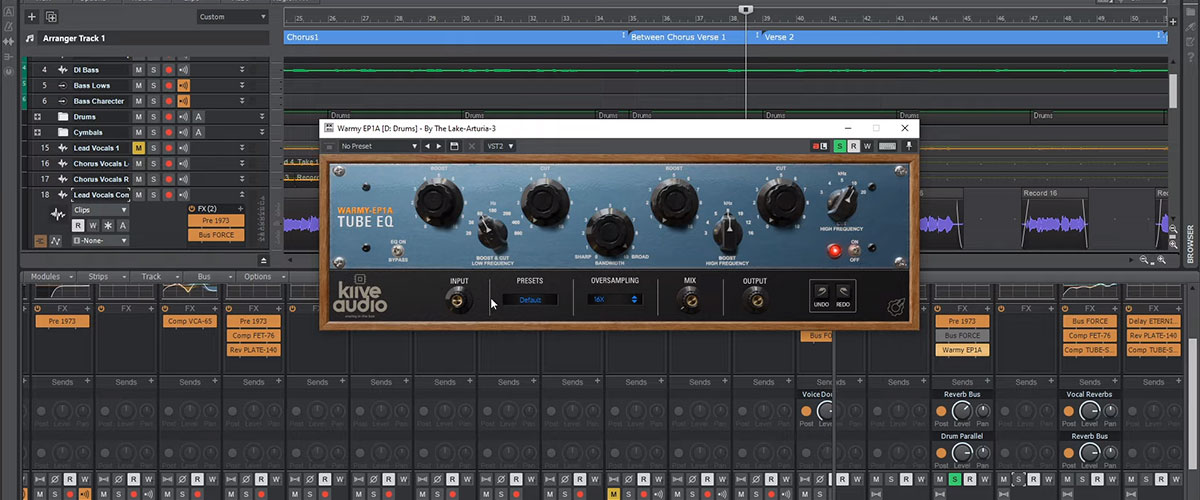 How does it sound?
A great equalizer that does the job right and even more. High sound quality and the very useful oversampling feature will surely impress you. The only disadvantage is that because it is designed after very old equalizers, there are not many more modern features that would be great here.
Tech specifications
Platform: Mac, Windows.
Formats: AAX, AU, VST.
System requirements - Mac: macOS 10.7 or later, 4 GB RAM, 64-bit only.
System requirements - Windows: Microsoft Windows 7 or later, 4 GB RAM, 64-bit only.
Kiive Audio Warmy EP1A is a free digital emulation of the Pultec equalizer. If you're seeking a soft and spacious sound, this plugin is worth considering. Its tube emulation adds warmth and character to vocals, making it a compelling choice for music producers on a budget. Additionally, it can effectively tame harsh-sounding frequencies, giving your vocals a smoother and more polished tone.
Ignite Amps PTEq-X – free analog equalizer
If you are in search of a good-quality sound equalizer, this Ignite Amps PTEq-X review is right what you need. This software was created after famous vintage hardware equalizers, but with some significant improvements to make it more versatile and add some functions.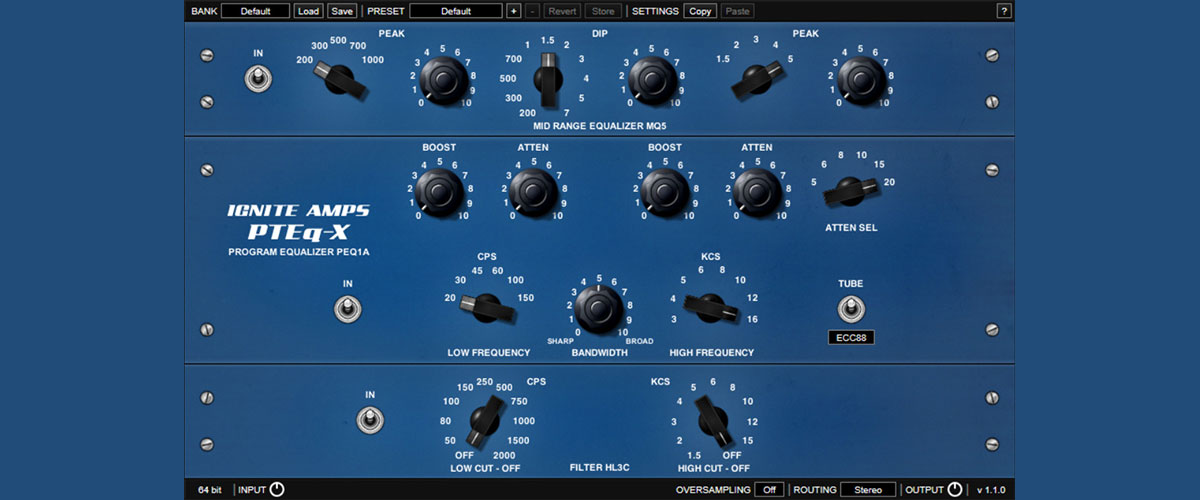 Main features
This software combines retro style and modernity and has 3 equalization modules for you to choose from. PTEq-X plugin also has 3rd generation triode stage analog processing, which you can utilize in 4 unique tube types. All that customization results in lower CPU load. Among its other features, you will find input and output controls, support for processing mono and stereo, and changeable linear-phase oversampling if you want to reduce aliasing.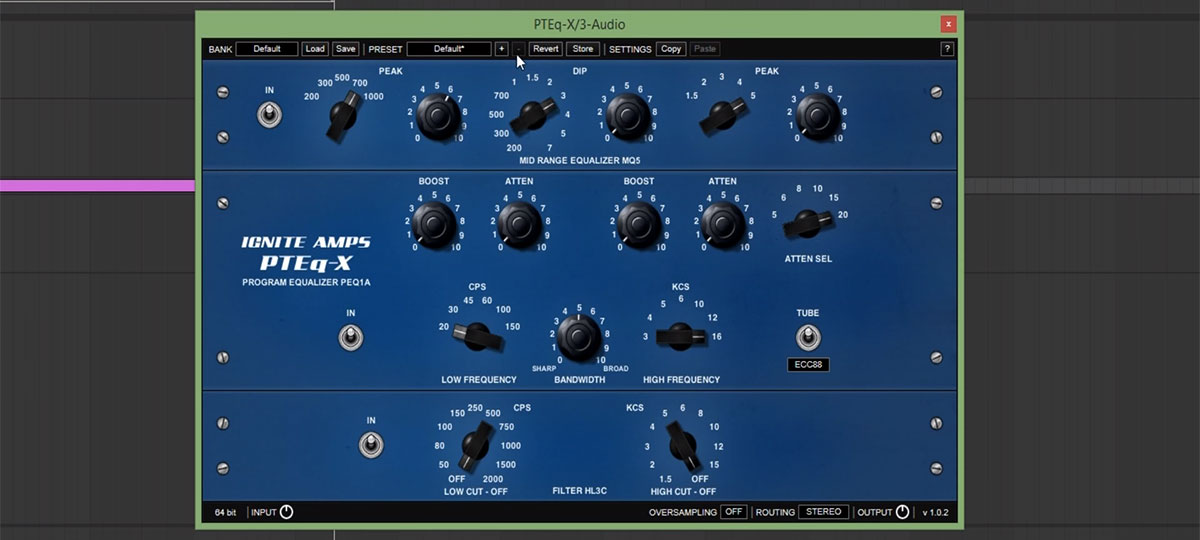 How does it sound?
An amazing plugin for a mastering chain. After the sound is processed by PTEq-X, it gains that sparkle and drive that high-quality music should have. A really handy tool to create quality music and provide an original sound.
Tech specifications
Platform: Mac, Windows.
Formats: AAX, AU, VST, VST3.
System requirements - Mac: macOS 10.7 or later, 64-bit only.
System requirements - Windows: Microsoft Windows 7 or later, 32/64 bit.
Ignite Amps PTEq-X is not just a simple emulation; it's like the Pultec on steroids. This digital plugin allows you to customize the tube coloration, adding a new level of versatility to the classic Pultec features. With added controls to shape crucial frequency ranges and the option for oversampling, it offers a powerful toolset for achieving the desired tonal balance.
In the ever-evolving landscape of music production, the role of equalization in shaping vocals cannot be overstated. Whether you opt for free or paid options, the right plugin can significantly impact the clarity, warmth, and overall presence of your tracks.
Our journey through the best equalization plugins of 2023 has unveiled a diverse range of tools, each offering unique sonic qualities and features. From the premium capabilities of the Softube Tube-Tech Equalizer Collection to the user-friendly excellence of FabFilter Pro-Q 3 and the budget-friendly charm of Kiive Audio Warmy EP1A and Ignite Amps PTEq-X, the options are vast and versatile.
How to EQ a vocal: step-by-step guide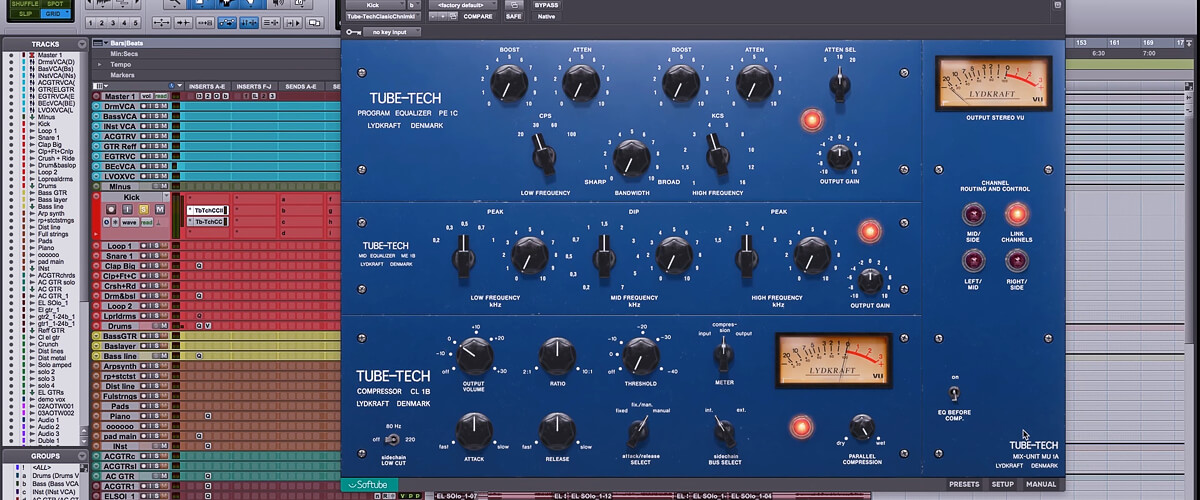 Mastering the art of equalization is crucial for producing professional-sounding recordings. Follow this step-by-step guide on how to EQ a vocal effectively to sculpt the perfect sound that stands out in your mix.
Step 1: Preparing the track for equalization processing. Begin by cleaning up the track, removing any unwanted noise or artifacts. Ensure a consistent volume level across the recording to create a solid foundation for equalization adjustments.
Step 2: Identifying and addressing problematic frequencies. Use a parametric EQ to identify frequencies that may cause muddiness or harshness.
Step 3: Enhancing desired characteristics and tonal balance. Boost the frequencies that complement the vocalist's natural timbre. Add warmth and presence by carefully adjusting the midrange frequencies.
Step 4: Applying cuts and boosts with precision. Use narrow Q values to avoid affecting adjacent frequencies. Enhance articulation and intelligibility through subtle boosts.
Step 5: Using complementary equalization techniques for further refinement. Employ shelving EQ to subtly shape the high and low ends. Utilize mid-side equalization to control the stereo width. Employ a high-pass filter to eliminate unnecessary low-end rumble and create space in the mix.
By mastering these techniques, you can create a clear, balanced, and professional sound that seamlessly fits into your mix.
Vocal EQ cheat sheet
Achieving the perfect sound requires precise equalization adjustments. Here's a handy vocal eq cheat sheet.
EQ settings for vocals: real-world examples
Let's delve into specific settings tailored for different musical genres, uncovering the reasoning behind each adjustment and its impact on sound:
Pop:

Boost at 3 kHz: Enhances vocal presence and brings out articulation.
Cut around 300 Hz: Removes muddiness, ensuring vocals remain clear.

Rock:

Cut around 400 Hz: Reduces boxiness and tightens vocals in the mix.
Boost at 1 kHz: Adds edge and helps vocals cut through guitars.

EDM:

Boost at 6 kHz: Enhances brightness and ensures vocals shine in energetic tracks.
Cut around 300 Hz: Eliminates muddiness and maintains clarity.

R&B:

Boost at 100 Hz: Adds warmth and body to vocals.
Cut at 500 Hz: Reduces nasal or boxy qualities.
Understanding these genre-specific equalization adjustments empowers you to sculpt vocals that seamlessly fit within diverse musical contexts.
Advanced vocal EQ techniques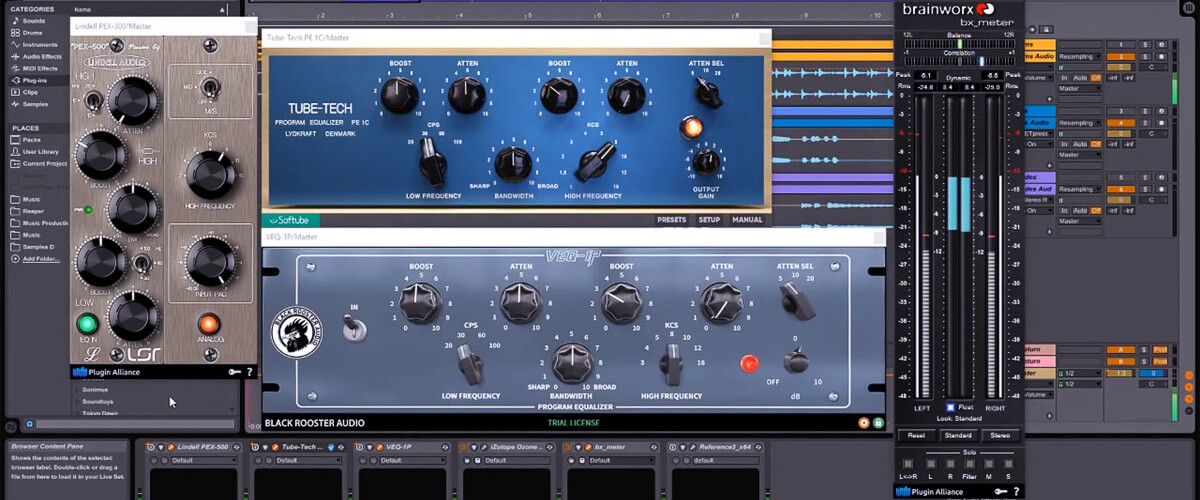 Now, let's discover the power of advanced methods, like multiband and dynamic equalization, and their strategic application in vocal production:
Multiband: Tailor the vocal's frequency balance precisely by adjusting different frequency bands independently. Tame resonances in one band while enhancing clarity in another, achieving surgical precision.
Dynamic: Dynamically control specific frequency areas, attenuating or boosting them based on the vocal's intensity. Use it to tame harsh consonants, control sibilance, or manage dynamic inconsistencies.
These techniques prove invaluable when dealing with complex performances. Multiband equalization offers targeted refinement, while dynamic one ensures your vocals stay balanced and expressive, even during intense moments. Elevate your mixing with these advanced tools in your arsenal.
FAQ
Can I use stock EQ plugins for vocals, or should I invest in third-party plugins?
While stock plugins can handle basic eq setting for vocals, investing in third-party plugins offers advanced features and better sound quality.
How can I address sibilance or harshness in vocals using EQ?
To manage sibilance or harshness, employ techniques like de-essing or narrow cuts in EQ. These methods help control problematic frequencies without compromising the overall tone.
What are some advanced EQ techniques I can use for vocals?
Explore mid-side and dynamic equalization, parallel processing, and frequency-specific compression as advanced techniques. Each offers nuanced control for precise vocal enhancement.
Should I EQ vocals during recording or in the mixing stage?
While capturing clean vocals during recording is crucial, minor EQ adjustments can be made. However, extensive EQ work is often performed during mixing to harmonize vocals with other track elements.