Auto-Tune Pro X is the most recent version of Antares autotune, which has become a pitch correction classic. One of the most distinguishing characteristics of modern commercial music in any genre is that vocalists hit the notes perfectly. And believe me, almost all successful songs you've heard used pitch correction. So, let's dive deeper into my Antares Auto-Tune Pro X review and find out what makes this plugin so special and how it can help your creativity.
Main features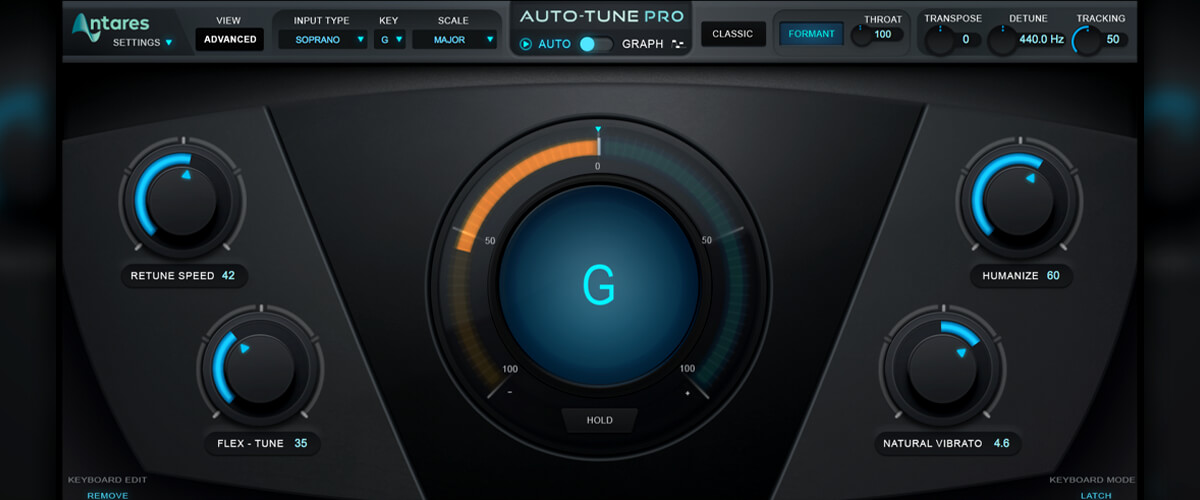 If you've already tried an older version of the plugin and want to compare it with a new one, it'll be useful to know that Auto-Tune Pro X boasts the added ability to scale the interface for convenient switching between the modes. Now, you can also choose light or dark themes, making dealing with darker tracks easier on your eyes. Another update I love is the disabled Auto-scroll feature – progress through your audio without being disturbed by sudden jumps in waveform position.
The Pro X's modes are presented in two blocks – Modern and Classic. The former is a contemporary, flexible mode that provides a subtle and natural correction. The latter takes us back to the time of the fifth version, complete with numerous distortions; this mode allows you to generate the distinctive sound heard in modern hip-hop music.
The software provides various features to help you improve your vocals and ensure that they sound perfectly in tune. The Tracking controller allows you to focus on the most important frequencies in the signal and avoid reacting to extraneous noise. With the Learn function, the plugin detects and analyzes the type of voice or instrument you are using. In the Key and Scale settings, you specify your song tonality or link to the Auto Key plugin from Antares, which automatically detects the right tonality.
Other features I like and often use are Formant, Transpose, Detune control, and Mix. Formant allows you to make the voice lower or higher without changing its tone. Transpose modifies the signal by semitones, and for more detailed tone adjustments, you can use the Detune control. Mix regulates the ratio of the processed and unprocessed signal. I cannot fail to note the plugin's Advanced menu, where you can manually set the notes you want to hear in your song.
Get unnoticeable natural tone correction and special effect sound in the automatic mode by using low Retune Speed values. If some notes start to sound artificial, Flex Tune will help you to brighten them up. Natural Vibrato is a standalone tone correction that lets you adjust the vibrato to make it sound more natural. The Humanize function differentiates between long and short notes so that the correction can be adjusted more gradually and precisely.
To load your vocal into the graphical autotune mode, press the Pitch button and play the part you want to tune. After scanning, you will see the waveform of your vocal inside the plugin and the pitch curves in the piano roll. For added convenience, the Pro X allows you to correct notes by moving the blocks where they are located. In the Create Curves tab, you can also load curves from automatic mode and fine-tune them. You'll find correction tools in the Draw section. Use them to draw lines, curves, or blocks in the Note mode.
Overall, Auto-Tune Pro X offers advanced tools for working with individual sections of your signal – fine-tune any parameter you wish with precision, including formant, vibrato speed and depth, attack time, decay time, and more.
How does It sound?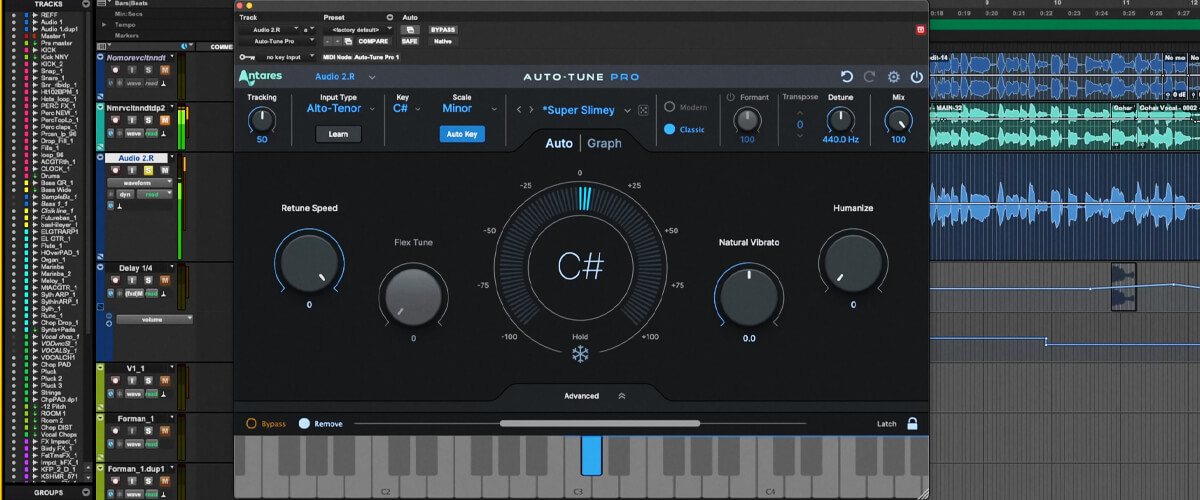 With the help of Antares Auto-Tune Pro X, you can achieve incredible results with pitch correction – from special effects to very fine and deep vocal tuning.
Of course, working in graphical mode takes more time. However, it allows you to manually adjust the vocals so that no one will ever hear the effect, and the vocalist will hit all the notes very accurately. I always use this device when I need to get expensive, high-quality commercial vocals, regardless of the genre.
Tech specifications
Platform: Mac, Windows.
Formats: AAX, AU, VST, VST3.
System requirements – Mac: macOS 10.14 or later, only 64 bit.
System requirements – Windows: Microsoft Windows 10 or later, only 64 bit.