You've probably heard about the Synchro Arts Revoice Pro 4 plugin if you deal with vocals or dialogs regularly. Initially, it was used for post-production. More specifically, the sound's rough cut was recorded right at the film set. Then, it was voiced over in the studio and aligned with the original audio track. That's what Synchro Arts Revoice Pro 4 was used for. However, this plugin showed amazing flexibility, which attracted numerous record producers. Now, Revoice Pro is a go-to solution for aligning vocals and instruments for a vast number of people working with vocal performances.
So, what's so special about this tool? Dive into my Synchro Arts Revoice Pro 4 review to learn more.
Main features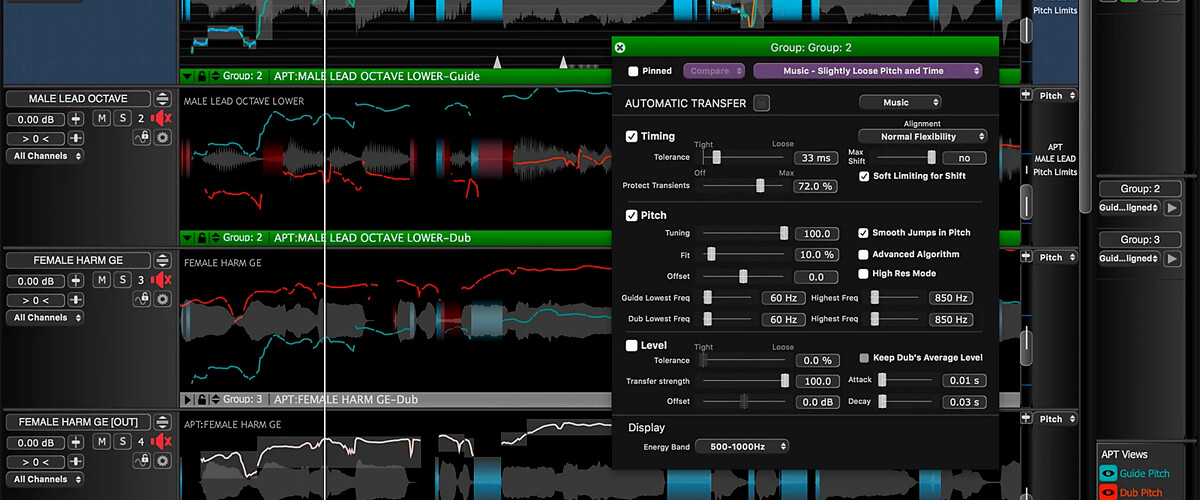 Revoice Pro 4 is a rare case of a genuinely unique application. But what makes it one-of-a-kind? Let's see.
To start a new sound alignment process, you've got to hit the B button. Right after that, you will be offered a few voice alignment options in a dialog window. That's where you get settings for any case – from minor synchronization that involves preserving the original pitch of every audio track to tighter double alignment with the capability to adjust the pitch to fit the original audio.
In case you want to synchronize more than two tracks and control them from a single panel, pick New Process Group once you select an algorithm. Then, you will be able to apply settings to all the alignment processes that fall within that group. Next, go to the Inputs tab to pick the Guide track and the one you want to double (Dub). Finally, make sure you specify the number of tracks you are going to align in the Number of processes field.
Sound processing settings are pretty flexible, which impressed me. The advanced Time and Pitch settings were extended with a Music synchronization mode in the 4th version of Revoice Pro. In the previous plugin iteration, only the Dialog option was available by default. With a Music mode, you can now achieve impressive results when processing extreme vocals like screaming or growling.
There is something special in Synchro Arts Revoice Pro 4 for those who want not only to align doubles but also to adjust the pitch. To access the note editor, pick the track, right-click below, and select "New Wapr." Set the default settings and click the "New Process" button. After this, you will see piano-roll and pitch curves you will be free to edit. By the way, the standard Alt + W button combo will automatically align the pitch of your signal. What I noticed is that this plugin is flexible when it comes to editing every single note, which slightly resembles Celemony Melodyne 5.
Accurate vibrato processing in this Revoice plugin is also worth noticing. As you use the Vibrato warp function, the app will break up the selected vibrato range into curves. So you can edit every vibrato element easily. You can set the initial and final vibrato points and adjust their continuity without compromising quality. I've never encountered such handy vibrato management in any other tools, really.
How does It sound?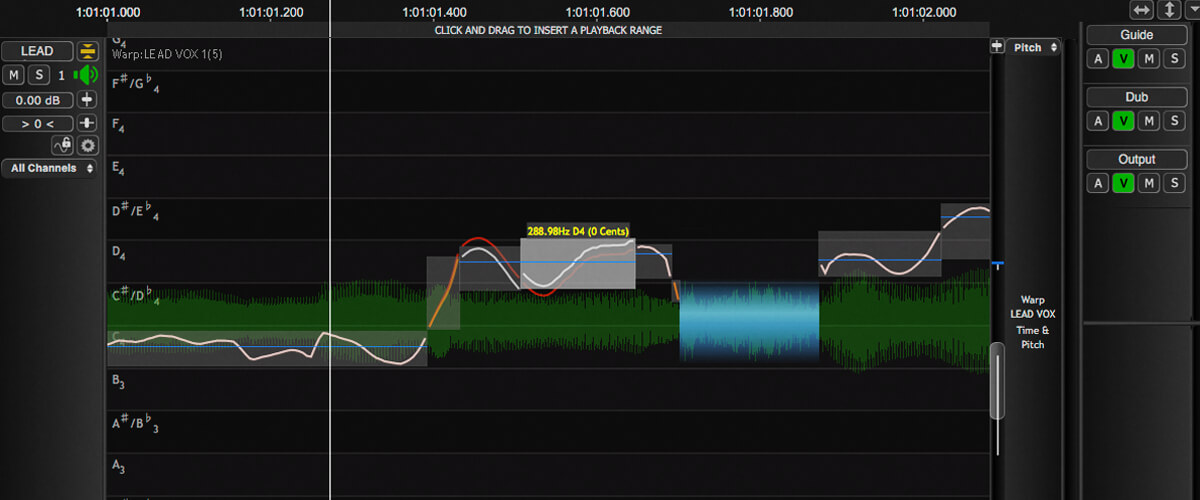 I enjoy using Synchro Arts Revoice Pro 4 pretty much. With it, I create tight vocal stacks without any distracting sounds. I am also delighted by the ability to adjust the pitch right within the app, syncing all the layers with the Guide track. I should admit that this plugin saved me long hours of vocal alignment and processing. So, I highly recommend it if you value your time and would like to achieve great results in mixing, editing, and production.
Tech specifications
Platform: Mac, Windows.
Formats: AAX, AU, VST, VST3.
System requirements – Mac: macOS 10.10 or later, only 64 bit.
System requirements – Windows: Microsoft Windows 10 or later, only 64 bit.