Do you have a hard time finding that perfect delay plugin? In my FabFilter Timeless 3 review, I will present one of the most suitable VSTs that will surely satisfy your needs. It is flexible in terms of configuration. For instance, you get full control of each delay parameter and other in-the-box features, all without complex FX chains. Namely, you can set custom feedback algorithms and even transform the delay effect into a reverb. Even true enthusiasts will find something interesting in Timeless 3, like a parameter modulation block. What is it if not a gem?
Main features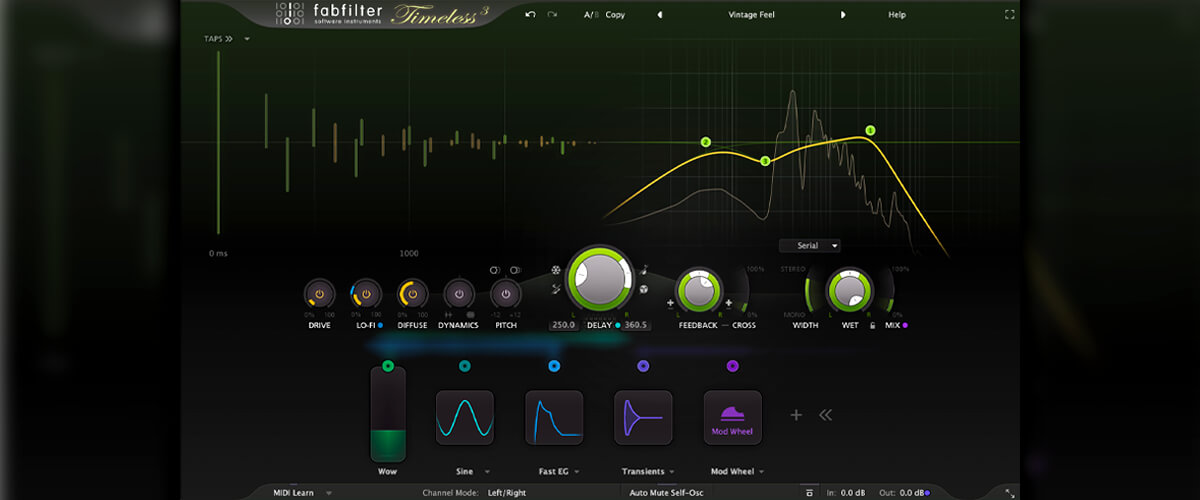 Delay tabs are one of the core features of FabFilter Timeless 3. In the drop-down Tabs menu, you can randomize feedback repeats or set them in the desired direction, like upwards or downwards. Hold the Ctrl button, and create as many repeats as you want (up to sixteen!), set their position towards the grid, and make a panorama. Due to the flexibility of delay signal settings, you are free to create unique delay algorithms and creative effects, including reverb. By the way, as a bonus, the developer offers a huge collection of creative presets.
The equalization module is a six-band equalizer. It processes the signal in several modes: serial, parallel, and per channel. I especially like the feature that enables changing the sonic character of high-pass and low-pass filters. With this feature, you will achieve a truly unique and vivid sound.
You also get tools for additional signal procession here. In particular, these are 5 controls – faders and buttons. As you hit the effect button, you turn it on. Press the button once again to turn it off. This allows effortless A/B testing, so you know what new shades your signal gets with the particular effect. When you hold and drag the mouse button upwards, you intensify the effect, drag it down – and make it sound dimmer. The Drive regulator helps you add new harmonica and saturate the signal. Lo-Fi is also here to enable you to create the bitcrusher effect for a more pronounced sound in the mix. As you apply the Diffuse effect, you can blur repeats for a reverb-like effect. With the Dynamics set at the positive value, you get a tight and compressed signal. You may achieve a gate effect in the negative position, making the sound more rhythmical and choppy. Finally, the Pitch works great for changing the signal pitch within an octave.
Delay Time, the central control panel, is handy for setting the repeat time both in milliseconds and note duration tied to the project tempo. Here you will find plenty of amazing regulators. For example, you can set different delay times for the right and left channels separately. Using the Ping-Pong mode, you can alternate the delay repetitions between the right and left channels and set which channel will be the first to start producing delays. The snowflake symbol switches all the effects in the bypass mode. You can also choose between Tape and Stretch plugin algorithms. In addition, all the signal panorama and feedback, width, wet, and mix parameter controls are flexible and enable smooth adjustment.
I wish to specifically mention the modulation block. You can modulate nearly any plugin parameter using built-in tools like Envelope or LFO. I believe it's indispensable for creating unique rhythms and ripples and setting the direction of the entire track.
How does It sound?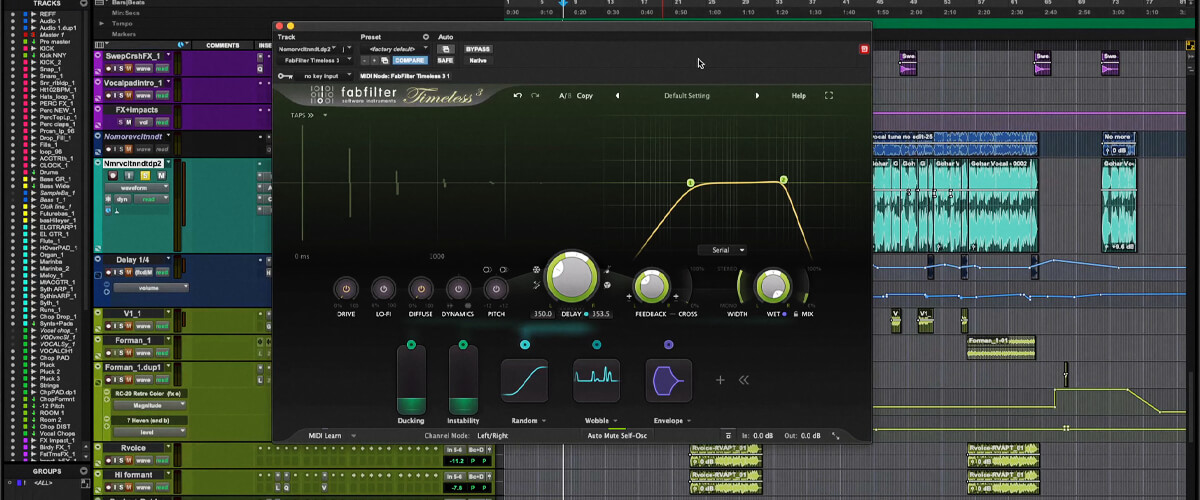 I have used the Fabfilter Timeless plugin in every mix I make. It helps me with any type of material, from vocals and synths to percussion and creative textures. To my mind, this plugin provides unlimited room for creating a truly unique sound. I am a big fan of the modulation block, which I use for sound design and electronic music. Also, I insist that you try this plugin in the Mid-Side mode. Believe me, you will unlock incredible opportunities for yourself!
Tech specifications
Platform: Mac, Windows.
Formats: AAX, AU, VST, VST3.
System requirements – Mac: macOS 10.13 or later, 86 bit, 64 bit.
System requirements – Windows: Microsoft Windows 7 or later, 86 bit, 64 bit.