In this D16 Group Repeater review, I will dwell on the delay plugin that boasts several important perks. In particular, it has a user-friendly interface that provides maximum control over the process and makes it easy to use all the system's features.
In this VST, the developer offers 23 unique delay models, from digital to analog shades of sound. I am convinced you will find a decent spot for this plugin in your mixes.
Main features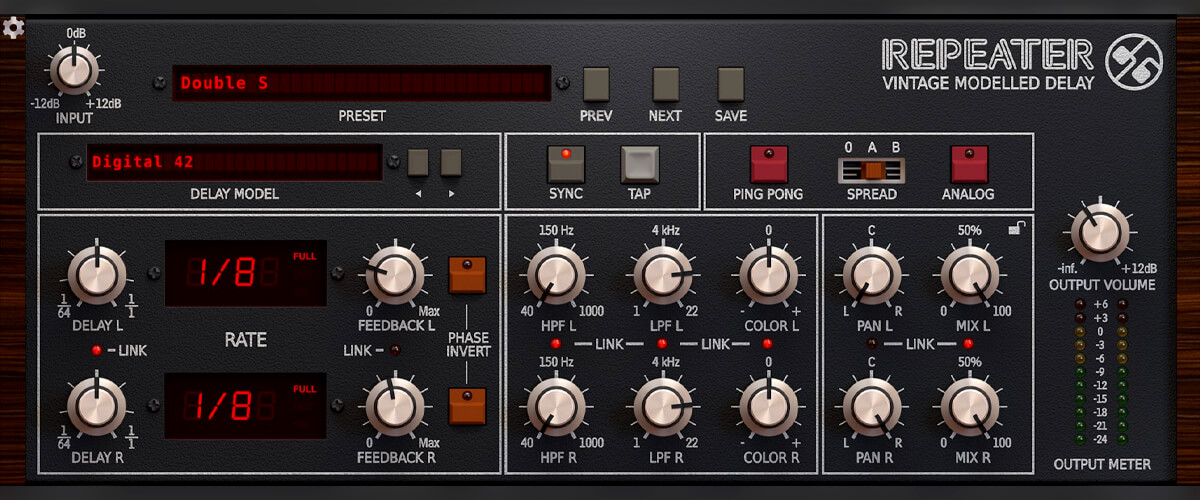 As I was using this plugin for the first time, I couldn't help but notice its interface—pretty stylish but without overloading it with details. What instantly riveted my attention was a convenient link parameter. You can set different parameters for the right and left channels as you turn off linking. Use the Delay time option to adjust the delay time according to the project's rhythm or set millisecond values. What's interesting is that you can apply separate Feedback values for each channel and achieve an amazing stereo effect. If necessary, you can invert the phase with the Phase invert button.
The equalization block looks familiar: it has low-pass and high-pass filters. Yet, this Repeater gets a Color feature that combines the mid-range equalization and clipper properties.
You can control the panorama and mix for every channel separately. This provides ample opportunities for automatization.
More precisely, there is a Ping-Pong button at the bottom of the plugin interface and an Analog button, which you can use to add saturation to your signal. The Spread control is here to enable you to broaden the signal's stereo panorama. That's how you add a chorus effect that works differently for left and right channels to your sound.
To my mind, the most important button in this plugin is Delay Model. The developer provides you with a wide range of choices — pick any of the preset 23 delay models. Here you will find Digital and Tape delays, special effects like radio or telephone, as well as various types of delay, which change the pitch. You will also encounter some of the iconic tools. For example, Space delay emulates the operation of the legendary Roland Space-Echo RE-201. I was pleased with these model choices.
How does It sound?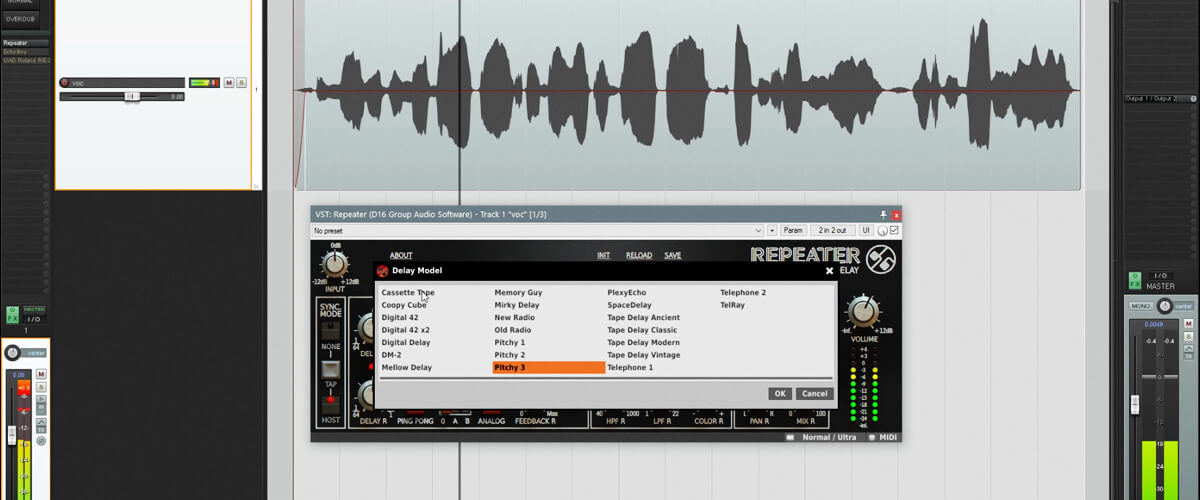 The D16 VST impressed me with its performance, especially when working with vocals and instrumentals in my mixes. To my mind, one of the greatest peculiarities of picking the delay model for this or that song lies in the simplicity of the plugin's use and understanding of its capabilities. As I spent time learning how the delay models of this VST work, I immediately grasped where I could use every particular model. For example, I can obtain the desired sound with Repeater without spending much time on its creation. The only thing that didn't meet my expectations was the vintage-like sound. Also, I couldn't achieve rich analog sound without extra processing. But when it comes to creating digital delay effects, I find this plugin indispensable.
Tech specifications
Platform: Mac, Windows.
Formats: AAX, AU, VST, VST3.
System requirements – Intel based 2.0GHz (2.4 GHz recommended), Apple Silicon, 8GB RAM (16GB recommended), Mac: macOS 10.13 or later, only 64 bit.
System requirements – Windows: 2.0GHz SSE (Multicore 2.4GHz recommended), 8GB RAM (16GB recommended), Microsoft Windows 7 or later, 86 bit, 64 bit.