If you need real-time tuning with zero lag, then Waves has developed excellent software for this purpose. Actually, it's my go-to assistant for recording and live performances. The plugin also has some cool non-obvious advantages, which I will discuss in this Waves Tune Real-Time review.
Main features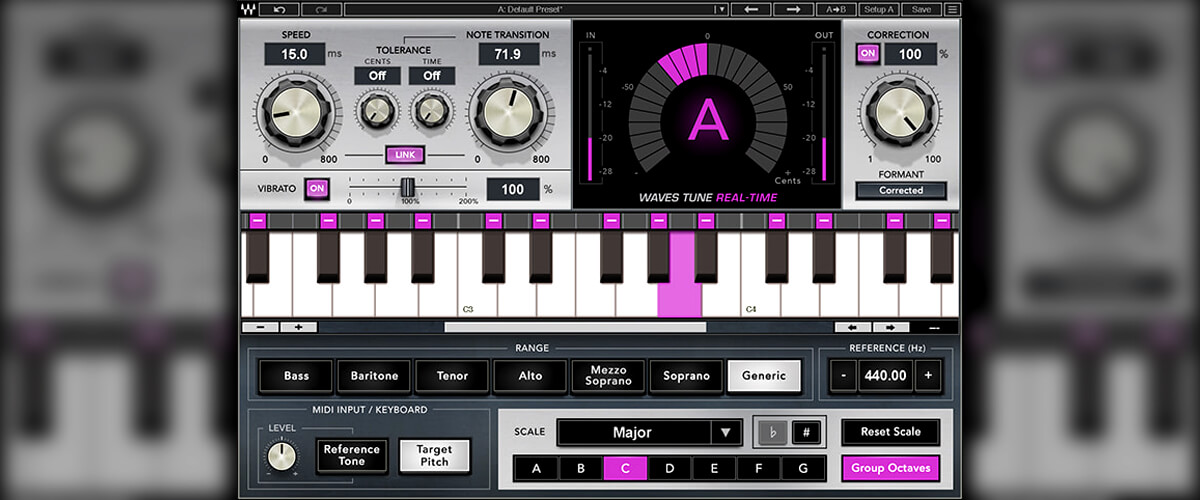 Waves Tune Real-Time gives you a convenient way to shape the perfect performance quickly. The Speed regulator allows you to control the amount of pitch shift used for each note or syllable, resulting in more precise auto-tuning. You can also adjust the transition time between long and short notes to make sure your transitions are seamless and natural sounding. If you want a softer, more natural effect, I recommend starting with 15 milliseconds of Speed ​​and 150 milliseconds of Note Transition, gradually increasing these values ​​up to your taste. The Note Display shows you exactly what notes are being adjusted in real-time with bright colors so you can see your edits as they happen.
If you've achieved the desired sound but see some undesired distortions, you can fine-tune Waves Tune's performance with the Tolerance parameter. It is responsible for the time when the plugin does not rebuild a note, allowing for smoother correction. I also love Vibrato control here – it enables you to handle the vocalist's vibrato separately, accentuating or completely neutralizing it. By turning the Correction knob, you can adjust the level of correction applied. By the way, don't forget to activate Formant if you want a more natural sound.
Next, users have access to the Range tab, which allows them to choose the vocalist's range and facilitate the plugin's operation. And the Scale parameter will help you specify the scale at which you want to hear your vocals.
On a separate note, there is a fantastic option to use MIDI instruments to control the plugin's operation. Even better, you can write your own MIDI melodies that will play vocals. To regulate the operation of these parameters, the tool has a MIDI Input/Keyboard section. I'm sure you'll fall in love with Waves Tune once you learn how to use it!
How does It sound?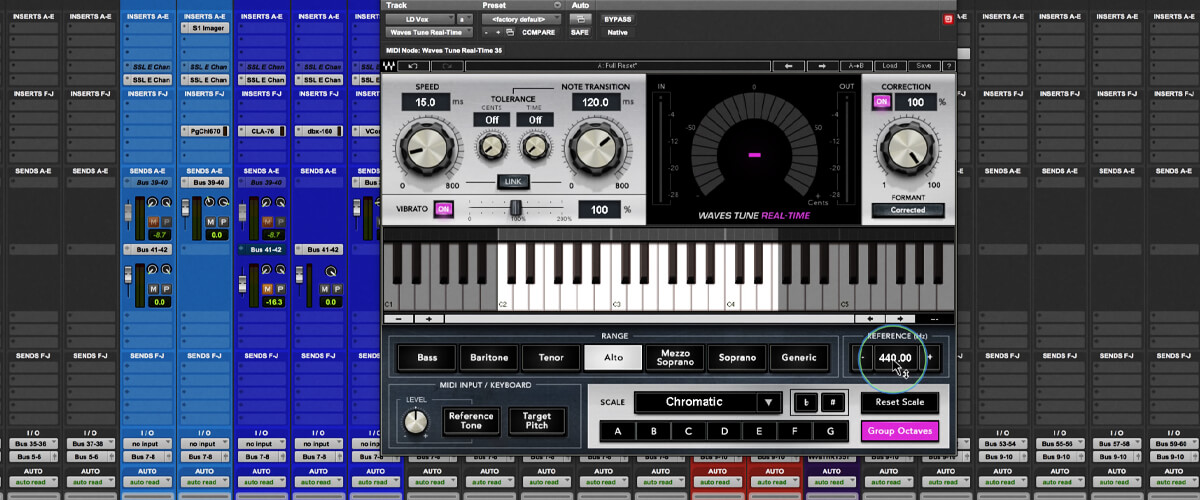 Since Waves Auto-Tune has zero latency, I find it particularly useful for monitoring singers who are already comfortable with singing in tune. However, I always make sure to include a dry signal track in my compositions.
I really enjoy using this plugin in Hip Hop and R'n'B genres. The flexibility of settings allows us to quickly get the tune effect, which is canonical for these genres.
Waves Tune is not suitable for serious sound interference when I want to get a subtle tune – there are better alternatives for that. But when I need to polish and finalize a high-quality, well-sung, or pre-processed vocal, I frequently use this particular tool, and it gives excellent results.
Tech specifications
Platform: Mac, Windows.
Formats: AAX, AU, VST, VST3.
System requirements – Intel Core i7 / i9 / Xeon-W / Apple Silicon, 8 GB RAM (16 GB recommended), 16 GB disk space, Mac: macOS 10.9 or later, only 64 bit.
System requirements – Windows: Intel Core i5, i7, i9, Xeon (all Gen 5 and above), AMD Quad Core, 8 GB RAM (16 GB recommended), 16 GB disk space, Microsoft Windows 10 or later, only 64 bit.