Welcome to my Baby Audio Crystalline review, where I will tell you about this algorithmic reverb plugin that I have been using for a while. In the first part of this paper, I will talk about the main features of this software, and then I will share my personal experience gained while working with it. Now let's get to it.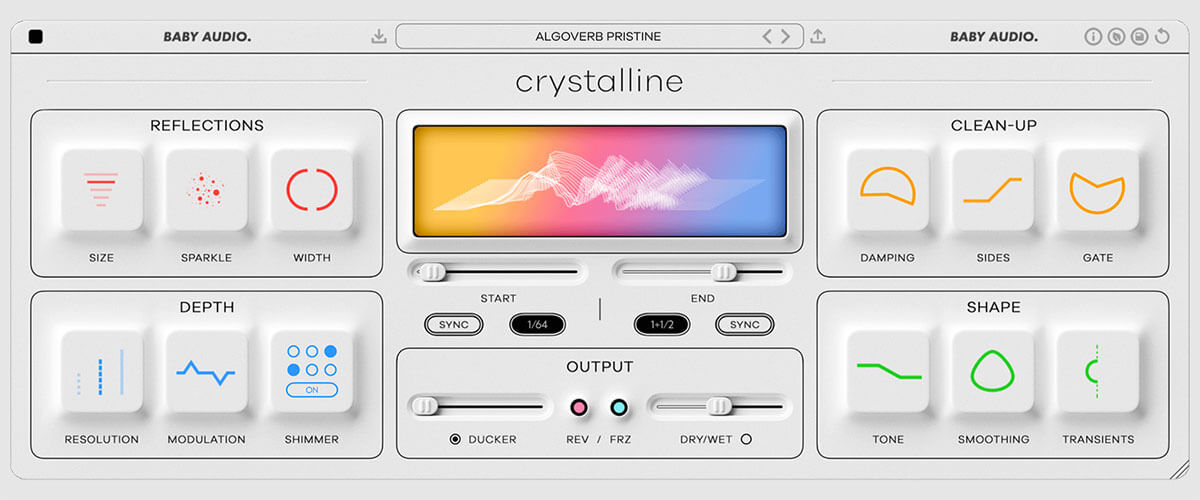 Main features
In its essence, Crystalline is a reverb plugin inspired by EMT and Lexicon. At the same time, being an innovative product of Baby Audio, Crystalline plugin is a state-of-the-art algorithmic reverb with unique features and control over every aspect of reverb. The developers really used many new technical solutions to create this software product specifically for DAW. A fairly wide choice of controls allows you to adjust the signal and change the room so that everything sounds natural. For example, the Output section has the following controls: Duker, Dry/Wet, Reverse, and Freeze. They provide a huge space for imagination to unfold your potential in creating music.
The reflections block is responsible for the size, brightness, and stereo image width of the space. As expected, the Size button allows you to change the size of the room where the sound is supposed to reflect. The Sparkle button enhances your sound, making it much brighter, especially on vocals and snares. In the meantime, the Width button controls the stereo image, ranging from mono to extra wide. In addition, it has a Clean-up section that is capable of removing excessive frequencies, creating a gated reverb sound, and also provides access to a High-Pass filter. The Depth segment switches between basic and complex algorithms, dials in pitch variations, and can slow down high frequencies to achieve a so-called angelic effect. And finally, the Shape section allows you to switch between bright and dark equalizer settings, apply EQ curves to problem areas, and change reverb emphasis from attack to sustain.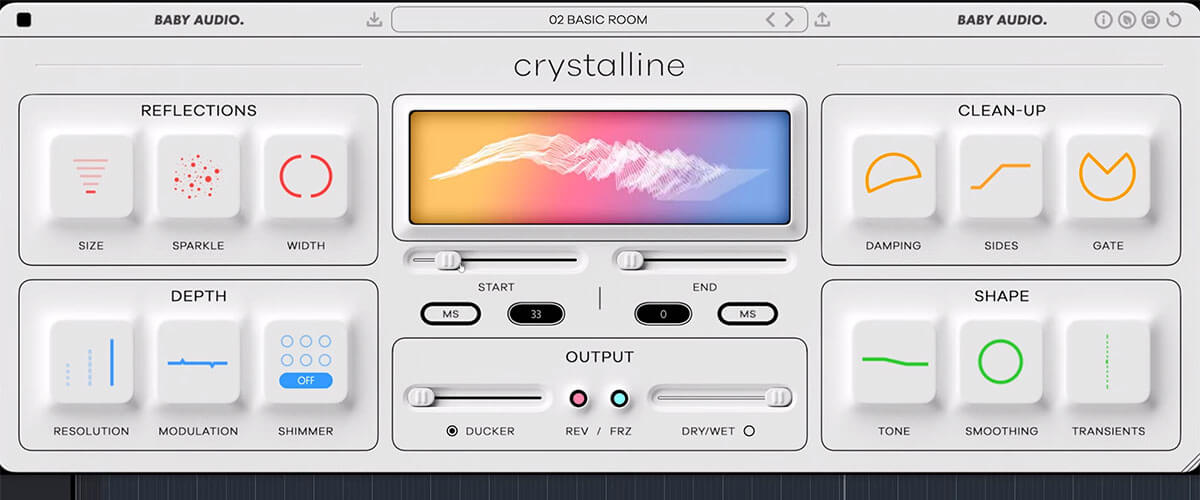 How does It sound?
The Crystalline sounds pure enough, but when needed, it can sound like a typical vintage vinyl reverb, using the damping, timbre, and shape controls. I would note that it is especially good for lead lines and vocals because it won't drown out important elements in your mix. Crystalline is so good in this aspect due to the Ducker control, which qualitatively optimizes the wet signal level depending on the dry input volume.
Summary
It is a high-quality product with a simple interface, which is easy to understand and learn how to work with. Low system requirements, professionalism of the developers, and utilitarian approach led to the creation of this really top-tier software. I found no significant disadvantages, though there are no perfect plugins.
Tech specifications
Type: algorithm.
Platform: Mac, Windows.
Formats: AAX, AU, VST, VST3.
System requirements – Mac: macOS 10.7 or later.
System requirements – Windows: Microsoft Windows 7 or later.