We present you with an AudioThing Wave Box review, where we will scrutinize a dynamic dual waveshaper emulator. This plugin supports both symmetrical and asymmetrical distortion, which we will discuss in detail, and has 2 LFOs, 12 shaping functions, and a preset library with a randomizer function.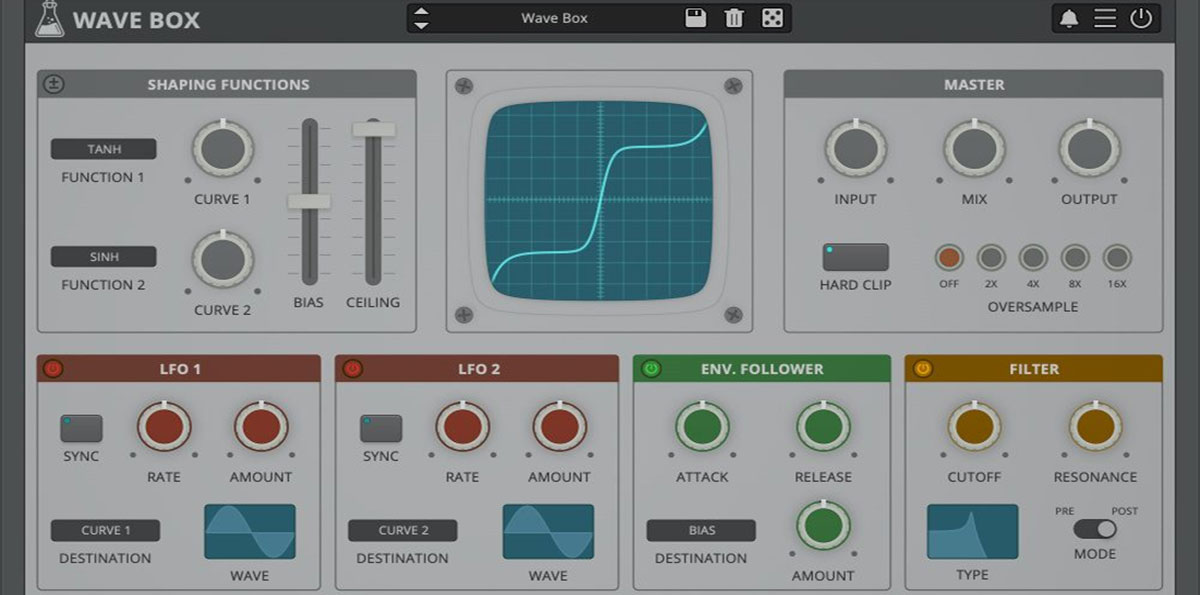 Main features
Let's start with the most outstanding feature – the symmetrical and asymmetrical shaping of waves. So, symmetrical shaping of sound waves works the next way: when a user applies the shaping feature to the positive and negative parts of the sound wave equally. That's how we get odd harmonics. In the case of asymmetrical waveshaping, we get even harmonics if we apply the waveshaping function only to the positive or negative part of the signal.
Thus, the Wave Box plugin grants you the choice of which shaping mode to use and allows adjusting the outcoming sound. In addition, you can even mix symmetrically and asymmetrically shaped sounds. The audio track here is modulated by an Envelope Follower and 2 LFOs with 6 waveforms. Not much, but it is everything this plugin needs.
On top of that, Wave Box VST has 6 shaping functions in its library: sinh, sin, tanh, linear, round, and floor. With their help, users can change the waveshaping curves to influence the sound. Also, it has around 30 pre-loaded presets with a randomizer function at your disposal, and an oversample up to 16x. This plugin has a simple but utilitarian interface design, created after the design of analog waveshapers so it is a pleasure to work in such a nostalgic environment.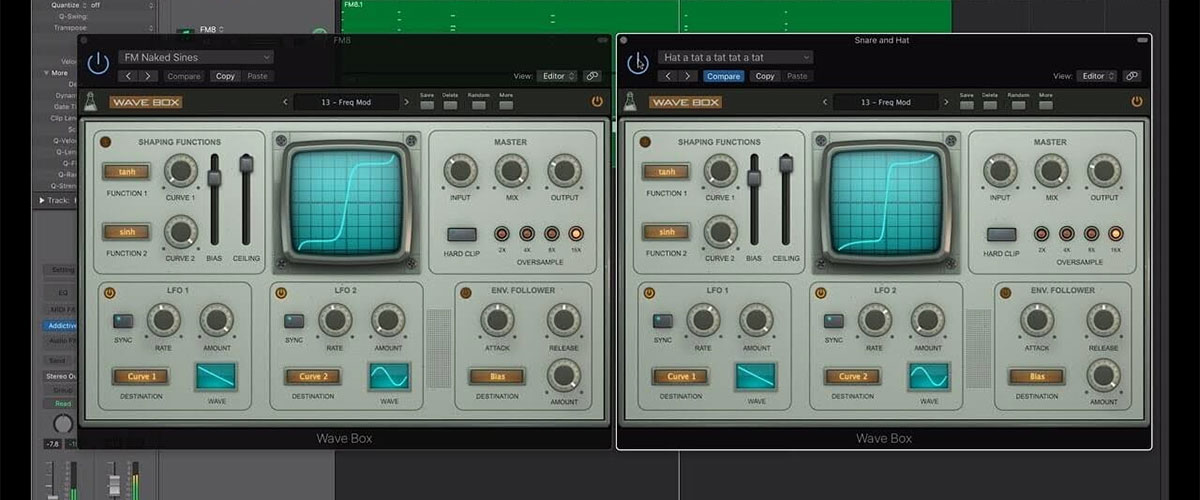 How does It sound?
This plugin is capable of creating impressive shapes of sound. Those shaping functions help a lot in achieving that. The range of the sound distortion goes from the mild tube-flavored overdrive to extreme digital harshness. Despite its simplistic architecture, this waveshaper emulator demonstrates fantastic versatility and flexibility. Getting wicked sounds or giving them that extra edge with this miracle box is no big deal.
What impressed me the most were these symmetric and asymmetric sound-shaping modes. The effect it has on the audio track is truly something that any musician should experience at least once.
Summary
If you like electronic music and want to create it yourself, this plugin is right what you need. Straightforward design, a wide spectrum of features and functions, 2 unique waveshaping modes that can be mixed, etc. And that is not the full list of what this emulator is capable of.
Tech specifications
Platform: Mac, Windows.
Formats: AAX, VST2, VST3, AU.
System requirements – Mac: macOS 10.10 or later, 2GHz CPU, 4 GB RAM, 64-bit only.
System requirements – Windows:Microsoft Windows 7 or later, 2GHz CPU, 4 GB RAM, 64-bit only.