Virtual synthesizer LuSH-101 is a tool that was created from many modules combined into a single compact design. It is a powerful instrument with great flexibility for creating a huge variety of sounds. In this D16 Group LuSH-101 review, I will tell you about the plugin's main features.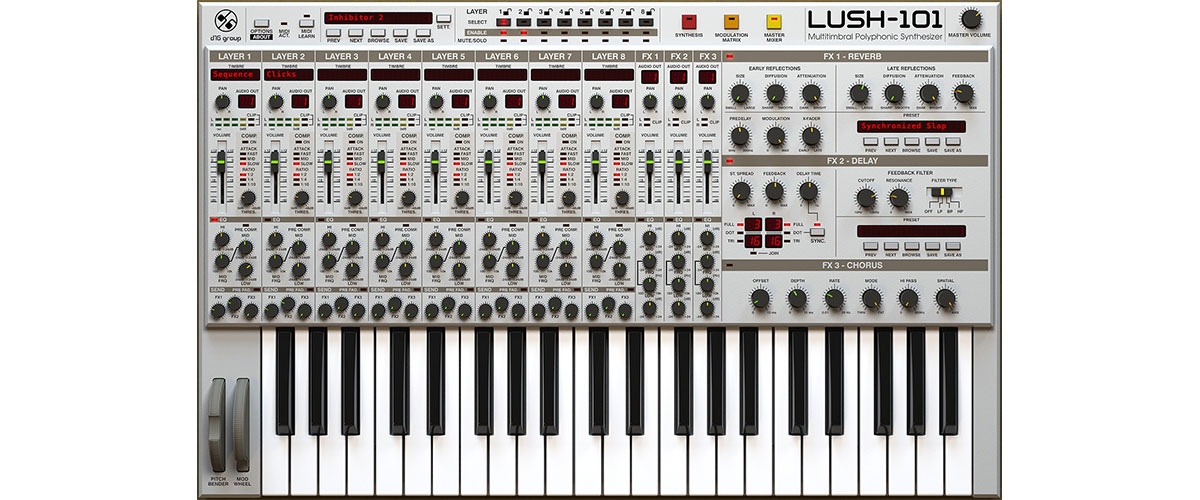 Main features
The key feature of D16 Group LuSH-101 is its multi-layered architecture that allows to assign each layer its own polyphony, arpeggiator, and insert effects. What makes this plugin so powerful and unique for sound design is the ability to layer 8 independent instances of the synthesizer at once. Thus, you can create sophisticated splits since the layers are assigned to different keyboard zones.
The manufacturer claims that this VST comes in 32- and 64-bit versions and is available both for PC and Mac. Yet, it requires a lot of processing power even for a single layer sound, not to mention multiple layers sounds. The interface of the LuSH-101 plugin is split into three main sections: Synthesis, Modulation Matrix, and Master Mixer, and is easy to operate.
It is a pretty straightforward VST with four oscillators. There is one waveform for each of the first two oscillators, while the third oscillator is a sub-oscillator, and the fourth oscillator is a noise generator.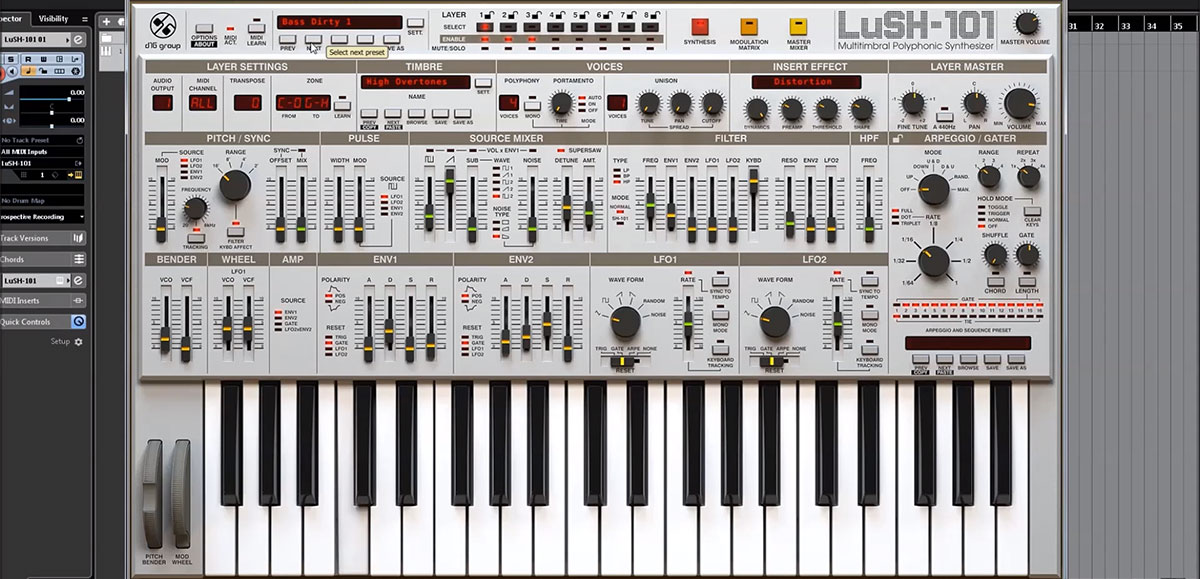 A clear and easy-to-navigate Preset Browser of LuSH-101 includes a generous factory library of more than 1600 presets covering leads, bass, percussion, and anything else that you would expect from a versatile synth. All the presets are divided into 5 categories – whole synth, single layer, arpeggiator, reverb, and delay.
You can control modulation (pitch, pulse width, etc.) owing to two envelopes with re-triggering modes and two LFOs with optional tempo synchronization. You also have an opportunity to modify the sound to your liking owing to eight insert effects.
How does It sound?
The quality of the sound of LuSH-101 VST can be described by the words superb, spectacular, incredible, etc., and that will not be an exaggeration. You will get awesome sounds even when you do not use all the layers available. In my opinion, this tool is ideal for big, fat analog sounds like warm or shimmering pads and bold bass sounds.
Even though the tool is not as versatile as some synths, very rich and clear sound is achieved owing to the simplest waveforms. The lows are warm and organic, the mids are punchy, and the highs are sharp and clear. From my own viewpoint, this VST is especially good for morphing, modulating, and pulsing sounds.
Tech specifications
Platform: Mac, Windows.
Formats: AU, VST2.
System requirements – Mac: macOS 10.9 to 10.15 , Intel based 2.8 GHz (i7 based 3.4 GHz recommended) , 4 GB RAM (8 GB recommended) , 90mb of disk space, 32/64 bit.
System requirements – Windows: Microsoft Windows 7 or later, 2.8 GHz SSE (i7 based 3.7 GHz recommended), 4 GB RAM (8 GB recommended), 90 MB of disk space, 32/64 bit.