This is a DopeSONIX Bass Engine 2 review where we will scrutinize a masterpiece software in the Hip Hop production industry. Its library now includes those missing vintage analog instruments and other retro stuff. Here you will find around 300 Hip Hop bass instruments, such as 808's, sub-bass, heavy Moogy subs, etc.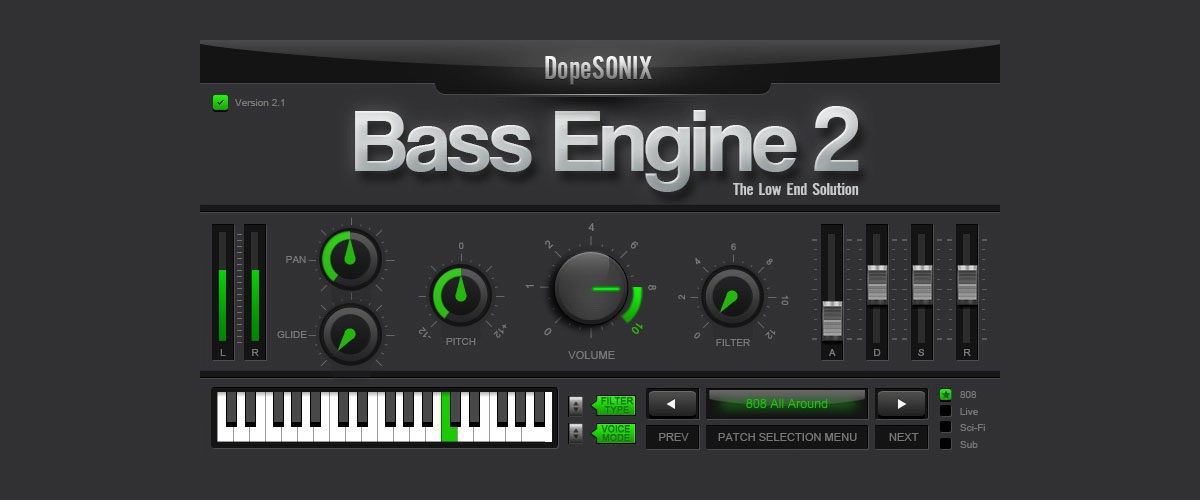 Main features
This plugin processes the sound with a Drawmer 1961 Dual Vacuum Tube Equalizer to add a warm vibe with a solid mid-punch to it. DopeSONIX Bass Engine 2 plugin has built-in volume, pan, pitch, and many other controls, by which you can adjust and optimize your tracks. Also, a wide variety of modes you can use, like Mono or Poly, Soft or Normal, that influence how your audio track sounds. Another feature is that it has extremely low requirements to run, so you can create music even with weak hardware.
Bass Engine 2 VST made one of its priority 808 Bass, so they sampled and processed around 150 presets devoted to it. You can use these samples, as well as special synth controls, to get those deep tones and sub-bass. In addition, this plugin has 75 presets of vintage analog sounds with a wide range from deep to punchy. Sub-bass is another important part of this instrument emulator, so you can use 25 presets of sub-bass as well as various mixes of it with other sounds. Electric bass and upright are also a part of this huge library of bass sounds, with 50 presets ready to make your audio track more epic.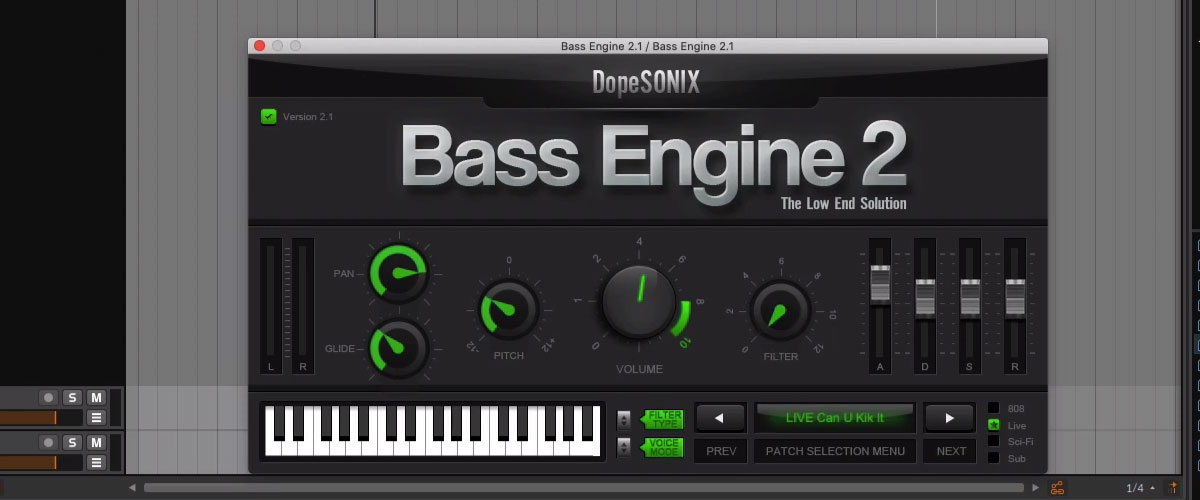 How does It sound?
Bass Engine 2 is a flexible instrument emulator that you can use to create music in a wide range of genres, like Hip Hop, EDM, Trap, Rock, etc. In my experience, the strongest sides of this plugin are classic jazz bass, deep dub vibes, and a wide library of live bass sounds. Various subs, abstract stabs, and epic textures all sound incredibly well, thanks to the sound designers that sampled and processed all these sounds. I could understand what a real fat sound is only after I had used this particular plugin.
Summary
It is a relatively cheap but amazing bass synth emulator with a huge choice of sounds, presets, etc. With it, you can work in a wide number of styles to get those deep bass lines. Even though it is not perfect, it still is an impressive result of professionals' work. If you are a fan of vintage analog synthesizers' sound, go ahead and try this piece of art.
Tech specifications
Platform: Mac, Windows.
Formats: AU, VST.
System requirements – Mac: macOS 10.4 or later, 2GB RAM, 210 MB disk space, 64 bit only.
System requirements – Windows: Microsoft Windows 7 or later, 1 GB RAM, 240 MB of disk space, 32/64 bit.