This is a detailed FabFilter Pro-Q 3 review. Here you will find out its advantages and disadvantages if there are such, and how it will help in creating magnificent music. This 24-band dynamic equalizer can make snare drums crack, add drive to vocals, and coordinate the EQ curve of one track to another.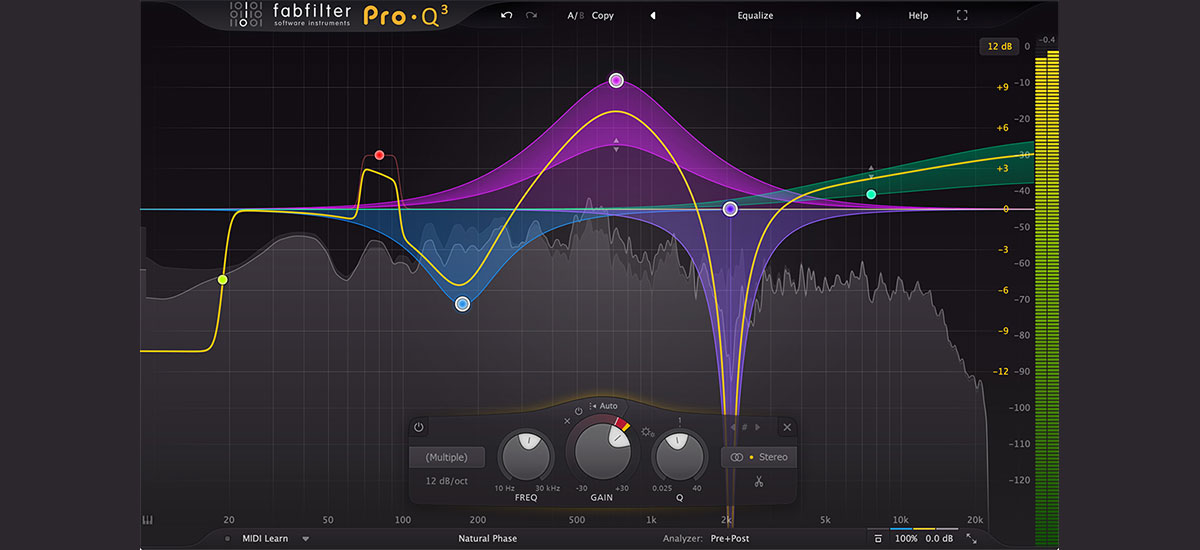 Main features
This plugin has a comprehensive collection of features that make it popular among music producers. For instance, it has a Brickwall LP/HP filter that will take care of unnecessary frequencies. On top of that, it has some other filter types, like High/Low Shelf, Bell, Band Pass, Flat Tilt, etc. These filters have a maximum slope limit of 96dB per octave. The Dolby Atmos support it presents comes with an intelligent per-band speaker choice.
Pro-Q FabFilter plugin EQ Match feature will match a post spectrum of different instances within your session. You will also find here two modes, Mid-Side and Left-Right, to make even more accurate adjustments. With frequency collision indication, you can easily carve out sonic space. Thanks to the Auto Gain function, channel weighting, and an estimated dynamic gain correction are possible.
You can locate critical peaks by using a Spectrum Grab feature. This plugin can be used for live recording or tracking thanks to the Zero Latency mode. In addition, it has two other modes, Linear Phase for transparent operation and Natural Phase if you want to get analog sound. In addition, you can use the Piano Roll view function to choose frequencies based on musical note values.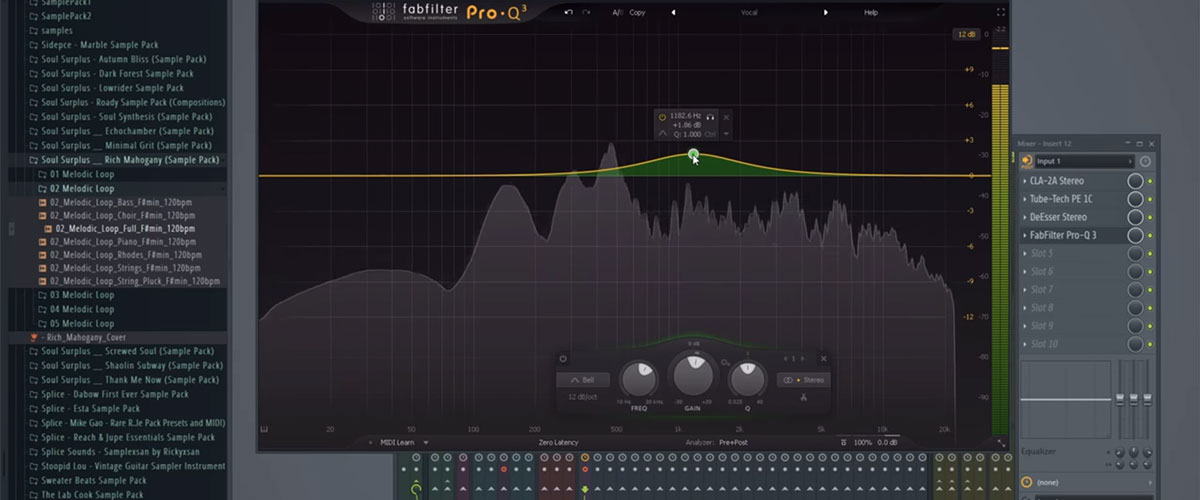 How does It sound?
With its vast features, I was overwhelmed when I used it the first time. And once I figured everything out, I saw how much easier it can be to process the sound. This equalizer is of great help to me, and the feature I like the most now is the dynamic option. After I process the sound with Pro-Q 3, my music is almost perfect, with no digital harshness, no artifacts; everything is just how it is supposed to be. It is a pleasure to work with such professional software, though the sheer number of features is frightening at the start.
Summary
We can say that this is an incredibly flexible plugin with 24 customizable brands. Sidechaining, frequency spectrum, low latency, and other features were specifically designed to be a versatile tool for creating incredible music. The only significant disadvantage is that it might be hard for inexperienced users to figure out since there are no comprehensive instructions.
Tech specifications
Platform: Mac, Windows.
Formats: AAX, AU, VST2, VST3.
System requirements – Mac: macOS 10.12 or later, only 64 bit.
System requirements – Windows: Microsoft Windows 7 or later, 32/64 bit.