I recently discovered a new high-quality reverb plugin, and today I have prepared a FabFilter Pro-R review for you. First, you will learn about the features that make this reverb software unique, its functions, advantages, and disadvantages. Second, I will share my experience with how this plugin sounds.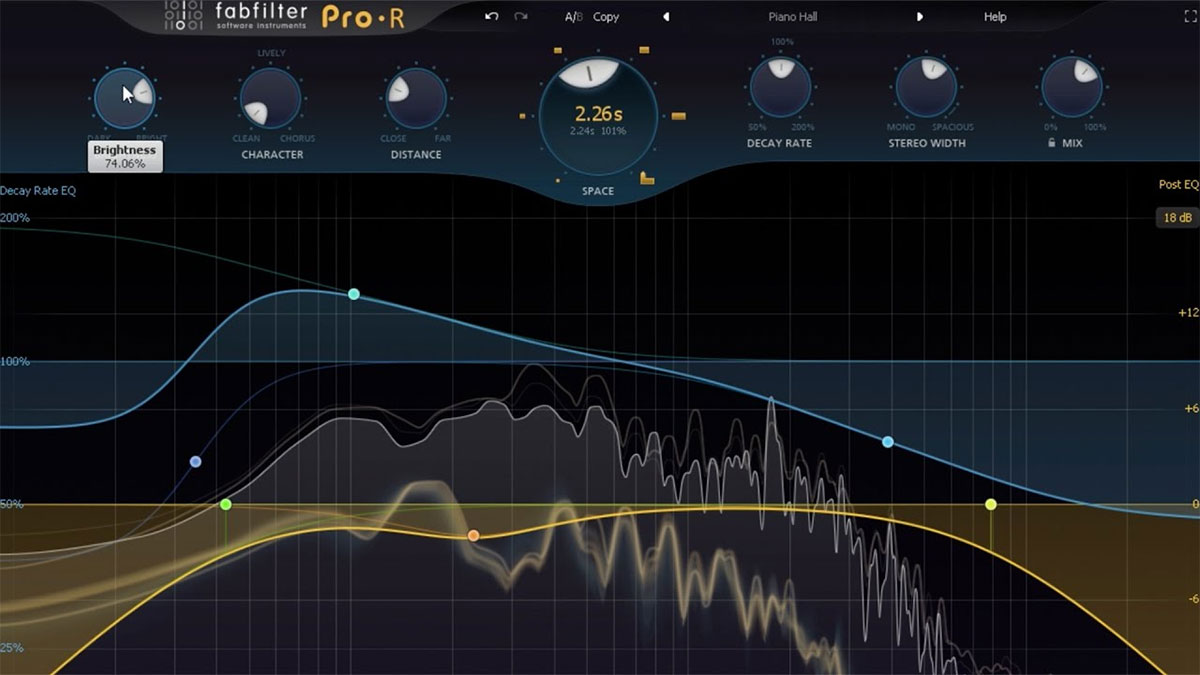 Main features
The FabFilter Pro-R plugin has a long list of features, so I cannot fit all of them in this paper. So instead, I will focus on the most important and significant ones. The Retina interface is particularly interesting, with all knobs situated on one part of the screen. Decay Rate EQ takes the biggest part of its screen with Post EQ curves. The Decay Rate time can be changed, ranging between 50% and 200%. Its Decay Rate equalizer with 6 bands utilizes the following filters to adjust the sound to your liking: Bell, Notch, Low Shelf, and High Shelf. Its companion, a 6-band Post equalizer, uses these filters, which also affect your final reverb sound.
Pro-R plugin's intelligent Stereo Width function controls the range of sound from pure mono to true stereo or even further. The distance control feature allows one to adjust the closeness to the source of sound in the chosen space. Next, the pre-delay function can be set between 0 and 500 ms and has optional host tempo synchronization. Finally, you can adjust the Mix knob from 0% to 100%, and it has a Lock Mix feature that stops preset loading from interfering with the current mix setting.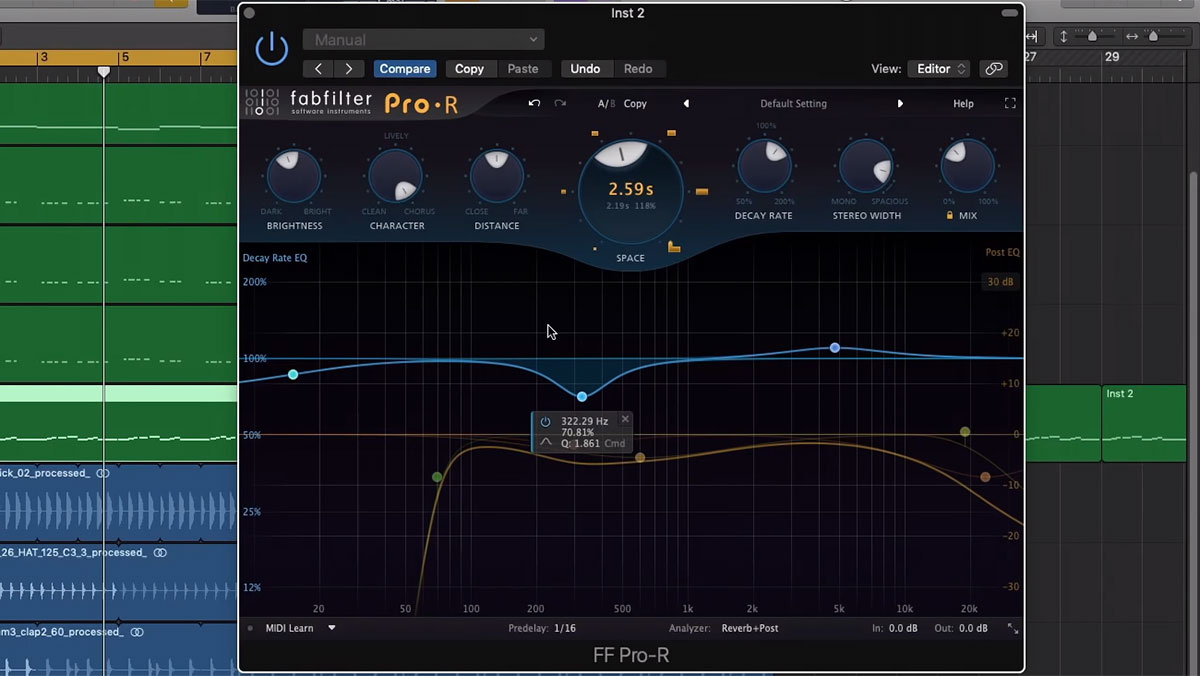 How does It sound?
Once I got to grips with the Pro-R, I began to enjoy working with it and its capabilities. My audio tracks got such a sweet reverb sounding and overall quality that I couldn't believe my ears. After I have mastered my music with Pro-R, it sounds so natural, as if it was not recorded in a studio but rather in some other place. Thanks to its comprehensive set of tools, I can create any kind of space, from a little room to a huge Hollywood-like stage.
Summary
To summarize, the FabFilter Pro-R is a truly quality product. Besides the unique features, you also get all the standard features that are inherent in FabFilter products: easily customizable control buttons, interactive MIDI Learn, undo/redo, and A/B option switch, an extensive help file, sample-accurate automation, advanced optimization, and much more! Of course, there are more powerful, versatile software products, but Pro-R is sure to find its customers and fans.
Tech specifications
Type: algorithm.
Platform: Mac, Windows.
Formats: AAX, AU, VST, VST3.
System requirements – Mac: macOS 10.12 or later, only 64 bit.
System requirements – Windows: Microsoft Windows 7 or later, 32/64 bit.