This plugin was created for those who want to have a bass guitar experience without buying a physical instrument.
With this plugin, you can get access to 22 bass guitars as of 2022, with various adjustments and changes that can be made to make the sound the way it suits your goal. In this MODO Bass 2 review, we will scrutinize this top-notch bassline synthesis plugin that allows you to get a realistic virtual instrument sound.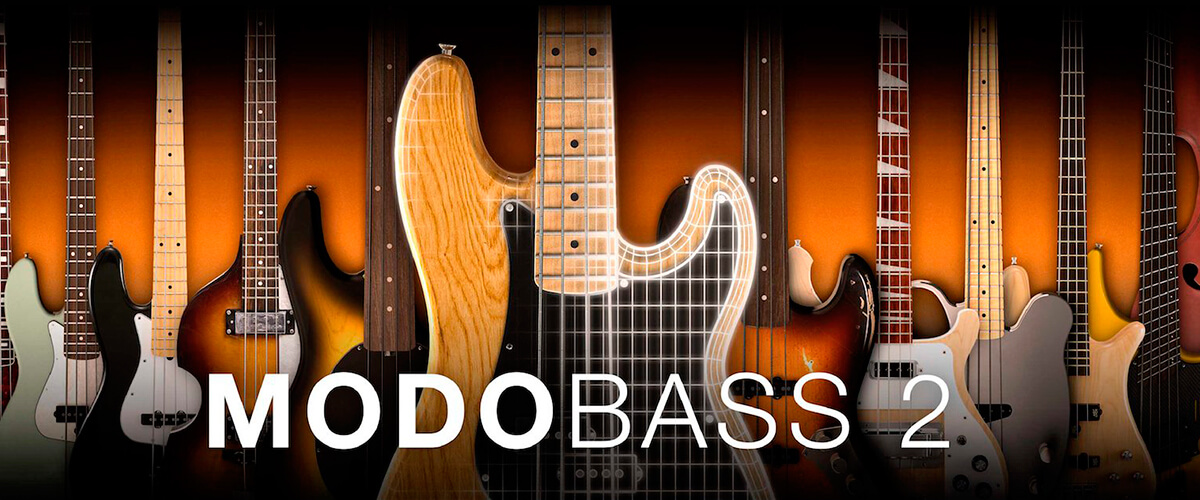 Main features
One of this plugin's key features is innovative real-time modal synthesis software. Thanks to this technology you can enjoy the physical instrument response which simulates the same sound as with a real instrument. MODO Bass 2 VST grants access to 22 bass guitars, like Fretless Jazz, Rockabilly, Horn Bass, Fusion J-Bass, etc.
By using up-to-date performance algorithms, they ensure an amazing realism of the sound. With physical instruments, the way to make them sound better is pretty clear. You need to tune them. For some, like the guitar, it's possible to do yourself, while others, like the piano, require calling a professional.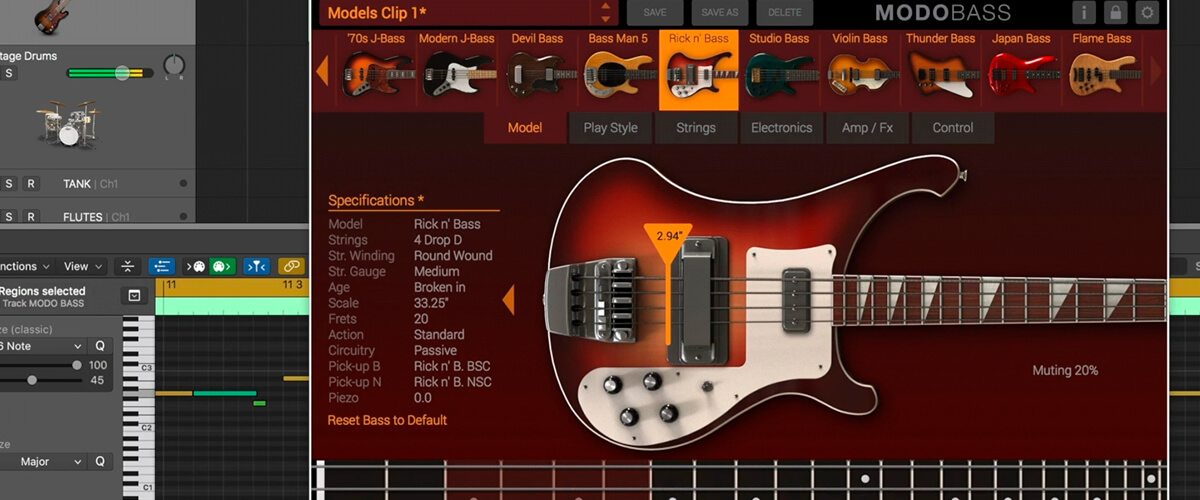 Similar simplicity of the guitar is present in the MODO Bass 2 VST and even more since here you can not only tune your software instrument but also adjust it to your style and even hand position. As for new additions, you can now use the patterns section, where you can search for patterns by various criteria. You can browse the library by the required genre or a particular song section.
Sometimes the length or time signature may be more important so there are options for that as well. As of 2022, there are three versions available in their shop: a free MODO Bass 2 CS with 1 model, MODO Bass 2 SE with 4 models, and MODO Bass 2 with full access to 22 models.
An intuitive interface is a must-have when we talk about such complex software, and it sure is presented here. MODO Bass plugin will cover up for its worth many times due to its quality, variability, and convenience.
How does It sound?
In short, it sounds extremely authentic and realistic. Before I stumbled upon this plugin, I was trying to record my Ibanez 500 bass guitar. But it was troublesome to get the exact sound I wanted. With MODO Bass 2 I recorded everything I wanted after I understood how it works. Here you can completely change the signal path – 7 bass effect stompbox effects and two classic bass amplifiers will help you with that. On top of that, vibrato is incredible here!
Tech specifications
Platform: Mac, Windows.
Formats: AAX, VST 2.4, AU, Standalone.
System requirements – Mac: macOS 10.13 or later, 2.0 GHz or higher processor, 8GB of RAM, 72GB of disk space, 64 bit only.
System requirements – Windows: Microsoft Windows 7 or later, 2.0 GHz or higher processor, 8GB of RAM, 72GB of disk space, 64 bit only.
Summary
As I said earlier, this plugin is a masterpiece from the bass world. With great flexibility, it easily takes the place of one of the greatest plugins simulating bass guitars. It was also very easy to get into since it is well designed, so both amateurs and professionals will find their way with it.
That is why I would choose MODO Bass 2 among all other plugins – the extreme professionalism of its creators as well as their passionate love of music and bass, in particular, is embedded in this VST plugin.