Creating superb bass lines is no longer a big deal with Bass Master powered by Loopmasters. It is a sample-based plugin that can be applied to produce bass tones for any genre of music. In this Loopmasters Plugins Bass Master review, I will show you all the key characteristics of this tool.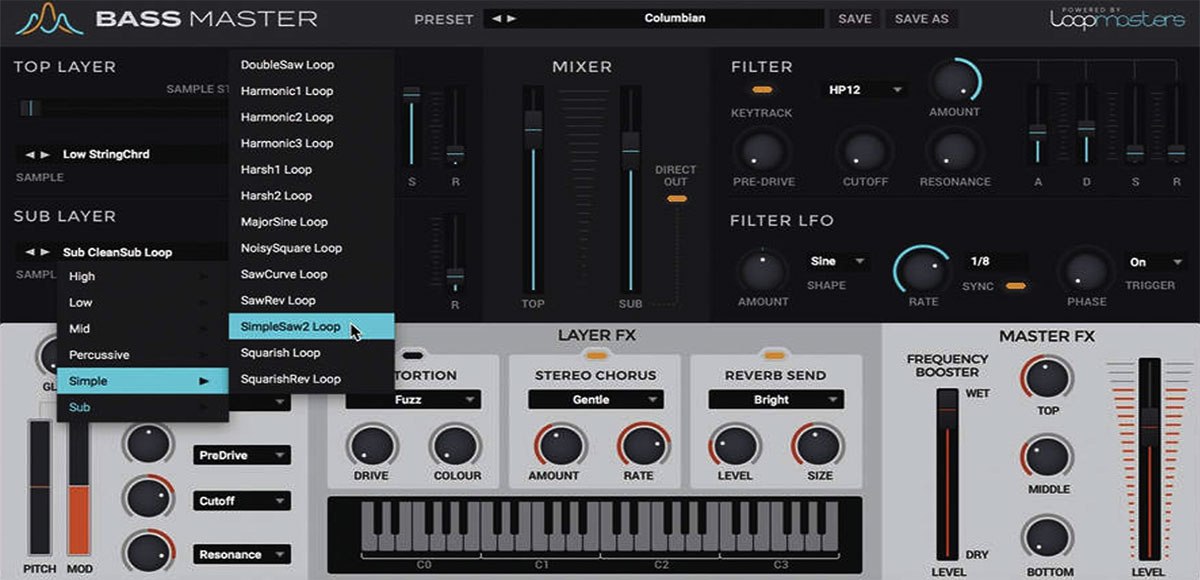 Main features
Bass Master is a 64-bit plugin accessible both to Windows and Mac OS that suits any modern DAW. One of the advantages of this tool is that it does not demand much memory from your computer because it is just 225 MB.
The main peculiarity of the plugin is its two-layers nature which includes the Top Layer and the Sub Layer. Each layer is independent and comes with versatile settings. Thus, the Top Layer is meant for higher registers and makes it possible to offset the sample start point, while the Sub Layer is reserved for sub-basses and gives you an opportunity to modify the octave.
The multi-mode filter is fantastic; it allows you to employ 13 different filter types and modulate them with a dedicated filter envelope and LFO. This plugin comprises 217 waveforms that cover both classic vintage and contemporary samples.
Rivet your attention to the effects area, where you can find 3 different types of effects which include Distortion, Chorus, and Reverb. You will definitely like 350 presets from experienced sound makers and famous artists. The presets are organized in 10 different folders and cover Simple, Harsh, Swaggy, Modulated, Percussive, and some other sounds.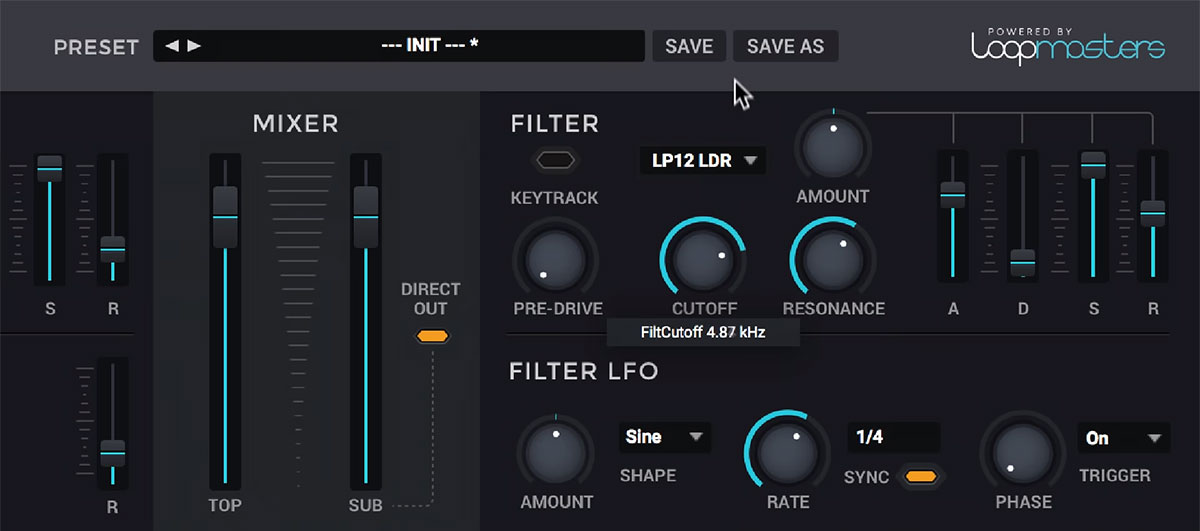 This tool can be used for creating any electronic music, from Techno to Hip Hop, from House to Drum and Bass. Since the user interface is quite simple and self-explanatory, it is a pure pleasure to work with this plugin.
How does It sound?
Regarding the quality of audio, you are unlikely to find a VST that will be able to create such an immense genuine sound. The great quality of the sound is gained owing to the blend of classic hardware with modern synth technologies. You will always get heavy, powerful, and speaker-shaking bass tones with the help of the Bass Master.
With this plugin, you can create excellent tracks as you can mix everything from subsonic bass to screeching lead tones. You may tweak the sounds even further to your liking without having to fiddle with a multitude of synth parameters. Even when your time is limited, the manufacturer guarantees that you will get solid, manually morphable bass sounds in the end.
Summary
All in all, Bass Master VST is an effective and flexible tool that you can use for creating the finest bass tracks. Owing to the simplicity and functionality of this CPU-friendly plugin, you will always get weighty and rich bass tones despite the limitations that actually make the instrument easy to apply.
Tech specifications
Platform: Mac, Windows.
Formats: AU, VST.
System requirements – Mac: macOS 10.12-10.15, 1GB RAM, 300 MB disk space, 64 bit only.
System requirements – Windows: Microsoft Windows 7 or later, 1 GB RAM, 300 MB of disk space, 64 bit only.