I want to share a rather interesting tool with you, so I have prepared a Pulsar Audio 1178 review in this article. This software, created by Pulsar Audio, thoroughly emulates the original 1178 hardware in all aspects, from tonal color to compression character. Here you will find information about the most important features of Pulsar Audio 1178, and I will share with you my experience of how this plugin works.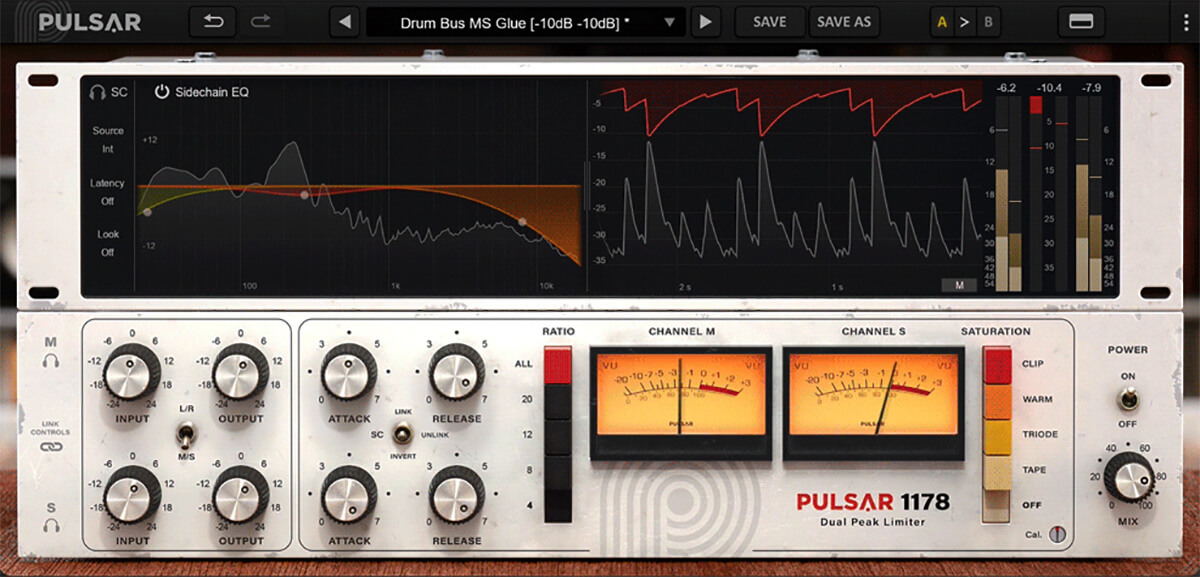 Main features
Pulsar Audio 1178 plugin is a FET-style compressor that accurately emulates its hardware predecessor but also enhances it with modern technologies and functions that broaden your possibilities for sound mastering. Among its features, you will find 4 modes for the optional saturation stage: Tape, Warm, Triode, and Clip. Also, Full sidechain EQ supports a feature of monitoring the reaction of the compressor to specified frequencies.
I was pleasantly astonished by the function of changing the compressor response time. Unlike analog devices that compress the signal as it enters the compressor, the Pulsar 1178 allows you to shift this moment forward or backward with Look-ahead and Look-behind features. So, for example, you can activate the compressor 10 milliseconds earlier or later to get an interesting effect from the pre-compression and delayed compression of transients.
Pulsar Audio 1178 plugin provides Mid/Side encoding and decoding that help make the sound more distinctive. In addition, you can use very accurate and modern peak and RMS meters to monitor any essential indicators for your music.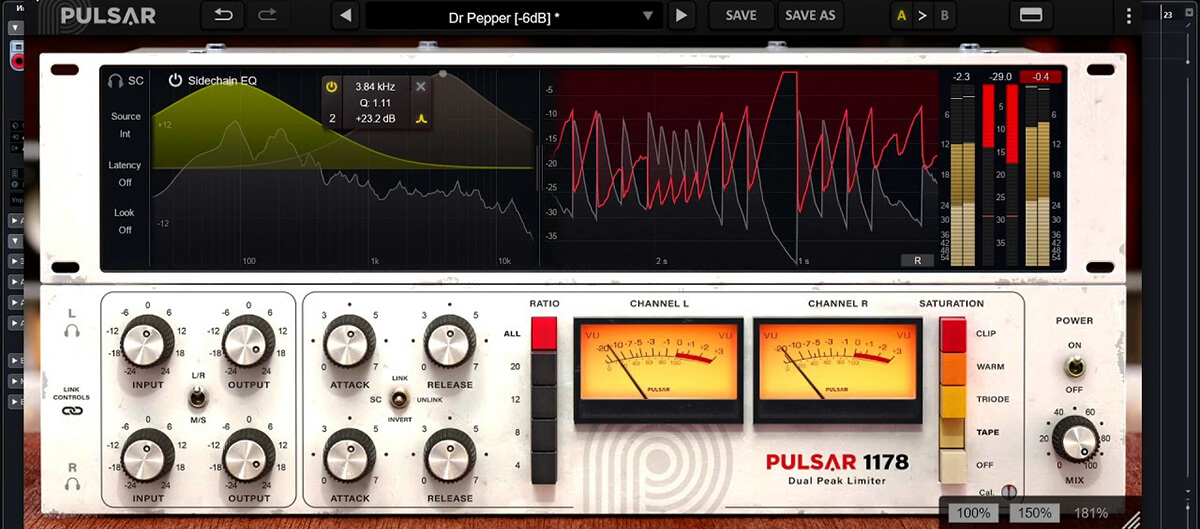 Besides, this plugin has a handy scrolling view feature that fits all its functions on 1 screen, and the smart GUI, which has draggable resize handles, adjusts itself depending on the output configuration. Topology Preservation technology maintains transparency of the sound and aggressive peak-eating behavior of the plugin.
How does It sound?
It is an excellent tool for changing transients to the required degree with high-quality sounding. 1178 plugin allows quick control over transients while giving a rich sound with colorful tones. It is also a good choice to make vocals more distinctive and aggressive. While working with drums, I noticed that it allows you to catch crashes in a flash and open up the top end of the signal while still preserving the natural sound. The bass and master compression is provided by transparency, speed, and sidechain EQ that helps to control the full frequency spectrum.
Tech specifications
Platform: Mac, Windows.
Formats: AAX, AU, VST2, VST3.
System requirements – Mac: macOS 10.9 or later, 4 GB RAM, OpengGL 2.0 compatible GPU, 1GB free disk space, 64-bit only.
System requirements – Windows: Microsoft Windows 7 or later, 4 GB RAM, OpengGL 2.0 compatible GPU, 1GB free disk space, 64-bit only.