Today we will discuss our Softube Harmonics review. With the help of this digital distortion emulator, your songs will be filled with juicy sounds. We will review such features as Dynamic Transient Control, 5 different distortion sound modes, drive & character controls, and many others that create deep, rich sound.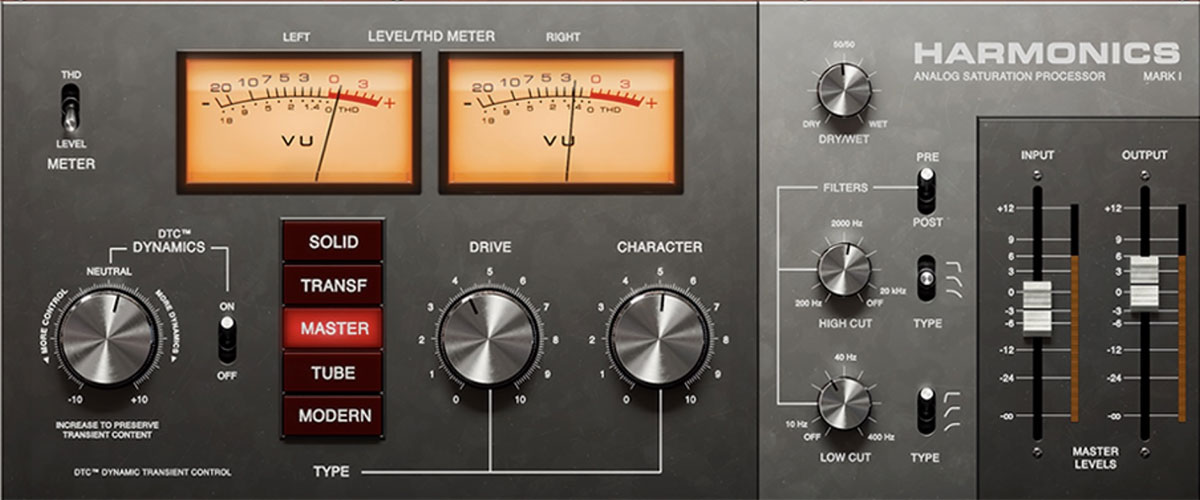 Main features
Here musicians will find many interesting features and settings that make the Softube Harmonics plugin so good in terms of quality. Its 5 distortion models, like transf, master, or modern, have a unique sounding to each. All knobs, controls, meters, filters, and switches are copied from vintage distortion hardware. By using the amount control, the user can change the saturation of the sound. Next is the character control, which is used for adjusting the color/tone of the distortion.
In addition, you can mix the wet and dry sound with parallel processing, thanks to professional developers. Here we have 2 knobs that are used to adjust the distortion in the track in terms of high and low cuts. To maintain, increase, or adjust the distorted signal, users have a THD meter that precisely shows the vital information about the audio track.
The Dynamic Transient Control feature processes the input signal automatically creates the most compatible distortion, which can be manually adjusted, and then adds it to your track. Together with everything above, you will be getting presets created by Joe Chiccarelli and Howard Willing. Every aspect of the Harmonics Softube VST was scrutinized and built on the base of vintage hardware analogs by sound designers to deliver this sound distortion console to you.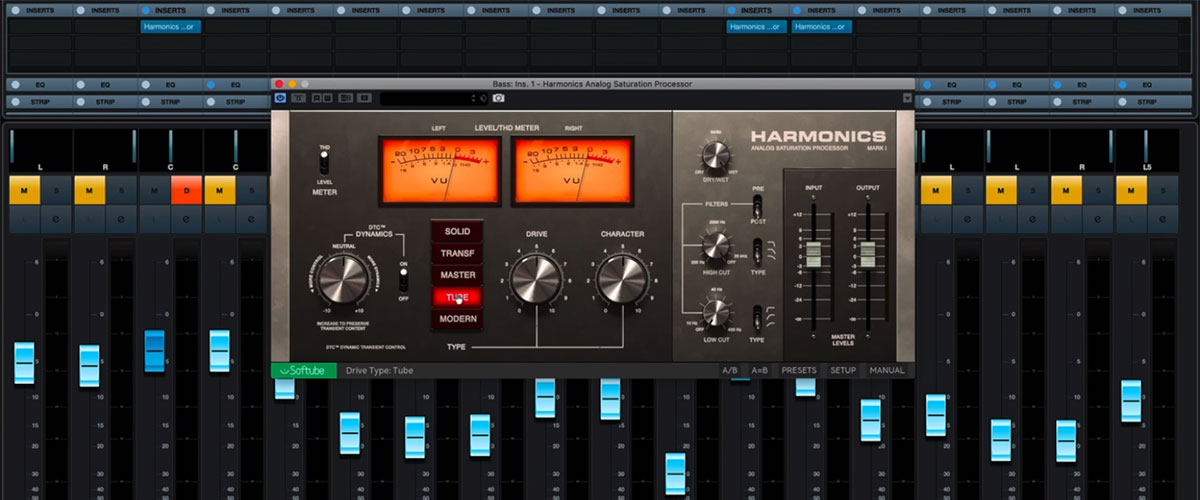 How does It sound?
With the help of the Dynamic Transient Control feature and sound modes, I could achieve the sound I wanted but couldn't get before. The auto distortion thing is awesome, to be honest. The subtle saturation and thickness of the distortion are now so easy to control by using the THD meter. I can easily add grit to the mix, overdrive a vocal, or even make everything lo-fi now. The versatility, quality, and precision of this plugin are displayed by the result of its work.
Tech specifications
Platform: Mac, Windows.
Formats: AAX, VST, VST3, AU.
System requirements – Mac: macOS 10.13 or later, 8 GB RAM, 8 GB disk space, 64-bit only.
System requirements – Windows: Microsoft Windows 10 or later, 8 GB RAM, 8 GB disk space, 64-bit only.