This is a Spectrasonics Trilian review, where we will tell you about all features and advantages of this plugin. Trilian is one of the most versatile digital bass guitars on the market, which is considered to be an industry standard. A high-resolution UI, customizable controls, authentic sound, advanced arpeggiator, the possibility to integrate it with Omnisphere, 33 FX Units, and many more features are hidden inside this plugin. Here, we will talk about all of the above and tell you how exactly this bass guitar emulator sounds in practice.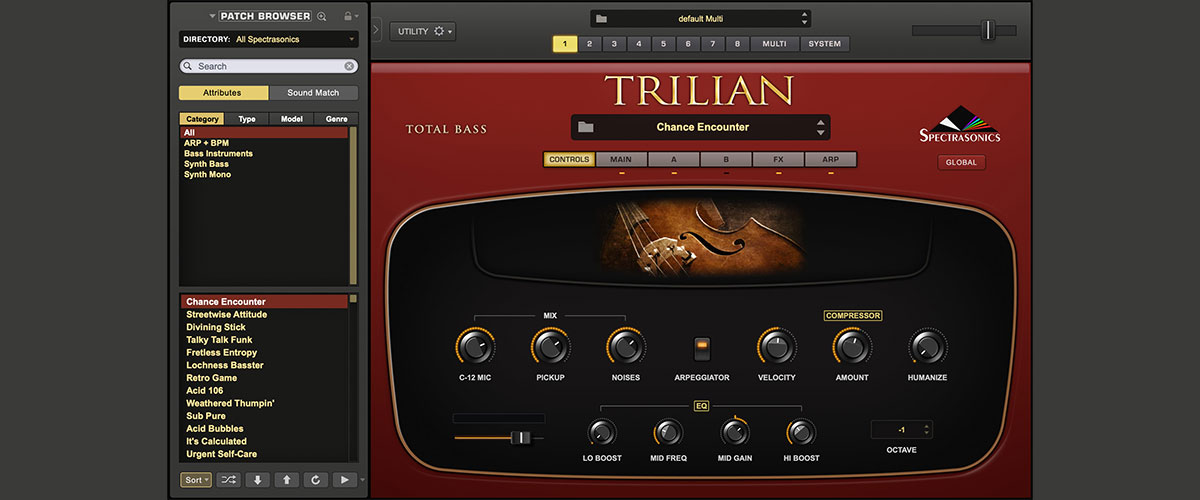 Main features
The interface can be adjusted to any display and even to a size comfortable to you personally. It also supports HiDPI displays. Trillian Bass guitar emulator has a vast library of 34GB of different acoustic, electric, and synth basses and more than 60 electric guitars with 4, 5, 6, or 8 strings. In addition, there are numerous playing techniques available, such as fingered, picked, fretless, slapped, tapped, and muted.
On top of that, the interface is not simply user-friendly but also supports customizable controls. It grants an outstanding versatility not only in making your working space as comfortable as you want it to be but also allows you to create music more effectively. Developers of the Trillian VST sampled a huge number of bass lines and other instruments to create its vast samples library that sounds incredibly authentic, just like physical instruments.
Among other features is that this plugin supports touch screens and a live mode that has 8 dynamic bass articulations loaded at once. It supports instant key-switching, so you can work faster. The advanced arpeggiator has Groove Lock that allows users to sync bass lines to an RMX groove or MIDI Files. And the Stack mode will help a user to map customizable key/velocity/controller articulation. This is only about half of all features it has, so as you can see, this plugin hides many opportunities for a musician.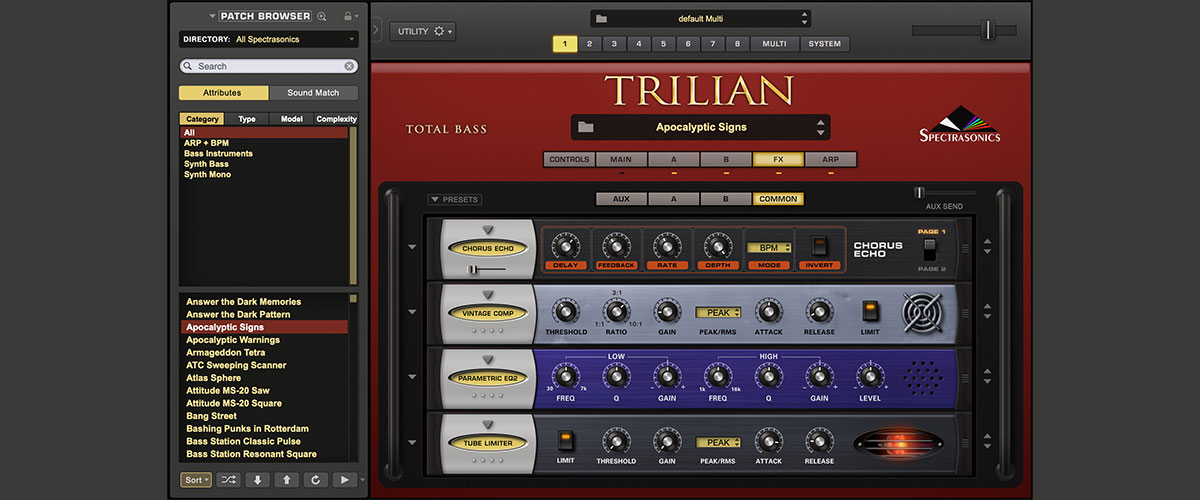 How does It sound?
This plugin is capable of creating incredible bass tracks. It's no big deal to come up with ground-shaking music by using its vast library of juicy acoustic, electric, and synth basses filled with life. Also, it is important to highlight the versatility and adjustability of this bass guitar emulator, which makes it stand out among other plugins like this one. Amazing sounding, super realistic bass lines, a selection from acoustic to synth basses – this music creation toolkit is a vast field for experiments with music in general and bass sounds in particular.
Summary
Trilian Bass Virtual Instrument software is a great example of a high-quality complex product aimed at experienced musicians. But in case you want to learn how to create music, it will be easy to figure everything out. You can utilize a full package of its functions and features to create fascinating music and separate audio tracks, like its huge library of samples and patches, or an impressive list of features, like expressive multi-sampled dynamic slides, edit page with Flex Mod, Timbre Shifting, FM, Modultable FX, and other sound manipulation features, 8-part multitimbrality, and many others.
Tech specifications
Platform: Mac, Windows.
Formats: AAX, VST 2.4, AU.
System requirements – Mac: macOS 10.13 or later, 2.0 GHz or higher processor, 8GB of RAM, 72GB of disk space, 64 bit only.
System requirements – Windows: Microsoft Windows 7 or later, 2.0 GHz or higher processor, 8GB of RAM, 72GB of disk space, 64 bit only.