From this TDR Kotelnikov GE review, you will learn more about this modern compressor that combines high accuracy dynamic range control with musical versatility. You will find out what features it comprises, its advantages and disadvantages, and what sound this plugin gives in practice.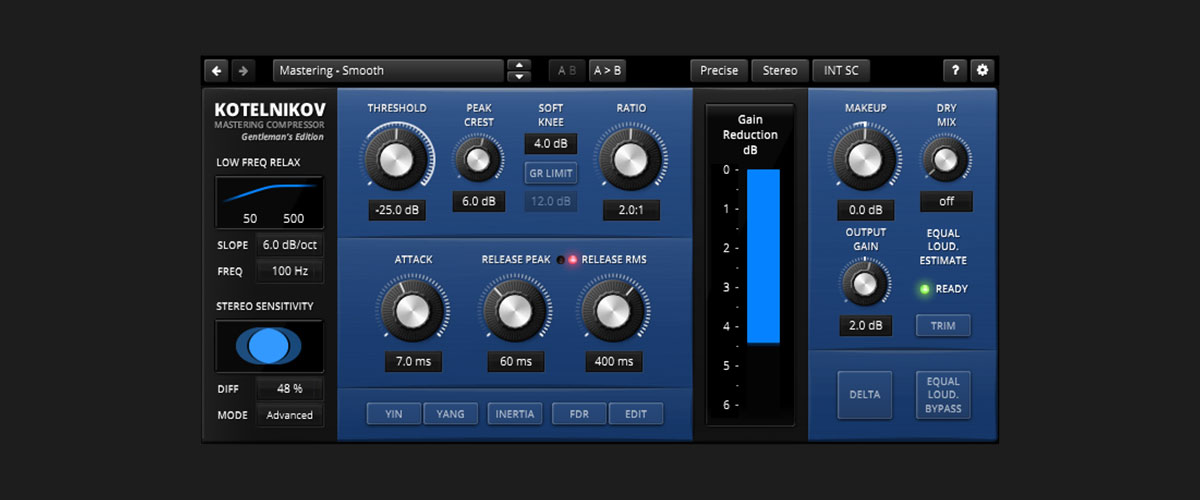 Main features
Being the latest generation of such software, the TDR Kotelnikov GE plugin combines all essential features from its predecessors and modern solutions. For example, to increase the accuracy, the processing structure here is the 64-bit multi-rate one. Yin and Yang modes control the distortion behavior of the compressor. Delta preview feature allows you to monitor the difference between your original sound and the compressed one. Another advantage of this plugin is a new "Advanced" mode in which stereo linking is optimized for the stereo bus. On top of that, it has 10 extra user preset slots for personal customization.
The user interface is not fully customizable, but you can choose between 100%, 125%, and 150% rescaling. Next, we have 2 quality modes called "Insane" and "Live," with the main low latency as their feature. Various knobs and settings allow you to control over "low relax" slope, gain reduction limit, peak, and RMS events. Moreover, thanks to the versatile side-chain high-pass filter, you get a continuously variable control over slope and frequency. Also, some minor features, like inertia timing mode, equal loudness bypass, output gain trimming, or Left&Right sensitivity, complement this plugin's extensive set of tools and functions.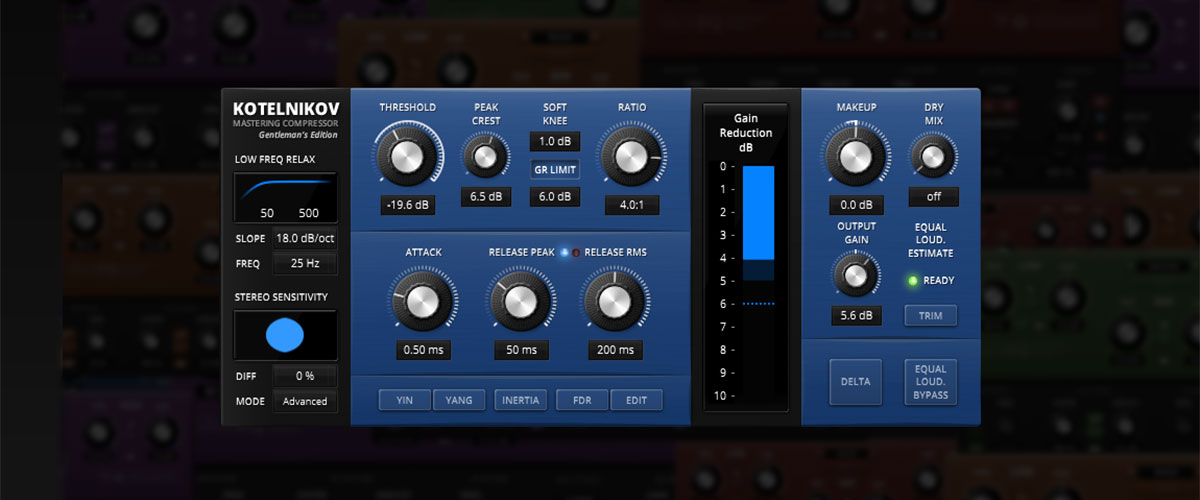 How does It sound?
TDR Kotelnikov GE does everything you can think of and even more. The compression itself is done very fast, and despite that, the sounding is natural and clear, without any artifacts. The dynamic processing feature works effectively, and the final sound has no "by-products," which can occur in some compressor plugins. And, of course, the advanced stereo linking mode is also worth mentioning, for it shows impressive results regarding RMS Compression. After I do the mastering with this plugin, my audio tracks become more distinctive, and the sound itself becomes much more pleasant to listen to.
Summary
Tokyo Dawn Records constantly improves this plugin with updates, but even now, it comprises a comprehensive choice of tools that help you compress the sound. And to figure everything out, you get extensive documentation explaining all its features. On the other hand, it may take a lot of time for you to master all its aspects and options, and this software can load your CPU very hard, so make sure your PC passes all requirements.
Tech specifications
Platform: Mac, Windows.
Formats: AAX, AU, VST2, VST3.
System requirements – macOS 10.9 or later, only 64 bit.
System requirements – Windows: Microsoft Windows 7 or later, 32/64 bit.