We've had a huge choice of virtual analog synths over the last couple of years, yet connoisseurs of vintage synths still doubt that classics from the past can be put into a software form. But Diva seems to be the perfect plugin that can meet everybody's expectations as it is not a particular synthesizer; instead, it contains elements of various well-known instruments, all painstakingly analyzed and meticulously recreated with agonizing attention to detail. To be specific, Diva has all that you need to create any basic analog sound, and, in this u-he Diva review, I will do my best to show you the main features of this VST.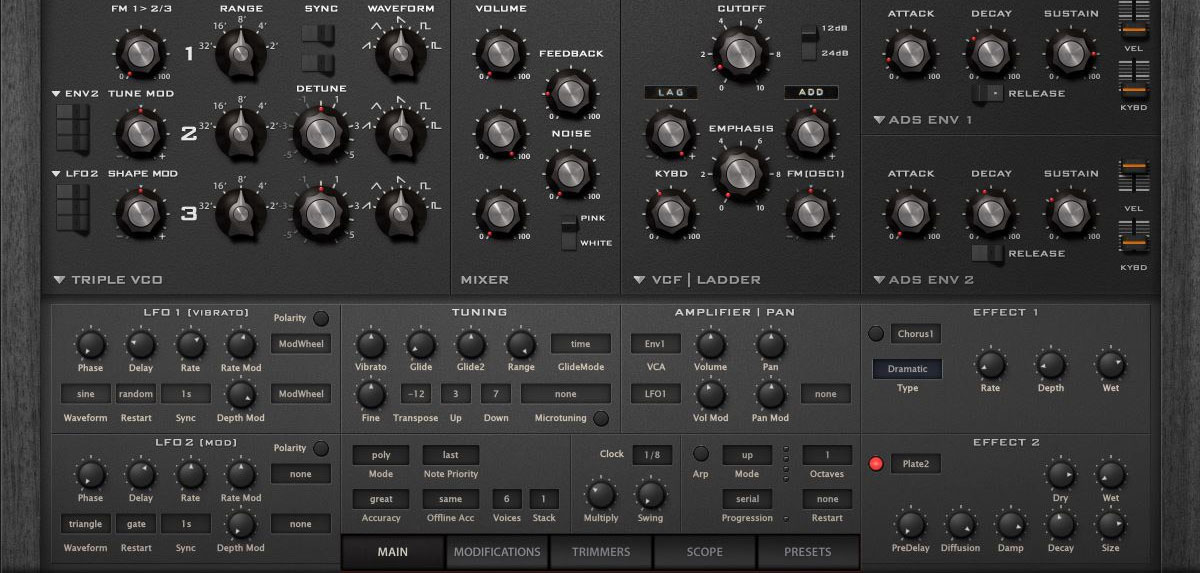 Main features
Diva (Dinosaur Impersonating Virtual Analogue) is a virtual synth that applies techniques from commercial circuit simulators. Since it is compatible almost with all DAWs, it is appropriate for Mac OS, Windows, and Linux. Available in 32-and 64-bit versions, u-he Diva VST comes with more than 1200 presets. With this tool, you will always have an opportunity to discover new sounds owing to the clever tag system that allows marking each patch with a color code.
Authentic sounds are created owing to the mix of filters, oscillators, and envelopes. The tool has a regular design with 5 oscillator modules which include Triple VCO, Dual VCO, DCO, Dual VCO Eco, and Digital. For instance, Triple VCO follows the structure of Minimoog's oscillator, and DCO is similar to Roland Alpha Juno, which provides rich waveforms.
At the same time, Diva has 5 filter modules based on classic synth hardware, which are VCF Ladder, VCF Cascade, VCF Multimode, VCF Bite, and VCF Uhbie. Having the advantage of zero-delay feedback filters, you can expect authentic resonance behavior.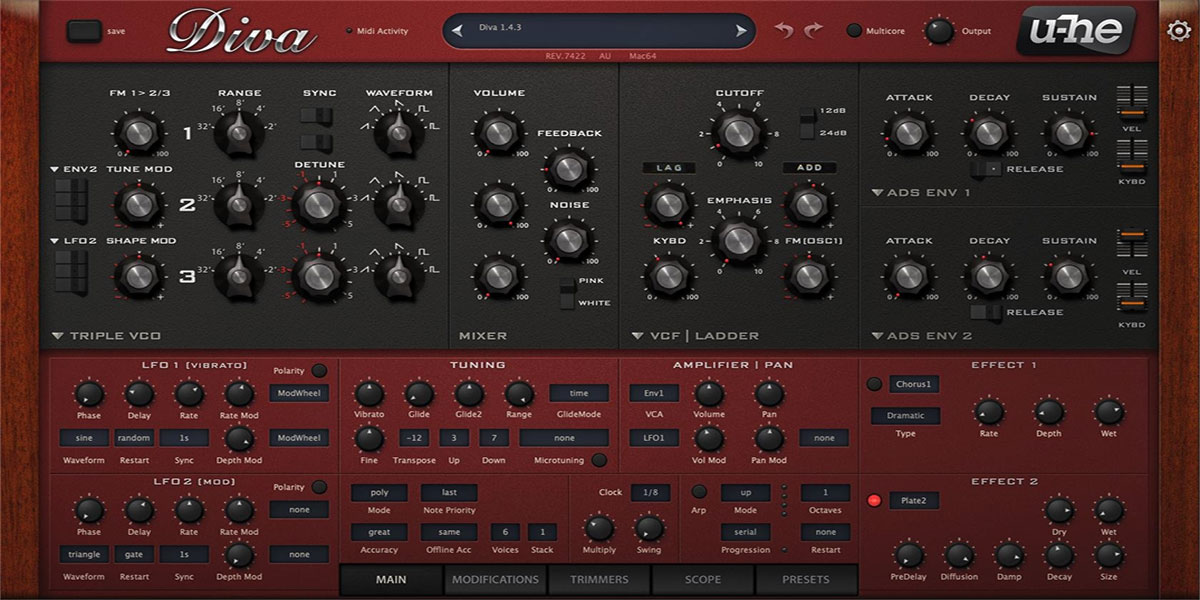 This VST includes 3 ADSR envelope models that are based on classic synthesizer hardware: Minimoog-style ADS, analog ADSR, and digital ADSR. The patch browser occupies the whole panel by itself and allows you to create, edit, and save your own patches.
It is an ideal plugin for electronic musicians and composers; its Trimmers section allows you to make your audio sound more analog. With this panel, you can detune voices and some "slop" to filter cutoff, envelope times, pulse widths, and glide times.
How does It sound?
If you ask me about the quality of the sound of this plugin, I will tell you that u-he Diva sounds like a deluxe instrument, and owing to its flexibility, it feels like real analog hardware sitting in front of you. Honestly, I have never heard such a natural, soft, and warm synth with this amount of dimensional depth, and I have to confess that the soundstage is huge.
Since you have the capability of changing the parameters for synthesis, you will always get an authentic, rich and dense sound in the end. Even if you are not in the mood for creating your own sounds, the terrific present library that includes various sounds will allow you to mold them to your own preferences in order to get very detailed audio that is so evocative of the original instruments.
Tech specifications
Platform: Mac, Windows, Linux.
Formats: AAX, AUv2, VST2, VST3.
System requirements – Mac: macOS 10.9 or higher, Intel or Apple silicon processor, 1 GB RAM more recommended, 50mb of disk space, 64 bit only.
System requirements – Windows: Microsoft Windows 7 or later, 1 GB RAM, 50 MB of disk space, 32/64 bit.
System requirements – Linux: glibc version 2.28 or newer, 1 GB RAM, 50 MB of disk space, 32/64 bit.
Summary
In general, u-he Diva synthesizer is a tool that will grab your attention right from the start and will let you create audio masterpieces with ease. I can assure you that this VST is functional and really easy to use, even for an amateur. You can add this VST to your sound library owing to its undoubtedly amazing sound and accessible interface. Keep in mind that the plugin is CPU-hungry, but still, it possesses a number of convenient operational features that give you a lot of space for experiments.