Welcome to the Virtual Bassist Dandy review where we will take a look at this peculiar plugin. Modest in terms of settings and options, yet allowing you to adjust bass tones and styles suitable for classic funk, R&B, revival rock, soul, etc. You can change amp, thumbed sounds, direct tones, and neck and bridge pickups as much as required.
You even can add such bass effects as compression, harmonics, and saturation to your soundtrack. Within this plugin, a key-assignable phrase generator and top-notch bass instrument are combined to make top-notch bass guitar software.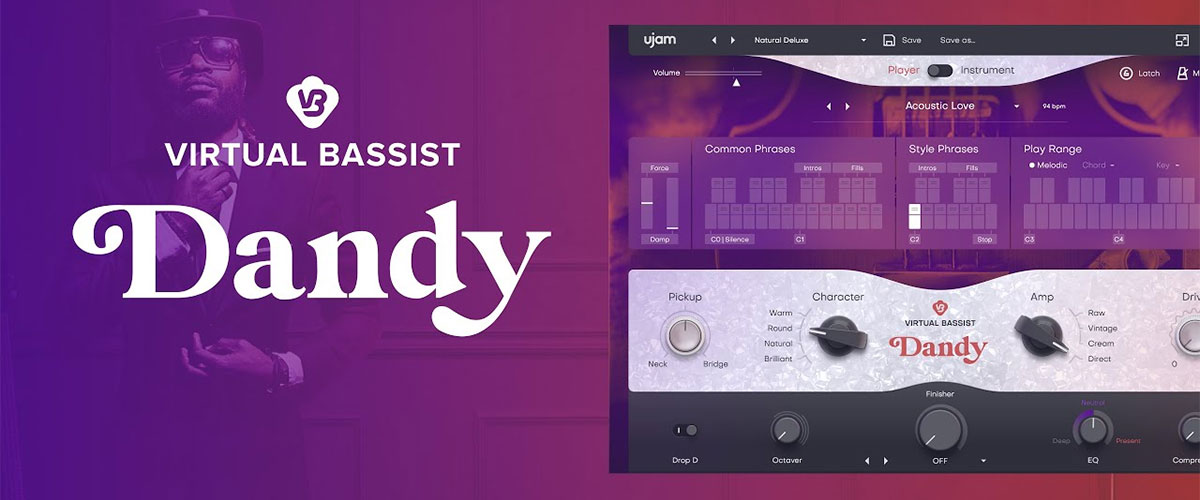 Main features
Let's take a closer look at what this plugin can do. First of all, in Virtual Bassist Dandy VST you will find 990 bass phrases, 100 presets, and 30 musical styles. Second of all, here you have fully equipped bass creation software for R&B, funk, soul, and revival rock. There is an option to give modern tracks an old-school vibe. If you often work outside the DAW, the distraction-free workflow feature will help you out.
"Dials in fast" feature decreases the time you need to make changes. With quick access, you can utilize picked/thumbed sounds, amped/direct tones, and neck/bridge pickups wasting no time. You can apply a Finisher knob to experiment with the vibe via 15 polish effects.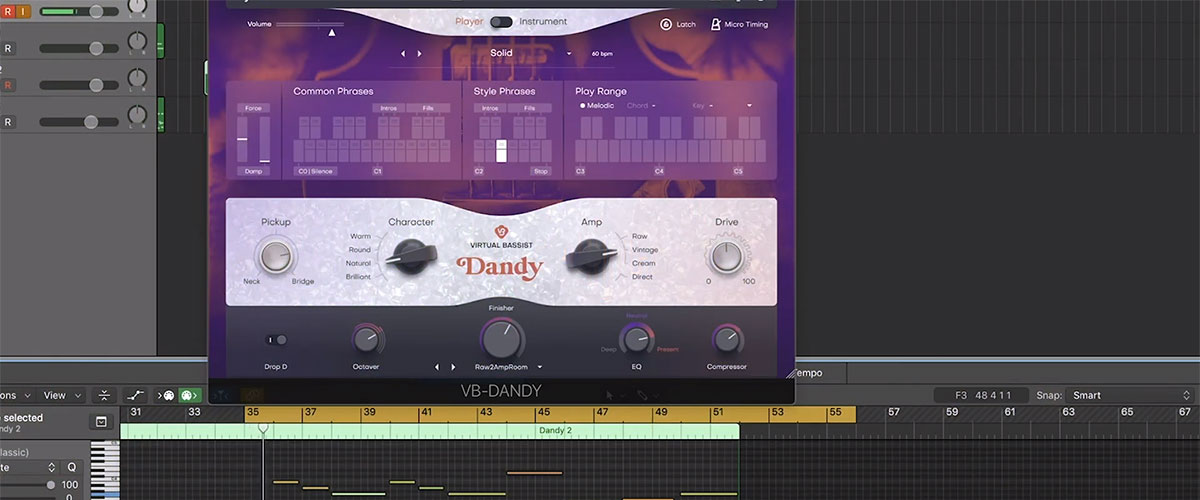 There is a particularly interesting feature – Instrument Mode – it allows you to play bass lines, and make adjustments in real-time with key-controlled slides, damps, bends, stops, and mutes. A somewhat similar feature Player Mode gives you a choice of presets and cycles kept within Ujam Virtual Bassist Dandy plugin grooves and fills.
MIDI Drag and Drop feature makes it possible to transfer your bass lines right to the DAW of your choice. To top it all, the AU2 version, which is included in this plugin, is compatible with Logic Pro X or any newer version.
How does It sound?
Thanks to its simple yet ergonomic design I could figure everything out in just a couple of hours and start creating my soundtrack with all this plugin's features. Software of the highest quality creates a sound so natural I could not believe my ears. Meticulously sampled bass guitar with flat-wound strings has a topnotch, warm, and modest vintage sound.
Tech specifications
Platform: Mac, Windows.
Formats: AAX, VST, VST 3, AU.
System requirements – Mac: macOS 10.10 or higher, Intel or Apple silicon processor, 4 GB RAM (8 GB RAM or more recommended), 5GB of disk space.
System requirements – Windows: Microsoft Windows 7 or later, 4 GB RAM (8 GB RAM or more recommended), 5GB of disk space, 64-bit only.